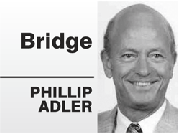 This week, we are looking at responder's actions when he has a major two-suiter opposite a one-no-trump opening bid. Having covered 5-4 hands, now let's move to 5-5 holdings.
We learned on May 16 that if responder has a weak 5-5 in the majors, he responds two clubs, Stayman. Then, if opener rebids two of a major, responder passes; or if opener rebids two diamonds, responder continues with two hearts to describe his hand.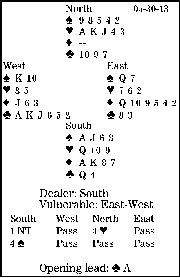 How responder bids game-invitational and game-forcing 5-5 hands is a matter of partnership agreement. My normal style is to respond three hearts with the game-invitational hand (and three spades with the game-forcing one, which I will cover tomorrow).
Over three hearts, opener names the final contract. Here, with an excellent fit in both majors, he jumps to four spades. Then, how should the card-play go after West leads the club ace?
First, East signals with his eight, starting an echo (high-low) with a doubleton. Then, West continues with the club king. What next?
If South has the heart queen, which is likely, the defenders have taken all of their side-suit tricks. Their only chance is to collect two trump tricks. West should continue with a low club. Then the spotlight falls on East. Suppose he ruffs low and South, still having the club jack, follows suit. Will the spade queen serve any purpose? No, it won't. So, East should ruff with the spade queen.
Then, when South overruffs with his ace, West gains two trump tricks to defeat the contract. It is a classic uppercut.