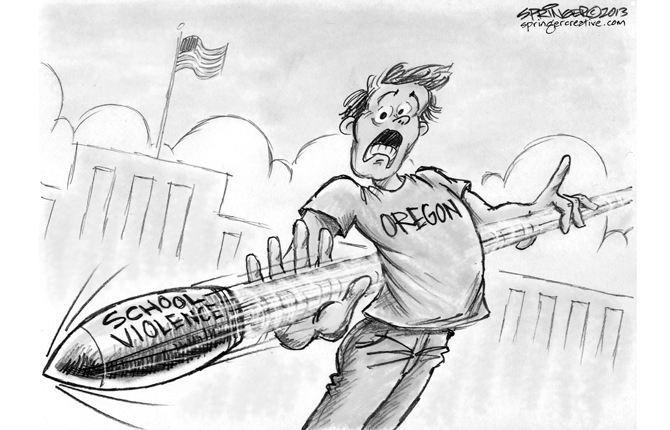 Albany Democrat-Herald, May 29, on student's alleged plot to attack school:
We don't know all the details about the case against Grant Alan Acord, the 17-year-old West Albany High School junior who stands accused of plotting to attack his school with guns and homemade explosives.
Regardless of how the case plays out, though, we know this: One of Acord's classmates did absolutely the right thing, in a very tough situation, by sharing his concerns with his mother, who tipped off authorities.
And, in a situation that was almost as difficult, Albany school officials and the city's police department acquitted themselves well in assuring students, parents and nervous community members that it was safe to return to school on Tuesday.
Acord was arraigned Tuesday in Benton County Circuit Court on 19 separate counts: one count of aggravated attempted murder and six counts each of manufacturing a destructive device, possession of a destructive device and possession of a weapon with intent to use it against another person.
He was arrested Thursday night at the home he shares with his mother in North Albany.
We join in the praise for the West Albany student, Truman Templeton, who showed real courage in confiding in an adult and might very well have helped prevent another horrifying tragedy at an American school.
Meanwhile, school officials, working with Albany police, did an extraordinary job to stay ahead of the wave of rumors and guesses and social networking that threatens to swamp officials anytime something like this occurs.
It's true that they caught a break: Classes weren't held on Friday due to a furlough day and Monday was the Memorial Day holiday.
But, still, school officials and police made the most of that extra time. After a search of the school Thursday night, police officers had the luxury of going back in on Friday for another search, complete with explosives-sniffing dogs and team members from Homeland Security.
And school officials, for their part, were busy over the long weekend, keeping students and parents in the loop.
With social media tools such as Facebook and Twitter and texting, it's harder than ever for school officials to stay on top of events such as these.
But West Albany Principal Susie Orsborn and other school officials did a smart thing by posting a statement about the case on the school's website.
And West Albany students returned the favor over the weekend by launching a Twitter hashtag, (hash)WAstrong, to share the word about their school.
That's a nod to the multimedia world in which students live today. But Orsborn and her crew also vowed to make personal contact with students in the days to come, to highlight the most important lesson from the weekend: Speak up when you see or hear something that doesn't seem right.
West Albany students lived up to that challenge this weekend — and served to exemplify Orsborn's challenge to her charges: "Let's stay positive, strong, band together, and take care of each other."