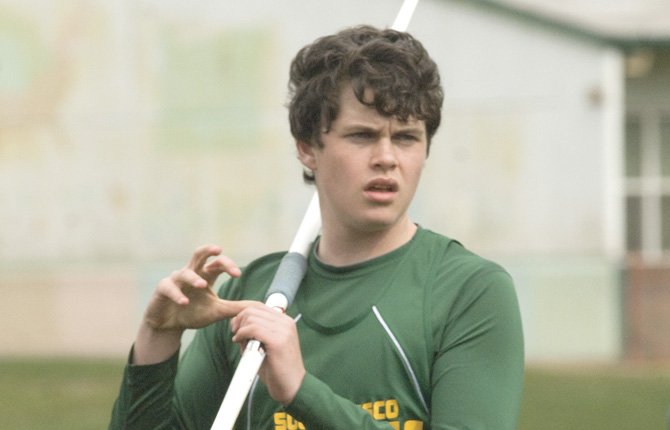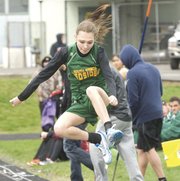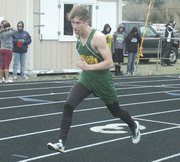 As a whole, the South Wasco County track and field team can feel good about what was accomplished during the 2013 spring season.
This group of 17 athletes, most of the underclassmen, kicked things into high gear with four individual state berths and a pair of relay qualifications, including a district championship performance from the boy's 4x400-meter relay squad.
"The team has been consistently improving all year," said long-time track coach Jim Hull.
At the 1A state meet this past weekend at Hayward Field in Eugene, the Redsides had three top-6 performances.
Freshman and district champion, Tatum Hahn, enhanced her skills at the state meet with a sixth place time of two minutes and 37.36 seconds.
Joy Kelly, another top gunner for the Lady Redsides, came through in the 3,000 meters where she stopped the watch in a personal record rally of 12:03.34, an eye-opening mark that was more than 23 seconds off her best time set at districts in Moro.
Katherine Popchock also earned a spot on the podium in Eugene where she shattered her personal pole vault record with her highest height of 8-feet-9 inches for fifth place.
In her nine meets, Popchock averaged a height of 7-8.5.
From May 3, where she hit 7-6, Popchock steadily jumped up her game with tallies of 8-0, 8-3 at districts and 8-9 at state.
Popchock etched her name on the state-qualifying 4x400-meter relay team along with Hahn, Kelly and Paris McCartney with a season-best of 4:43.68.
The one caveat to all the girl's accomplishments was a season-ending knee injury to state qualifier, Zoe Morelli, who was one of the top-ranked athletes in the 400 meters and a major cog in the relay events.
Morelli had a state rank as high as top-5 400-meter time and ended the year with a final rally of 64.54 seconds for seventh-best in the 1A ranks.
In her first-year performing in the 300-meter hurdles, Morelli set a personal record at 52.24 seconds on May 3, just eight days before suffering her injury in Arlington.
She had two hurdle wins and five top-3 outcomes.
"I really feel for Zoe Morelli," Hull said. "This year, she was looking at being top-4 in both the 400 and 300 hurdles at state and then suffered an extremely bruised knee at the meet before district while running the 300 hurdles that kept her from competing in district."
Not all is lost, however, Morelli is due to make a triumphant return in her senior campaign.
"Knowing her will to win and being a junior, I know that she will be back next year stronger than ever," Hull added.
The district-champion boys 4x400 relay team of Colby Crowell, Clyde Sinclair, Colton Nannini and Travis Hayes hit the track at Hayward Field to put themselves to the test and churned out a season-best time of 3:45.26 for eighth place in the standings.
Hull decided on a roster switch from the district-winning team from Devan Dammann to Hayes, and they improved from a district marker of 3:49.43, which at that time on May 18, was the team's best.
Loreto Morelli had his chance to shine in the 400-meters, but his 54.99 placed him 11th and just outside of a finals berth.
Hull, who just completed his 15th season as a track coach, 10th as a head coach, complimented his team for a successful season.
The core of the boy's team is made up of three sophomores and four freshmen, so the future is bright.
In addition to the five state qualifiers, the Redsides will have Logan Wraught, Shawn Hardy-Lester, Colton Nannini, Brody Myers, Ellis Rager, Terrance Conley, Ryan Garrison and incoming freshman Skyler Anderson set to come back for an up-and-coming boys group.
Hull did say he would miss the many years of contributions from Sinclair, the team's lone veteran member.
"Clyde was a great senior leader on our team," Hull said.
The girls team will likely have its numbers swell from four to six athletes with the incoming surge from Lindsey Hull and Ally Mulheman.
Coach Hull said track is a numbers game when you look at trying to win district or state titles.
"If we continue to keep the younger kids excited about track and improving, we have some great years in front of us," said the Redside coach.
In order to make that return, Hull maintains a strong belief in diversifying his athletes for track, football, basketball and volleyball.
"The best way an athlete can remain sharp is to continue to participate in sports," he said. "That is what keeps athletes sharp and at the top of their game."