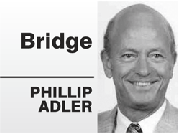 We have reached the last step of bidding major two-suiters opposite a one-no-trump opening: a strong hand with at least two five-card suits. You may have your own method, but mine is to respond three spades — as in today's deal.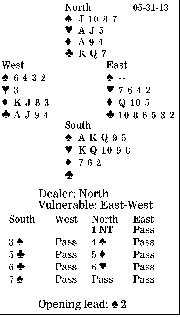 Over three spades, opener may bid game in either major. However, if he has a suitable hand for a slam, he rebids four clubs to say that he likes hearts, or four diamonds to establish spades as trumps. Here, North's hand is borderline between four spades and four diamonds.
Over four spades, South makes a five-club control-bid (cue-bid) to show a first-round control in that suit and strong slam interest. North indicates his first-round diamond control. South reveals second-round club control but no first-round heart control (because he did not bid five hearts). And when North admits to holding the heart ace, South jumps to seven spades.
West, trusting his opponents, leads a trump. How should South play?
Declarer has six side-suit tricks (five hearts and one diamond), so must score seven trump tricks via four high trumps on the board and three club ruffs in his hand.
South takes the first trick on the board, ruffs a club high, crosses to dummy with a heart, ruffs another club high, plays a diamond to the ace, ruffs the last club high, overtakes his spade nine with dummy's 10, draws trumps, and claims those 13 tricks.
That is a beautiful dummy reversal.