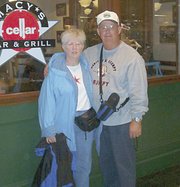 As a community fixture and leader of baseball in The Dalles, former baseball head coach, teacher and State-Metro baseball series director, Bob Brockman, will have the Oregon All-Star Series name its MVP Award in his honor.
Current Reser's Oregon All-Star Series director Dan Segel announced the latest news early Tuesday morning in Corvallis.
"To have the Oregon All-Star Series MVP award named after me is a great honor," Brockman said. "It makes me very proud and happy – and calls to memory all of the great, outstanding ballplayers I was privileged to work with during my years with the State-Metro All-Star Series in The Dalles."
Brockman, who was the head baseball coach at The Dalles from 1986 through 1991, ran the State-Metro Series at Quinton Street Ballpark in The Dalles for 14 years (1993-2007).
Before becoming director, he was assistant director for six years (1987-1992) and Quinton Street Ballpark's head groundskeeper for the State-Metro Series from 1969 through 1987.
The State-Metro Series, now the Oregon All-Star Series, started in The Dalles in 1957 and professional scouts ran it.
The Dalles Wahtonka head baseball coach and 2013 Columbia River Conference Coach of the Year, J.R. Runyon expressed an element of pride in knowing his peers are recognizing a strong community influence.
"What an incredible honor for a very deserving man," Runyon said. "He has put so much time, energy and passion into a sport he cares about over the years and it is great to see him get the recognition he is so deserving of."
On June 15-16, the Reser's Oregon All-Star Series will be played at Goss Stadium in Corvallis, the series site since 2011.
Runyon added that the State-Metro Series was always a top-notch program run here in The Dalles for so many years.
"It seems like every season, when teams come up to play here, the coaches of the opposing teams often reminisce about their experiences here as ballplayers playing in those games or watching others play here," Runyon added.
As the coach, Runyon makes sure the baseball field he coaches on is maintained in pristine condition.
Many high school, Babe Ruth and American Legion champions have been crowned on this historic field.
"Quinton Street Ballpark holds a lot of great memories and many of those are attributed to Bob Brockman and the commitment and passion he has for the game of baseball," Runyon said.