Marine Zone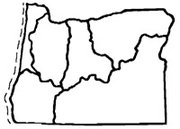 Viewing
Crab Molts
Shellfish biologists on the north and south coast report early molting of male Dungeness crab. Crabs tend to molt all at once, so great numbers of their old shells can show up on the beach at one time. It can look like a major disaster occurred to the crab population, but it's as natural as kids outgrowing their old shoes.
You can tell the difference between a shell from a molt and a dead crab by looking at the molt line. If you are lucky, you may find a whole exuvia or crab molt. During the molt, the crab leaves even its old gills, antennae, and mouthparts behind. Every detail is there except the crab. Pictures.
In summer months, when Dungeness crab molting activity peaks, ODFW usually receives calls reporting "many dead crab on the beach" which are almost always these molts.
Minus Tides
This is the second largest minus-tide series, in both strength and duration, of the year begins May 23 and continues through May 30. A minus tide is an excellent time to visit tide pools and watch the life that was just a few hours ago under as much as 10 feet of water.
Look for green anemones, hermit crabs, sea urchins, small fish, jelly fish, sea stars, pinkish corraline algae, lime green anemone, dark green sea lettuce, barnacles and other animals of the intertidal region.
There are dozens of good places on the Oregon coast to go tide pooling. Some of the best are in state parks and recreation areas, including Haystack Rocks, Hug Point, Seal Rock, Yachats State Recreation Area (or just about anywhere with 10 miles of Yachats), Strawberry Hill State Wayside, Neptune State Park, Sunset Bay State Park, Cape Arago State Park and Cape Blanco State Park. Yaquina Head Outstanding Natural Area, four miles north of Newport, has outstanding tide pools and rangers on hand to provide tours and answer questions.
Don't turn your back on the ocean because a large wave may get you wet or worse. Also, stay off beach logs! They can roll in the surf and crush you. High surf can make tide pooling on the ocean beaches uncomfortable and dangerous, so try looking for wildlife in the mud flats of coastal bays and rivers. For more information see: http://www.dfw.state.or.us/MRP/shellfish/bayclams/watchable.asp
Birds
Shore birds are still putting on a great show in Oregon's coastal bays and estuaries. Often mud flats will be covered with tens of thousands of shore birds stopping to feed and rest on their way to breeding grounds in the south.
All of Oregon's migratory song birds show up by mid-May.
Amphibians
The amphibian hatch is occurring everywhere in freshwater wetlands along the coast. The best time to visit a wetland is around dusk. Listen for red legged and Pacific chorus frogs.