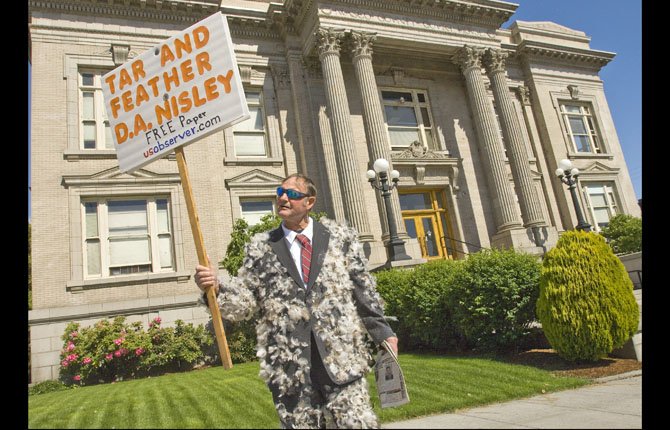 A former Wasco County resident is using a new tactic to oust District Attorney Eric Nisley on grounds the elected official fosters a "culture of corruption."
Gary West, who now resides in Carson, Wash., is trying a new approach to topple Nisley, who has run unopposed in every campaign since taking office in 1996.
On Thursday morning, West stood outside the Wasco County Courthouse as the living effigy of the district attorney. He was dressed in a business suit that was covered with feathers stuck to adhesive that had been sprayed on the cloth.
He carried a sign that read "Tar and feather DA Nisley," on one side and "Kitzhaber your [sic] next," on the other.
His goal was to draw public interest in reading an article about Nisley's latest "obstruction of justice" in the US Observer, a publication based in Grants Pass. West said more than 1,000 copies of the article had been distributed throughout The Dalles this week and he was hopeful that people, armed with information, would demand change.
The story featured in the Observer centers on a sex abuse case involving a 17-year-old male suspect and female accuser who is 15. Writer Kelly Stone claims Nisley is using misleading and underhanded tactics to pursue a case against the teen that amounts to "prosecutorial misconduct."
"I'm a paperboy and trying to get a little attention for the cause right now," West said of the May 30 protest. "I'm trying to get justice for this young man. I hope people begin to question the actions of the district attorney; he's under an umbrella of protection that allows him to cheat in the courtroom."
West has maintained since unsuccessfully mounting a recall against Nisley in November 2011 that the district attorney and local crime victim advocates target men with accusations of domestic violence.
He believes Nisley gets away with his actions because he is protected by Gov. John Kitzhaber, who traveled abroad with Robert Bailey, his father-in-law, on agricultural business. Bailey is one owner of Orchard View Farms of The Dalles.
West said Kitzhaber appointed Nisley to his current position 17 years ago and he has run unopposed in every subsequent election cycle. He said bar complaints filed by citizens and lawyers alike — including his own — end up being dismissed because of the governor's influence.
"The umbrella of protection provided by Gov. Kitzhaber needs to end and will only end when it receives the investigative journalism and publicity it needs," West said in a written statement that was provided Thursday to members of the media.
When asked how he felt about the effigy and recent accusations, Nisley said, "Gary West is yesterday's news; he's got nothing new to say." He declined further comment.
West took the lead on the recall effort that began in November 2011 and ended three months later out of a "deep mistrust" of the local judicial system. He said that mistrust stemmed from a 2001 charge against West of criminal assault on his teenage daughter for what he claimed were legal disciplinary actions within his rights as a father.
West said he spent three years — and more than $32,000 — fighting an "array" of misdemeanor and felony charges that ended up being dropped. During those years, West said he was separated from his daughter and refused juvenile hearings to establish an authority who would keep her from quitting school and "running amok," which he said had been his goal with her discipline.
According to the affidavit filed by West's daughter that was used by the investigating officer to obtain an arrest warrant, she moved in with her father following the death of her mother. Within that same week, she claimed that they ended up in a physical altercation that left her with injuries.
She told police that West pushed her to the ground, then placed her in a "full Nelson" wrestling hold and pressed hard enough to force her chin to her chest. She said during the scuffle, he grabbed her by the throat and held her down with his knee pressed on her biceps. At one point, while she was still pinned to the floor, West reportedly grabbed both of her shoulders and shook her violently so that the back of her head kept hitting the floor.
The officer investigating the case noted red marks on the girl's body that were consistent with her story and the physician who later examined her determined she had soft tissue damage to her arm, neck and back.
Although the major allegations against West were dropped, he ended up pleading guilty to contempt of court for contacting his daughter in violation of a judge's order. He then filed complaints with the Oregon State Bar against Nisley and his own lawyer, Stephen Houze, who he claimed had attempted to force him into a plea bargain that could have caused the loss of his parental rights.
Both complaints were dismissed and West was unable to get state oversight agencies to conduct an investigation into the way his case was handled. He has since claimed that Nisley applies higher charges to defendants so that court-appointed attorneys are paid more to handle these cases. The charges are then reduced during plea negotiations that result in a settlement, which allows the district attorney to claim victory and defense lawyers to pocket a good paycheck.
For that reason, West contends that no local attorneys can be found to run against Nisley so the misconduct continues.
"We are hoping with this publicity effort to get the Bar and Department of Justice to take a closer look and make Nisley play by the rules – that has been my argument all along," he said.