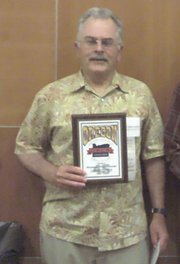 The Oregon High School Coaches Association announced several year-end awards to athletes and coaches this past weekend on a festive night at Autzen Stadium in Eugene and two long-time coaches, Bill Caddy and Bob Thouvenel, received service awards for having coached for 45 years in a row.

The duo has coached for 43 years together, mainly track and field.

"Coach Caddy and coach Thouvenel set the bar to where we all would like to be as coaches, athletes and athletic directors," said The Dalles Wahtonka athletic director Kyle Rosselle. "They are first-class examples of what you look for in a coach. They are knowledgeable, they are patient, and they work well with students, parents and other coaches."
Thouvenel graduated from The Dalles High School in 1962, competing in cross country and track and field, before attending the University of Portland, where he graduated in 1967.
There, he competed on the cross country team for two years until knee surgery ended his career.
Thouvenel had no idea he would be in the coaching game for so many years.
While running, however, he had the opportunity to learn the game from his high school cross country and track and field coach, Al Miller, whom he considers an inspiration.
Another stronghold in his life is his wife, Mary Beth.
"She has been an inspiration to me and a tremendous support over the past 25 years that we have been married," the coach said. "She has always been there for me through the good and bad times."
In the last eight years The Dalles High School was in the Tri-Valley league, Thouvenel coached a girls track and field team that did not have dual meet loss in that span.

During that time, TD captured eight dual meet championships, won several district championships and in the last two years in the Tri-Valley, won two state championships, back-to-back.

This fall, Thouvenel will look to recapture that glory as co-head coach along with Mandi Williams, of The Dalles Wahtonka cross country squad.
He will prepare these athletes and challenge them to improve every day – one of the greatest gifts of coaching.
"I guess that I never thought that I would coach all these years," Thouvenel said. "I would like to think that I had a positive influence on most of the athletes that I have come into contact with for the past 45 years."