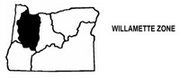 WILLAMETTE ZONE HUNTING
OPEN: COUGAR
TURKEY AND BEAR SEASONS CLOSED MAY 31.
Mandatory Reporting
Thanks to all hunters who reported their 2012 tags on time. Hunters who did not report 2012 deer and elk tags on time will pay a $25 penalty fee when they purchase a 2014 hunting license. If your 2012 deer and elk hunts extend into 2013, you have until April 15, 2013 to report your hunt. More information on reporting
Hunter orange required for youth
Don't forget: hunters age 17 and under must wear a fluorescent orange upper garment OR hat when hunting upland game birds (except turkey) and game mammals (deer, elk, bear, cougar, pronghorn, goat, sheep, and western gray squirrel) with a firearm.
Use the Oregon Hunting Map to see where to hunt.
Industrial forestland owners will usually have information regarding access to their property posted on their gates and usually have a "hotline" devoted to providing up-to-date access for hunters. In addition, many private timberlands use the following link to provide information regarding the access policy for their private lands. Hunters need to have permission to hunt or make sure hunting is allowed before accessing private lands.
BE PREPARED
Hunters are reminded to be prepared for emergencies by keeping survival equipment such as food, water, signal mirror, whistle, sleeping bag and first aid kit with you and in your vehicle during your outdoor adventures. Don't forget to wear the proper clothing; it is your first defense against the elements. Let someone know where you will be and when you expect to return just in case your vehicle becomes stuck.
Cougar - Season is open. Some hunters have had luck calling cougars to them with predator calls that mimic a deer fawn or elk calf. The key to successful calling is to get within hearing range of a cougar, which will require that hunters be familiar with the local landscape characteristics, be aware of deer and elk patterns in the area, and understand cougar habits. Hunting with a partner is recommended for those hunters attempting to call cougars, since these animals can be difficult to see and hear as they approach. Calling for at least an hour from each calling location is important. Using a tree stand or sitting back-to-back is a good technique to cover all potential entry points.
Successful cougar hunters will need to check-in any cougar taken at an ODFW office within 10 days of the kill. Hunters are reminded that biologists located in field offices may be out in the field handling other issues so call ahead to make arrangements to have your cougar checked-in. The hide and skull must be unfrozen and the skull and proof of sex must be attached to the hide. Hunters are required to submit the reproductive tract of any female cougar taken. Please review the 2012 Big Game Hunting Regulations before your hunting trip to ensure that you are familiar with all of the requirements.
NEW: Hunters get a free Sauvie Island parking permit with their purchase of an annual hunting license. Display on car dash. The parking permit is also required at EE Wilson Wildlife Area near Corvallis and a number of other areas. More information.