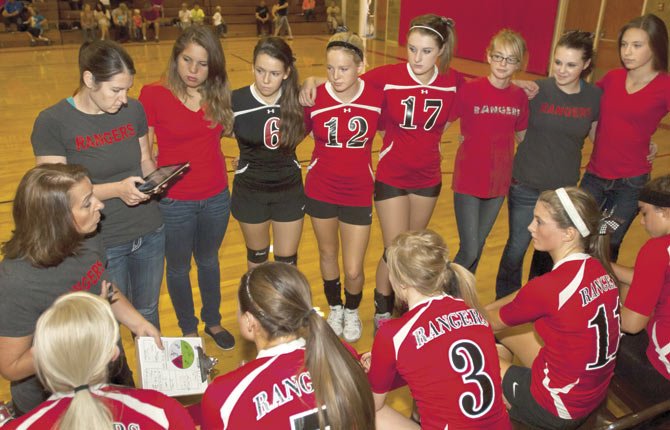 When a volleyball team racks up four first-team bids on its all-league lists, they more than likely had a banner year.
For the past few seasons, the Dufur Rangers have enjoyed strong success and it has shown with a bevy of Big Sky West Division crowns, playoff wins and high expectations.
Saturday, the district runners-up had four names called as representatives on the first team led by seniors Alexa Macias, Teneille McDonald and Kathryn Johnson along with junior hitter Taylor Darden. Junior hitter Montana Ferres and senior setter, Kyla Johnson, were two more standout athletes recognized as honorable mention picks for the No. 2-ranked squad in the state.
"I think it is a testament to how hard these girls work every day in practice," said Dufur coach Kelly Darden. "They strive to be better every time they step on the court, but most importantly, they want to go that extra mile for their teammates. It has created a great environment for success, not only for this year, but in years past."
In the regular season, the Lady Rangers amassed a 23-5 overall record and went a perfect 8-0 in the West Division to claim another title.
Of those 23 victories, Dufur dropped impressive foes such as Stanfield, Perrydale, Damascus Christian, Heppner, St. Paul, Condon-Wheeler, Ione and Portland Lutheran.
On Oct. 18, the Rangers swept past No. 1-ranked Lowell in a three-game sweep.
Sweeps came early and often for the Rangers, as they racked up 18 on the year, including a stretch from Sept. 24 to Oct. 19 where they posted 10 consecutive whitewashes.
Dufur has won 17 of their past 18 matches, with the only loss coming on Oct. 26 in the Big Sky district championship against Condon-Wheeler.
On a roster filled with veteran leadership and postseason experience, three seniors chalked up first team bids.
McDonald, a perennial first-teamer and a former all-state recipient, led the Rangers in blocks with 35 and finished second in kills and digs.
She rapped out 232 kills on 657 attempts, and added 157 digs on 230 tries, while dropping 74 aces and a serve percentage of 91.5 percent.
"Teneille is a very athletic girl who played great at the net for us this year," said coach Darden. "She was our team leader in solo blocks and second in kills. I have loved watching her improve over the last four years."
Kathryn Johnson is a player who has improved by leaps and bounds in her final two seasons of game action and it showed in her numbers.
The senior served at a 94.4 percent clip with 57 aces, and notched 11.5 blocks in her 28 matches.
She tallied 98 kills and finished third on the team with 146 digs.
"Kathryn is a consistent passer, server and hitter for us," coach Darden said. "(She is) a good all-around player who is a great team player and who has improved each year in the Ranger program."
Of course, those kills and this high-powered offense does not perform at such a dynamic rate without the services of a competent setter doling out some pinpoint passes.
Macias proved her weight in gold this season with top-flight numbers.
The setter rattled off 394 assists on 414 attempts for 90.3 percent, and she was second on the team in serve proficiency with 79 aces on 394 attempts and 20 errors.
The lefty tacked on 44 kills, nine blocks and dove on the hardwood for 89 digs.
"Alexa is a consistent, stable leader for us," coach Darden said. "Her leadership is the cornerstone of our team. Her setting has consistently improved each year and she has become a top setter in the state."
Taylor Darden boasts a top skill set in every facet of the game, but the former all-state winner performed at an elite level on serves and swings.
The junior dropped a team-high 278 kills on 715 swings with just 94 errors, and she connected on 96.7 percent of her serves with 118 aces on 394 tries from the stripe.
"Taylor led our team in hitting, serving, and passing categories and is a great leader by example on the floor for us," said the Ranger coach. "She's a great competitor who loves to compete."
Ferres had a resurgence this season as one of the mainstays on the edges, but did her best work defensively, with a team-leading 167 digs on 224 attempts.
She completed 87.1 percent of her serves with 63 aces, and was fourth on the roster with 76 kills.
"Montana does a great job for us in the back row," her coach said. "She's a great defender and passer and tough server for our team."
Do not let the smile fool you when it comes to Kyla Johnson – she is fierce when she straps on her red and black.
Johnson, who was another setter on the roster, had good statistics in four different categories.
Johnson served at an 86.7 percent rate with 64 aces, slammed home 23 kills and dished off 122 assists.
When sitting back, the senior posted 107 digs for 3.1 a contest.
"Kyla does a good job setting the block for us on the right front and makes some great digs defensively as well," coach Darden said.