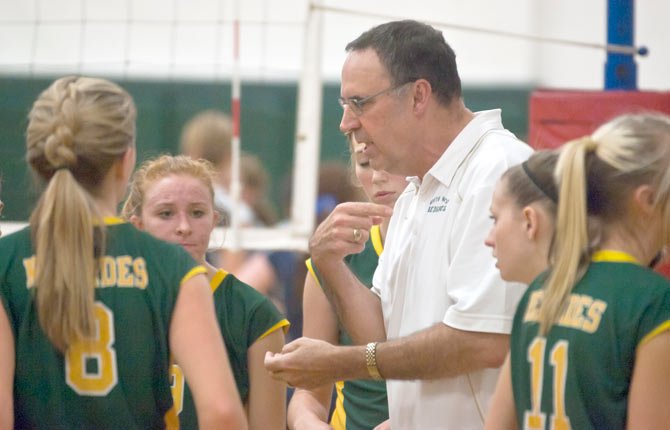 Every year under Ron Townsend, the South Wasco County Redsides have not only improved their game on the floor, but they have added to their win total for the past three seasons, going from six in 2011 to 15 this past fall campaign.
Those facts lend themselves to more than double the names placed on the Big Sky Conference all-league list from last season with five chalking up either first team or honorable selections.
For the second consecutive season, Redside seniors Katherine Popchock and Zoe Morelli were placed on the first team ballot for their stout play.
Added to that duo were Joy Kelly, Kelsie Olson and Molly Foreaker, who were named to the honorable mention slate.
"When you look at these girls, you can tell they were out here giving it their best. As a coach, that is all you can ask for," said Townsend, who earned Big Sky conference West Division Coach of the Year honors. "From where they started three years ago until now, they have showed steady improvement and played power volleyball. It is a great group of girls and I am proud of all of them."
Although they finished four points shy of qualifying for state play-in action, the Redsides have plenty of team accomplishments they can hang their hats on.
At one point, the Redsides won nine of their first 10 matches to start the year and rose as high as No. 2 in the state rankings.
On three occasions, SWC held non-tournament winning streaks of three games and tallied nine sweeps.
Of those 15 winning performances, SWC beat Ione in five games, defeated Echo in two matches and beat 3A Riverside.
One of the biggest accomplishments this year was a huge five-game road win over Mountain Valley League champion, Trinity Lutheran. "I look at it as we had a great season," Popchock said. "I could not be more proud of this team. I really don't think many people thought we would do as good as we did, but we fought hard in every match we played."
When it comes to the individual accolades, both Popchock and Morelli deferred any and all praise.
From the serves, the passes and sets, everything worked in unison for the offense to score points to gain an edge on the opposition.
"I don't get this award without the help of my teammates. They are the reason why," Morelli said. "They pushed me to become a better player. I am so thankful to have them as teammates. There is no other team in the state that I would rather be a part of than this one. I am really excited for all of us. This is a great honor that we can all share in."
In those three years since Townsend's arrival, Olson saw a team that was known to be more on the quiet side, become assertive and talkative on the hardwood.
They learned a lot about each other and surpassed so many expectations.
"Whether you win or lose, we taught each other a lot," Olson said. "I can honestly tell you, I have improved so much on every part of my game. I am sure my teammates can say the same thing. We never stopped working hard in practice, because we wanted to do good for each other. That is a huge part of accountability and responsibility and dedication."
Now that she has swung on her final kill attempt or served her last serve, the biggest goal for Popchock is that many young girls coming through the ranks see the joy and success the Redsides had during her career that they want to be a part of something that is bigger than they are.
Being a part of a team teaches life lessons that span farther than the hardwood or classroom.
"My hope is for the younger girls to join this program and hopefully win state eventually," Popchock said. "We had so much fun in every match. We had smiles on our faces and we enjoyed being together. You cannot manufacture that. I want them to be part of this program and carry on the legacy."