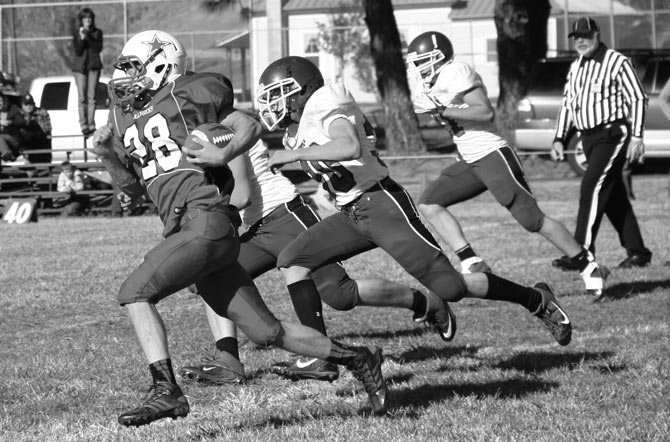 One quarter would have been enough.
The Dufur Rangers set the tone for their entire post-season play-in game against Crane with three unanswered touchdowns and a 22-0 lead by the end of the first quarter.
"Crane was a big, strong, physical football team that caused some problems up front for us," said coach Jack Henderson, though the scoreboard didn't show it.
Dufur scored consistently and Crane didn't post its lone TD until the fourth quarter.
Jake Little started the Rangers' game-long score-fest, catching a 32-yard pass from quarterback Cole Parke. Nick Little made the conversion with a three-yard run for an 8-0 opener.
"Cole Parke threw the ball well once again today and we had several receivers step up, led by Jake Little," Henderson said.
Little posted 84 yards on four receptions, followed by Trevor Tibbets with 58 yards on two receptions, Kurt Nuevo with 36 yards on 1 reception, Nick Little with 26 yards on one reception and Steven Bailey with four yards on two receptions
Parke was 9 for 16 for 169 passing yards while Kolby Bales passed 3 for 5 for 40 yards.
Trevor Tibbets added the next score to the board with a three-yard run for a 14-0 lead. Tibbets had 44 yards on 12 carries for the game.
Nick Little led in rushing with 101 yards on 7 carries. Parke had 53 yards on 4 carries, John Keyser 12 yards on three carries, Nuevo seven yards on three carries and Bales five yards on two carries.
Nick Little ran 64 yards for the first score of the second quarter, then Jake Little scooped up a 17-yard pass from Parke to bring the quarter's score to 34-0.
In the third quarter, Cole kept the ball for a 27-yard scoring run. Nick Little added the conversion for a 42-0 lead. Jake Little completed the quarter with a 21-yard catch from Parke for 48 unanswered points after three quarters.
"Defensively we flowed to the ball well after a few breakdowns early in the game," Henderson said. Crane scored their only points early in the fourth quarter to make it 48-8, but the Rangers weren't finished yet. Bales at quarterback took a 2-yard run into the end zone to complete the 54-8 final score.
"It was a great season," Henderson said. "The kids improved consistently. Now the real fun begins with the playoffs."
OSAA Class 1A playoffs begin next weekend. Dufur will play Monument/Dayville Friday, Nov. 8, at a time to be determined.