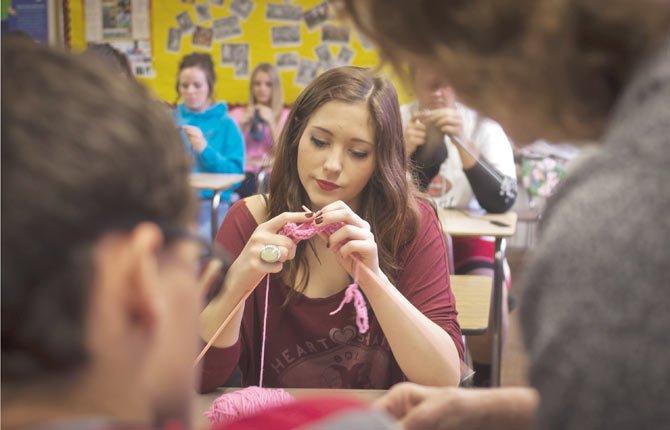 Sometimes a pair of knitting needles, a GPS locator or a robotics kit are more than they seem; sometimes they are a key to better understanding — and that's Awesome.
A team of teachers from the North Wasco County School District were introduced last year to the concept of curriculum designed to strengthen connections between teachers and students by offering courses based on mutual interests.
"Genuine interest in a subject is what really drives student motivation," Principal Nick Nelson said in reference to The Dalles Wahtonka High School's recently implemented "Awesome" curriculum. "It's what gets them to invest in what they're learning and maybe even have some fun, too." This September, staff from all corners of the high school began teaching the weekly classes, many of which center on the exploration of less "traditional" areas of study.
Principal Nelson said he has about 20 students enrolled in the class he teaches on geocaching in which he invites a volunteer to appear as a recurring guest to supplement his own teaching every once in a while and "shake things up a bit."
"What we want to do is create new ways for students and teachers to get to know and understand each other— to make real connections with kids so they don't end up slipping through the cracks of the system and getting lost."
The Awesome class period regularly takes place every Wednesday from 9:40 to 11:10 a.m. and each course section is offered on a nine-week basis, after which point the classes turn over and an altered set of courses go on offer. One class currently in session focuses on what the principal called "remote-controlled submersibles," in which students work to build models and test them underwater.
Robotics, knitting, and basic culinary and baking skills classes are also among present offerings.
In place of the varied interest-based courses available, about 30 to 50 students have elected to enroll in Awesome classes centered on college preparatory work. These selections focus on improving essay writing skills, resume development and activities related to scholarship attainment. Also offered during the Awesome class time are "Core Support" courses, in which instruction is based around helping students build the skills necessary to be successful in regular "core" courses such as algebra and biology.
"There are a lot of options to choose from and we try to provide enough of a range so that there's something for everyone," Nelson said.
During the first week of school, students were given the opportunity to review the Awesome course selections and sign up for their first choices before being enrolled in one for the remainder of the nine-week block.
For these first nine weeks, freshman-only Awesome classes, or "Freshman Foundations," focused on orienting students to the "Seven Habits of Highly Effective Teens" in an effort to prepare them to meet the demands of regular high school coursework. Course material covers subjects such as goal setting and developing effective study skills. Workbooks for the course were donated this year by YouthThink.
After the initial nine weeks conclude, freshmen will then be given the option to join an existing Awesome class of their choice. Among those options for first-year students will be the Core Support courses.
Students from across the spectrum currently struggling in courses based on Common Core curriculum are encouraged to sign up for Core Support classes tailored to provide extra support in key subject areas like writing, reading and mathematics, many of which are taught by the same core instructors students would encounter in the corresponding standard course.
All Awesome and Core Support courses are linked to students' Homeroom classes, which run for 30 minutes every Thursday morning. While the Awesome-block supplemental courses are offered on a pass/no pass basis, they do function as an extension of Homeroom in that student performance in the once-a-week classes may affect their Homeroom grades.