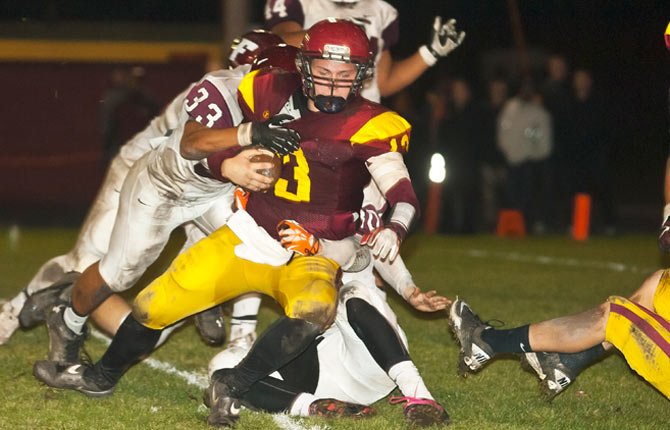 Throughout an exciting and high intensity OSAA Class 5A football state play-In matchup versus the Franklin Quakers, it appeared that The Dalles Wahtonka Eagle Indians would persevere and pull out a huge home win at Sid White Field.
The Dalles Wahtonka had the early momentum in their favor Friday night.
First-year coach Steve Sugg and his Eagle Indians (5-5), led 14-7 after the first quarter and 30-21 at the half. It even seemed like it would be a promising outcome after three quarters with TDW up 36-35.
Then Franklin (7-3) turned things around, taking advantage of TDW's misfortune and pulling out a 43-36 victory Friday to end the Eagle Indians's most successful season of the past few years. Franklin, the second place team in the Portland Intersholastic League, advances to play in the first round of the 16-team state playoffs beginning Nov. 8.
"Considering what our football program endured the last couple of years (back-to-back one win seasons), I'm extremely proud of all these kids," said Sugg. "They set goals at the beginning of the season and they worked hard all year to accomplish most of those goals. It's just too bad it had to end this way."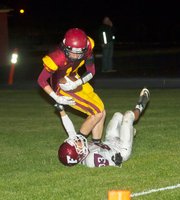 After both teams failed to score on their opening possessions, the No. 16 Eagle Indians lit up the scoreboard first. Eagle Indian senior defensive back Austin Wilson set TDW up for an early edge, intercepting a pass thrown by Franklin quarterback Aidan Marcum, and giving TDW possession at its own 31-yard line.
The dynamic duo of seniors Chaise Shroll (20-for 41 passing, 291 yards, three TDs) and Blake Diede (19 carries, 115 yards rushing) combined to helped lead the Eagle Indians offense. TDW proceeded on a seven play, 69-yard scoring drive, capped by Diede's 19-yard touchdown run, making it 6-0 with five minutes, 44 seconds left in the first quarter.
The No. 17 ranked Quakers, led by veteran coach Tom McCarthy, responded just 49 seconds later and took a 7-6 edge with 4:55 remaining in the opening quarter.
"It was a fun game to be a part of and to come out on top on the road against a very good The Dalles Wahtonka team is very satisfying," said McCarthy. "The game went back and forth with numerous momentum shifts."
TDW came back and after a solid 28-yard kickoff return by senior Zach Nerdin and the Eagle Indians were in good field position at their own 42.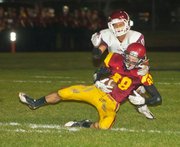 Schroll then combined with senior wide receivers Wilson (five receptions, 65 yards, TD) and Austin Dehart (seven receptions, 120 yards, two TDs) to help guide TDW to a go-ahead score. A nine-play, 58-yard drive culminated with Schroll's 16-yard TD pass to Wilson. Schroll tossed a two-point conversion to Nerdin as TDW took a 14-7 lead after one quarter.
"We practiced so hard all week to prepare for this game," said Dehart, a Columbia River Conference second team award-winner. "We put lots of heart and effort into this game and we certainly had our chances to win. The injury situation (Schroll), an usual amount of penalties and some key mistakes we made were all contributing factors to the loss."
On Franklin's next possession, Dehart thwarted a possible scoring drive when he intercepted a pass thrown by the Quaker quarterback at the Eagle Indian one-yard line. Dehart then eluded a number of Quaker defenders and returned the ball on an impressive 99-yard scoring run. A two-point conversion pass from Schroll to Diede gave TDW a seemingly comfortable 22-7 margin with 11:36 left in the second quarter.
Franklin came back with time to spare and trimmed the margin to 22-15 with 6:09 left in the second quarter.
TDW took control later in the quarter after a failed Quaker fourth down conversion attempt, gaining possession at Franklin's 33-yard line. Schroll connected with Dehart on a 51-yard TD pass. The duo hooked up again on the conversion pass as TDW took a 30-15 lead with 4:09 on the clock.
The Quakers responded and narrowed the margin with a scoring drive, making it 30-21 at halftime.
Franklin stepped up its defensive intensity in the second half, limiting TDW's potent offensive attack to just six points. Franklin had two scoring drives to take a 35-30 advantage with 4:34 left in the third quarter.
The resilient Eagle Indians fought back and senior Billy Brace helped ignite an offensive surge with his 37-yard kickoff return putting TDW in good field position at the 50. An eight-play drive culminated with Schroll's five-yard TD pass to Dehart. The two-point conversion failed, but TDW was up 36-35 with 2:29 remaining in the third.
"I just felt like we should've come out and played with a lot more enthusiastic effort in the second half," said Dehart. "There were lots of teams that were hoping to be in the play-in round like we were, so it was good to advance this far."
TDW retained its one-point advantage after three quarters. Franklin responded and got a go-ahead touchdown just 32 seconds into the fourth quarter to take a 43-36 advantage with 11:28 left in the game.
The Eagle Indians had four more offensive possessions in the fourth quarter to try and regain the lead. TDW's defense stepped up and stopped four potential Franklin scoring drives to help provide the Eagle Indians with a chance for a comeback.
However the turning point of the game came midway through the quarter when Schroll went to the sidelines after suffering a concussion. He was unable to play for the remainder of the game.
"When we lost our starting quarterback, it hurt us a lot and it really changed the momentum in their favor," said Sugg. "I think we would've had a good chance to win if he didn't get injured. These kids have come a long way and we had a great season. I don't think that they even realized earlier this year that they would be able to get this far in the postseason. I don't think too many people believed that we would end up where we are right now."
Senior backup quarterback Zach Cantrell took Schroll's place, but TDW's offense had trouble moving the ball. Franklin managed to hold onto the lead and pull out the victory over TDW. For the 14 Eagle Indian seniors, it marked the conclusion of their TDW High School football career.
"We have a great group of seniors and I'm very proud of them, but I wish I could've had a couple more years with them," said Sugg. "It's been a great year for them. I think they'll go on and be very successful in whatever they do in the future."