I am a three-week-old grandmother!
This new chapter in my life is being led by an absolutely perfect baby boy.
My job as his grandmother is to provide unconditional love, a safe environment, and oodles of learning and growing opportunities for this precious blessing — which is exactly what is wanted for all the children in ou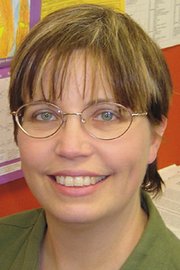 r community.

With that goal in mind, several child and family organizations in our community have come together to train, share and plan ways to provide a positive environment for our children, adolescents, and teens. Our focus is on positive youth development; intentional efforts of other youth, adults, community organizations, government agencies, and schools to provide the proper environment and opportunities for youth to enhance their interests, skills and abilities into adulthood.
Studies on the development of youth have shown that particular elements need to be present for our children to be on the best trajectory for becoming confident, competent, connected, compassionate and contributing adults.
These "essential elements" include having a safe environment (both physically and emotionally) in which to grow; having caring adults in their lives; and having a strong sense of belonging and acceptance. Also, being able to see themselves in and with a future, to feel empowered to make an impact rather than submissively accepting what is happening to and around them, and being able to give back and help others are important elements.
Additionally youth need the chance to build knowledge and skills and be truly engaged in their learning. No one organization (family, school, youth program) in a child's life can meet every essential element. It truly does take a village to raise a child and The Dalles (indeed all of Wasco County) is just the village.
Our school systems continually seek just the right mix of required academics, life skills building, and family involvement to develop well-rounded, ready-for-adulthood students. Examples include Chenoweth Elementary, where a focus on the whole family as a part of education is being implemented through projects and events designed to develop a sense of belonging and inclusion.
The Dalles High has implemented a program (see story, page A1) where students choose from a series of skill-building, hands-on, life-preparation classes offered during the school day and taught by community members and youth organizations such as 4-H and The Dalles Middle School has opened their doors to after-school learning opportunities for their students. Both schools are focusing on the essential element of engagement in learning.
In addition, 4-H and other local youth organizations offer the opportunity for our youth to give back to the community through community service and civic engagement; 4-H and other organizations like Big Brother Big Sister provide the opportunity for children to have caring adults (other than their parents) in their lives, and YouthThink and 4-H educate adolescents and their families on the topics most concerning to this age group and empower them with the skills needed to make positive choices.

One could go on listing all the great community organizations that focus on helping our children grow up in a positive environment: Child Care Partners, Wonderworks, Head Start, Kiwanis, Master Gardeners, Gorge Explorers, Parks and Recreation, our school system from Kindergarten through college, and even our juvenile justice system through the TOOLs program. This list doesn't even start to cover the organizations that support our families especially during a time of need or duress (Red Cross, Haven, food banks, Heart of Hospice, HHS, faith groups…).
There is always a "village" member or two who is able to step forward and provide needed support.

I am proud to be a member of this village and can rest assured our children and grandchildren have the love and support needed on their journey to adulthood.

For more information, contact Lynette Black, 4-H Youth Development Faculty, OSU Extension, Wasco County. Lynette.black@oregonstate.edu or 541-296-5494.