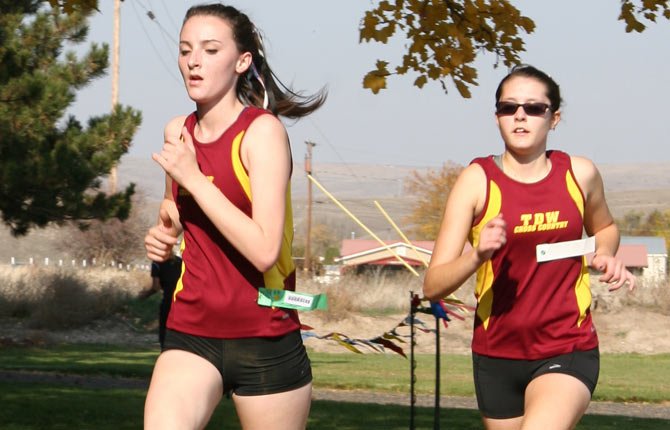 Running in the rain Nov. 2 at Eugene's Lane Community College, The Dalles Wahtonka's girls cross country team posted a seventh-place finish at the OSAA Class 5A girls cross country meet.
The same girls who led their team to a second-place finish and a state berth at the Columbia River Conference district meet led the Eagle Indians field. Emily Morin and Maddie Wood won first team all-league honors at the district meet and were the top two Tribe finishers in the state event.
Morin led with a 27th place, 20 minute, 14 second finish. Placing in the top 28 earned her another accolade, honorable mention all-state.
Wood was not far behind at 31st with a 20:28 time.
The top five runners on each team make up the final team score, based on runner placement. Avery Cardozi was next in line, placing 45th on a 21:15 time. Katie Burns 21:29 time gave her 48th place. Caela Dunagan landed in 55th with 21:47. Also running were Molly Nelson at 24:22 and Luisa Meyer at 24:32.
Summit took top honors, claiming three of the top four places in the race. They were led by sophomore Hannah Gindlesperger's 17:53 time, 14 seconds better than the rest of the pack. Mountain View and Corvallis rounded out the top three teams.
Looking back on the season, the Eagle Indians harriers, both boys and girls, had plenty to be proud of, said coach Bob Thouvenel.
"Nineteen out of 23 boys who finished the season had their personal bests this season and 10 out of 12 girls had their personal bests," Thouvenel said. "We want to thank our senior boys for dedication, not only for this past season, but the four boys who ran over the past four years. We didn't have any senior girls. We hope to build on this past season for next year."