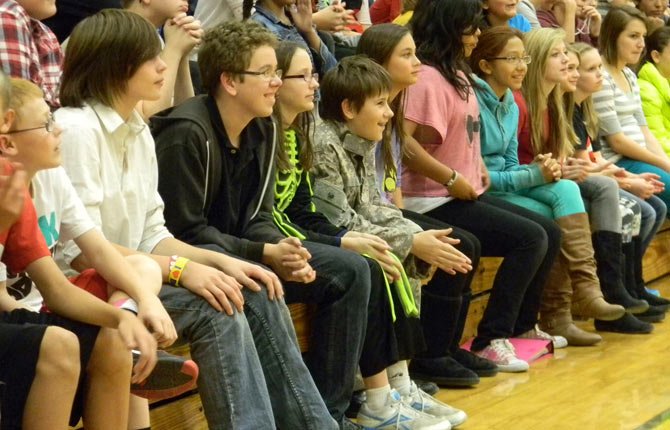 Students sporting everything from jeans and superhero T-shirts to sparkly fairy wings, oversized National Guard uniforms, fuzzy unicorn horns and festive witches' hats crowded onto gymnasium bleachers on Oct. 31 last week to attend the Middle School's first-ever "appreciation assembly."

"Appreciation is an underutilized art," Principal Pat Consoliver said. "Here, we're looking to make it a regular practice."
An appreciation assembly's purpose is to recognize students not for specific academic or athletic achievement, but for consistently having a positive impact on the school and their peers.
"We want to reward the kids who are positive role models," said Lance Masters, vice principal and lead coordinator of the assembly. "When it comes down to it, it's little things like having an encouraging attitude and a willingness to work hard and lend a hand that end up making a big difference in someone's day."
Behavior-based student recognition assemblies like these were once regularly hosted at Wahtonka High School when it was still functioning as the freshman campus, and Masters said he's wanted to bring them back for a long time.
"One of thye things we know in public education is that one of the biggest predictors of student success is being able to make a positive connection with an adult. This was another way to make those connections and recognize kids who are working hard and who may not get a lot of public acknowledgement for all the great things they're doing."
Teachers at the assembly began by listing several of the reasons they appreciated specific students in the classroom and why they thought they deserved to be recognized. Students were then called up, riding on the coattails of the praise, to the front of the gymnasium where they were awarded recognition certificates for their positive influence on the school community.
"Last year we didn't hand out awards like this, so I wasn't expecting it to be an awards assembly," 8th grader Terra Schechtel said. "It's amazing how many people were recognized."
"I was worried there wasn't going to be anybody left in the audience to clap!" Masters laughed. "It was a really authentic show of appreciation and by the end of the year, we hope everyone will have had a chance to be called down and cheered for by their classmates."
According to Masters, the idea to bring back the quarterly appreciation assembly was generated at one of the weekly TRIBES meetings.
TRIBES, he said, is a program that's been around North Wasco County School District for a long time and is one that "really ties our staff and students together."
Last week's assembly was based on what he called "TRIBES agreements," which include practicing appreciation and mutual respect on a consistent basis.
"We wanted to find a way to recognize some of the incredible students we have here, and that's what this was all about."
Masters said it also served as "a great kick-off" to another of the Middle School's traditions: Wildcat day, a school-led celebration held at the end of each quarter that offers a wide range of activities for staff and students.
The addition of the assembly was "a great way to reach out to students and say 'thank you'," Masters said. "You just felt that positive energy in the room. You'd think people would get tired of cheering one student after another, but they didn't, and I think that says a lot."
Masters said he believes it's safe to say the assembly was "a big hit" with everyone involved and that he thinks the school will definitely have more of them to look forward to in the future.