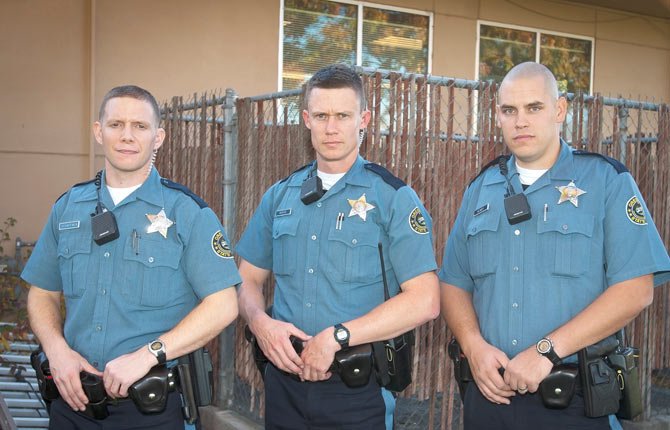 The Oregon State Police in The Dalles has strengthened its patrol force by adding three new troopers to the ranks.
"Having this many recruits come into the office at one time has allowed us to get back up to strength," said Lt. Pat Shortt, who runs the office that provides services to Wasco, Hood River, Sherman, Gilliam and Wheeler counties.
He said without having 14 troopers on the road – the workforce has been as low as nine — it is difficult to meet the goal of providing 20 hours of patrols every day of the week. He said during times when someone has been away at training or on vacation, staffing has been stretched thin.
"We have the largest geographic area to cover in the state and these guys are going to help immediately with us achieving our patrol goal," he said.
Matthew Newby, 30, Jason Schaffner 32, and Matthew Moran, 37, were selected for their current posts, said Shortt, because their background checks showed them to be men of strong character and integrity. "An investigator delves pretty heavily into the past of recruits so we know that the people going to the academy are the best we can get," he said.
Earlier this year, Newby, Schaffner and Moran joined other recruits at the OSP pre-academy for four weeks, or 186 hours, for a "boot camp" type of training to test their mettle.
"My uncle was a retired trooper and I had always wanted to be in that job," said Newby, who was working in sales near Eugene when the OSP positions were advertised.
The three recruits received 32 hours of medical training that put them at one level below a basic Emergency Medical Technician. They also spent 16 hours learning verbal communications for field work, 40 hours in firearms training, and 26 hours getting instruction about other types of activities specific to the agency, such as fish and wildlife regulations.
"It was an eye opener. It definitely tests who you are and whether you should be there," said Moran, who was living in Salem and working in the automotive industry before signing up to fulfill a "lifelong aspiration."
Once he, Newby and Schaffner had made it through the OSP course, they joined new hires for city and county law enforcement agencies at the Department of Public Safety Standards for 16 more weeks of training, followed by even more state police education.
The troopers officially started duty in March but are still on probation, so have not yet been turned loose with their own patrol car.
Schaffner decided to try out for the job of a trooper after he and his wife returned from several years in the Cayman Islands, where she had worked as a certified public accountant.
"This was something that I always wanted to do and it has been a blessing," he said.
Newby, who knows that he will be referred to as the "newbie" forever because of his name, was joined by Moran and Schaffner in saying that he is pleased to be settling with his family in the area and serving residents of the Mid-Columbia region.
A four-legged member of the department named "Sadie" is also on duty to help with drug detection operations. The 18-month-old female red Labrador and her handler — one of nine canine teams around the state — will play an important role in finding illegal drugs.
"Our drug detection canines have proven to be important partners for our department and other public safety agencies both on and off the road," said OSP Sgt. David Beck, coordinator of the OSP canine program, who has worked with dogs for more than 21 years.
"They play an important role in finding illegal drugs and related evidence on our highways and in local communities."
During 2011 and 2012, OSP's drug detection canines and their handlers are credited with the seizure of more than 800 pounds of marijuana, 123 pounds of methamphetamine, 113 pounds of cocaine, about 90 pounds of heroin, 12 pounds of Psilocybin mushrooms and other evidence.
Beck said the dog's training includes an intensive two-week OSP drug detection handler course and certification process designed to detect odors from controlled substances.
The majority of searches involving OSP drug detection canines occur along the highway during vehicle stops when couriers try to conceal drugs and other evidence to avoid discovery.