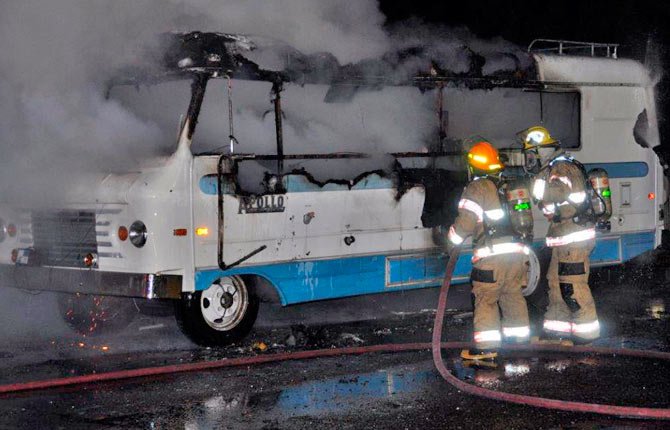 An 1972 Apollo motor home was destroyed by fire Sunday, Nov.3, in a 6 p.m. blaze. The man who lived in the motor home was not in it at the time.
Mid-Columbia Fire & Rescue Fire Marshal Dan Hammel is conducting an investigation of the cause of the fire and hopes to have it done today.
"We've completed the physical investigation and we're going to be conducting some interviews at this point," he said. The hardest part of investigating vehicle fires compared to house fires is that vehicles end up so damaged that it makes determining the cause of the fire difficult, he said.
The motor home was parked on Division Street, close to its intersection with West Sixth Street. It was on a side street by Doug's Muffler Shop and the Westside 76 gas station.
"When you've got a motor home, they're not really built to sustain or survive a fire," Hammel said. "It takes a little more time to really dig through and separate what we call indicators of where the fire started vs. false indicators that were a result of the fire."
Hammel said he will be talking to some witnesses today to complete his investigation.
He has learned that the owner of the motor home, a 58-year-old man whose name is not yet being released, was working on some systems in the motor home, including replacing the alternator and fixing the plumbing, but Hammel said neither of those areas of work were the cause of the fire.
The vehicle was towed to a local tow company's storage yard.
Hammel said with the economic downturn, "there's a lot more RVs that are being lived in. The problem with living in an RV permanently, is they tend to not be built for permanent residency, so you have to be cautious."
Common causes of fires in RVs — though not being listed as the cause in this case — include space heaters that are not able to be kept far enough from other objects due to tight quarters, and electrical overload, since they are not designed to have a constant use of power.
He said the motor home was about 26 to 30 feet long. Hammel said he believed the man was getting assistance from the Red Cross.
In another recent house fire, which burned at the historic Hudson House in the 400 block of West Second Place, Hammel has determined it was caused by an electrical failure in an outlet in the bedroom where the fire started, on the second story of the home. A lot of plastic in the room caused a heavy smoke layer, he said. A smoke alarm was at the top of the stairs, but when a passerby alerted the family — who was downstairs watching TV — of the fire, the smoke hadn't reached that smoke alarm yet.
It was sounding by the time firefighters arrived.
"The unfortunate thing was that this house at one time had a working smoke detector system and a built-in fire alarm system, but it was disabled," Hammel said.
Existing homes are recommended to have a smoke alarm outside each bedroom.
If a common hallway has doors leading to three bedrooms, then one smoke alarm in the hallway would suffice. In new construction a smoke alarm is required inside each bedroom as well as outside each bedroom, Hammel said.
If anyone has any questions about where to place fire alarms, they are encouraged to call Hammel at the fire district, at 541-296-9445.