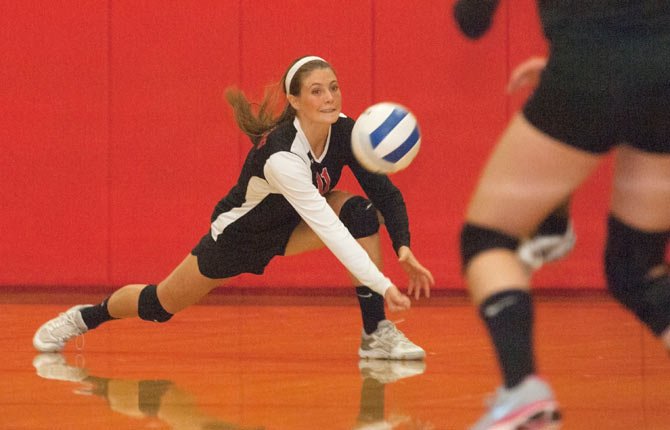 Considered a favorite in a Class 1A second-round state playoff volleyball match against the Prairie City Panthers, the powerhouse Dufur High Rangers had probably already made hotel reservations for the state tournament in Central Oregon prior to Saturday's home game.
All they needed to finalize their plans for a trip to the state tournament at Ridgeview High School Nov. 8 and 9 in Redmond, was a Dufur (24-5) win over Prairie City (8-10) to clinch a berth in the Elite 8 quarterfinal playoff.
As expected, the No. 2 Lady Rangers continued the success they've enjoyed all season. Dufur advanced to the Class 1A quarterfinals for the first time since 2011 with 3-0 sweep over the Panthers in a second round state playoff match.
The Big Sky West Division champions dominated the match, winning 25-8, 25-9, 25-16 at Dufur High School. Dufur, the District 6 runners-up to the Condon-Wheeler Knights (23-2), has won 18 of its last 19 matches and has recorded 18 three-game sweeps. Dufur's only setback in the streak was a 3-1 loss to Condon-Wheeler in the Big Sky District title game Oct. 26 in Dufur.
At the tournament, Dufur will start its bid for the state title with a game against the Trinity Lutheran Saints (17-4) Nov. 8 in a 3:15 p.m. in the state quarterfinal matchup.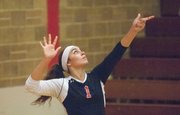 "There's lots of good teams at the tournament and we realize that anything can happen," said Darden, who has led Dufur to the state tourney three times in the past seven years. "We competed with and beat some of the teams (Lowell, St. Paul) that are there, so it was a good experience to play them during the regular season."
Coach Darden's daughter, Taylor, helped provide the Rangers with an early lead in Game 1. Taylor, a Big Sky Conference First Team All-Star, lofted some sharply hit and accurate serves, including two aces that helped Dufur jump out to a 4-0 advantage.
"Nothing come's easy in the playoffs or the state tournament, so we just have to continue playing hard," said Taylor Darden. "We couldn't just go out there with the attitude that we'll get an easy win and then move on to the tournament. We had to play hard, because if we didn't then we would've lost. We played really well in our last game (a 3-0 win Oct. 30 over Cove) at home. We knew as long as we continued playing like we did in that game, that we would probably win today."
The hard hitting Rangers quickly built a 10-1 lead to force a timeout by Panther coach Louanne Zweygardt. Dufur's powerful offensive advantage was evident throughout the game as the margin ballooned to 22-6 on a kill by Taylor Darden (five kills, five assists, eight digs).
"They [Dufur] are a very good team and I expect them to go a long way in the state tournament," said Zweygardt, Prairie City's second-year coach, who led the Panthers to the playoffs for the first time since 2006. "It was a tough loss to a very disciplined and talented Dufur squad.
Solid play by Big Sky Conference First Team All-Star setter Alexa Macias (17 assists) and senior Kyla Johnson (seven digs, four kills) contributed to Dufur's dominating performance in which they led from start to finish. A Macias hit gave Dufur game point at 24-7 and junior outside hitter Montana Ferres (eight digs) had the game-winning kill in the lopsided 25-8 first set win.
"We've been trying to get back to the state tournament. We've worked really hard at practice, so hopefully that will continue to pay off for us," said Kelly Darden. "The girls have a few more days of practice before the tournament. We're just taking it day-by-day and we're focusing on playing with a high intensity level in every game just as if it's a championship match."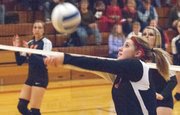 In Game 2, which included four ties and three lead changes, Dufur broke a 6-6 deadlock and got a sideout point for a 7-6 lead. Sophomore Tianna Ellis (seven aces, 16 service points) went to the service line and helped Dufur record eight consecutive points to go ahead 15-6.
After the teams traded points, Taylor Darden's service ace pushed the margin to a double digit 18-8 lead. A 6-0 Ranger run made it 24-8 when PC hit a ball out over the end line. Ferres then slammed a ball to the floor for her second game-winning kill of the match in the 25-9 win.
The Panthers, the third place team in the High Desert League in Eastern Oregon, had their best performance in Game 3, while trying to avoid a sweep. Following five early tie scores, PC broke a 4-4 deadlock and went ahead 5-4 on a sideout point. Panther junior Amy Black (five kills, two blocks) served two service points, including an ace, to help PC take a 7-4 advantage.
"We knew what we were coming up against in playing Dufur and we were definitely the underdogs," said Black, a High Desert First Team All-Star. "They're obviously an intimidating team, but we played our hearts out and never gave up. We gave it our best shot and we were hoping to maybe pull off an upset win."
As they've done so often in beating their opponents, Dufur took control of the game with a 9-0 run. Stellar serving by Ellis contributed mightily in the Ranger rally as she connected for eight straight service points. Ellis fired consecutive aces and her unreturned serve helped extend the margin to 13-7.
The squads traded points, with Dufur up 14-8 and then the Ranger offense shifted into high gear. Dufur went on a 7-2 run, including a powerful blast by senior middle blocker Teneille McDonald (team high 11 kills, eight digs), to build a double-digit 21-10 lead.
"It's a great feeling to be going to the tournament in my senior year," said McDonald, a Big Sky Conference First Team All-Star. "All of us are really super excited because it's been our goal for a while to finally get back there and we'll work hard in practice this week to prepare for it."
After PC narrowed the deficit to 22-15, McDonald's kill made it 23-15. Dufur got the game point at 24-16 on a Panther hitting error when a ball sailed out of bounds. Taylor Darden then pounded a ball to the floor for the match-winning kill in the 25-16 win and sweep.
"I feel like we have the potential to do very well at the tournament," said McDonald. "Our seniors (Macias, Kyla Johnson, Kathryn Johnson) have their roles in helping provide leadership. Everyone on our team makes valuable contributions too and all our players help lead the team in different ways. We're peaking at the right time. Our goal of course, is to win the state championship and I think we're ready to go there and get the job done."
It marked the final home game of their career for Dufur's quartet of seniors, who concluded it with a very positive experience, while hoping for some even better things to come at Redmond.
"The seniors have been working real hard all season and I told them before the game that I was really proud of them," said Coach Darden. "I told them that they needed to come out and play really hard in their last home game and they sure did that."
Dufur recorded team totals of 23 kills and 38 digs. The Rangers had outstanding play at the service line at 91.8 percent (73-for-79).
"I feel like we can play with anybody and we'll just have to go out and continue playing our aggressive style in order to win three games at Redmond," said Coach Darden. "When we're firing on all cylinders and playing crisp, then our team is really impressive and that's what we'll have to do."
If Dufur wins it's quarterfinal match against Trinity Lutheran, they'll advance to play in the 8:30 p.m. semifinals against the winner of the St. Paul (20-7) versus Imbler (24-0) quarterfinal. If the Rangers lose their opener, they'll play in a 10 a.m. consolation round match Nov. 9.