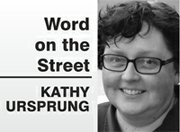 The Dalles — Help military stay in the trim: Great Clips is offering a chance for community members to express their gratitude to veterans with the "Thank a Veteran" promotion.
On Veterans Day, Monday, Nov. 11, customers who come in for a haircut will receive a free haircut card to give to any active, inactive or retired military member of any branch, including the National Guard. Military members can also come in on Veterans Day for a free haircut or to pick up a free haircut card to use, with proof of service, any day before Dec. 31.
"We're honored to help the entire nation show appreciation for the men and women who have served our country," said Great Clips CEO Rhoda Olsen, who is married to a Vietnam veteran.
McCoy honored: Tom McCoy of Wasco was recently inducted into the OSU College of Ag Sciences Hall of Fame, according to a report from Sherman County e-News. He was cited for his years of leadership on the Oregon Wheat Growers League and the Oregon Wheat Commission, for his support for Columbia Basin Ag Research Center and Sherman Station, and for his many contributions to designing OSU ag positions.
McCoy is currently serving as a Sherman County Commissioner.
Sustaining Business: Carola Stepper of Cascade Accupuncture will lead a brown bag workshop at Gorge Innoventure on How to Grow and Sustain a Healthy Business.
The event will be Wednesday, Nov. 20 from noon to 1 p.m. at Gorge Innoventure in Hood River.
The two-time winner of the Columbia Gorge Regional Small Business of the Year award shares her knowledge of what it takes to grow and sustain a healthy and successful business. Topics will include purpose, vision, work ethics, business plan, business coaches, professional support, marketing plan and budget, business analysis, statistics, customer complaints, self-care and more.
Find more information online at www.gorgeinnoventure.com.
Farm funders: Funding opportunities are available for projects that help farm and ranch families succeed through targeted risk management strategies.
The program is through the Western Center for Risk Management Education, in conjunction with the Northeast, North Central and Southern Extension Centers in Washington. Maximum funding is $50,000.
The funding is available to risk management education and training programs for agricultural producers and their families.
Information about the program is available online at http://westrme.wsu.edu/ under the "Competitive Grants Program" tab.
Do you have an item for Word on the Street? Contact Kathy Ursprung: 541-506-4601, under her name on Facebook and at kursprung@thedalleschroni
cle.com