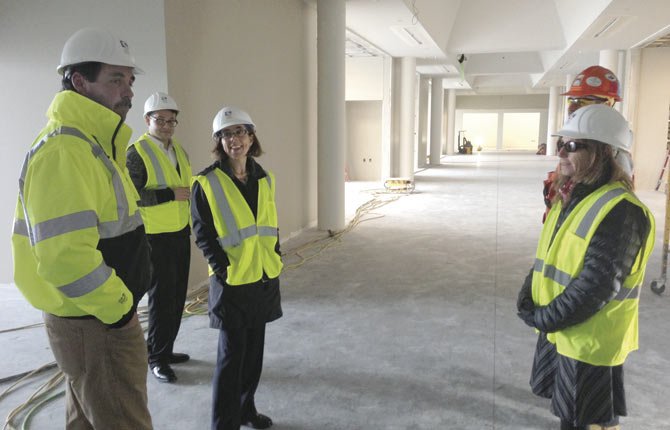 When Oregon Secretary of State Kate Brown visited The Dalles Nov. 6, she had a chance to see some of her political handiwork on its way to fruition.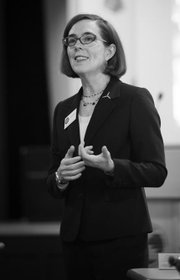 Brown toured what Columbia Gorge Community College calls its Workforce Innovation Center, the workforce training component of the Oregon National Guard Ft. Dalles Readiness Center, which will open in late winter. She helped secure $8 million in state funding to help construct 13,000 square feet of dedicated lab and classroom space for the college as part of the facility.
The Workforce Innovation Center will consolidate the college's Renewable Energy Technology Training program in one location, and add a welding lab funded in part by Sherman County. The center enables the college to prepare for future workforce training needs, especially in the technology field.
Oregon Rep. John Huffman (R-The Dalles) thanked Brown for her efforts in that regards before a small group of people who gathered to hear her speak in the college lecture hall.
The topic dovetailed nicely with Brown's discussion about education and workforce readiness. The secretary of state, in addition to serving as a de facto lieutenant governor, oversees a variety of state functions including elections, state archives, business registration and regulation and government auditing to ensure public funds are efficiently and effectively spent.
"We've done a number of audits recently related to workforce development, and community colleges are the main provider of career and technical education," Brown said. The audits are meant to gauge whether the training provided meets the needs of the workforce. "In particular, this community college has done a brilliant job of connecting with the work needs."
When Brown's office does workforce-related audits they may include recommendations for specific ways to make programs more effective.
"When we do a performance audit, we try to create a roadmap so state agencies can get peak performance," she said.
Brown's office also looked at general education diplomas (GEDs) and how well community colleges are meeting the needs of post-high school students who have not earned a high school diploma.
"The high schools need to contact the community colleges when a student has dropped out," Brown said, "to make sure the colleges know they exist."
One of the challenges for that program is that community colleges don't receive funding targeted to GED services. Brown estimated per-person cost for GED services at $125.
"It's difficult for them to provide this program," Brown said, "and it's a huge need."
She said 340,000 people in Oregon don't have a diploma or a GED.
Brown plans to argue in favor of that funding at the next legislative session and looks to have a receptive ear from Huffman.
"One of my goals is to get GEDs funded so we can actually eliminate another barrier to education," Huffman said.
Brown also talked a bit about her office's role in business.
In its last regular session, the Oregon Legislature passed a bill to create the office of small business advocate.
"The goal of the small business advocate," she said, "is to help get new businesses going or help existing businesses expand."
She expects this position to be filled by mid-November. She said she sees its function as particularly relevant to rural communities, which rely heavily — as does Oregon as a whole — on small businesses for jobs and economic survival.
One role the position may play, Brown said, is to work on behalf of businesses that experience conflicting expectations between state agencies. The position may work with the small business development centers at community colleges to connect with the businesses in their regions.
Brown also talked about her office's archives function and the public-private partnership with a Baker City firm to provide archival services designed to improve and speed access to public records, including electronic records like her own 80,000 annual emails.
In addition to improving accessibility, the partnership is employing about 20 people in Baker City.
John Nelson, North Wasco County School Board member, told Brown about the discussion under way on his board to help children make an earlier and better connection between what they are getting in public education and their future prospects.
Brown noted that economic factors can play into that scenario.
"Quite a large segment of the population used to be forest or mill workers for reasonably high pay," she said. "Those jobs have vaporized and they are now in lower pay service industry jobs, and working harder to make it."
Those economic struggles can adversely affect the children of these families and limit their future opportunities, Brown said, adding that education needs to change to meet the needs of this new reality.
"I think education needs to be very relevant and hands-on," she said. For example, she talked about the changes in civics education, from teacher-based instruction to project-based education, such as Project Citizen, where students can work on behalf of issues they care about.
"That kind of education is more effective for the student," Brown said.