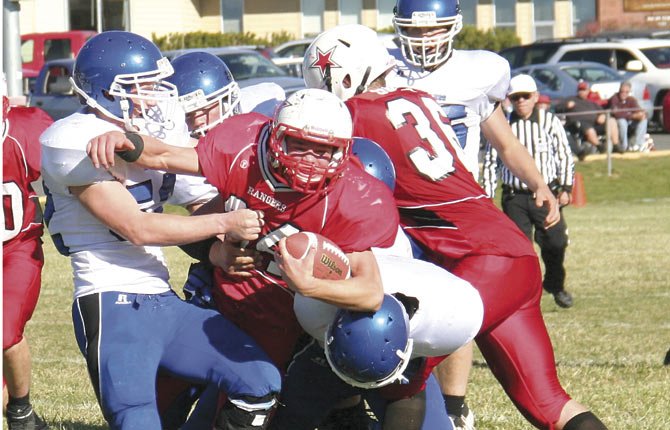 All the hard work in the offseason is put in for the long haul and a possible playoff berth.
The No. 2-ranked and undefeated Dufur Rangers have had a little extra pep in their step in practices this week, as they prepare for the first challenge at 1 p.m. Saturday in a home contest against quarterback Colten Winters, running back Jeremy Hand and the No. 17 Monument/Dayville Tigers.
This is a special time for long-time head coach Jack Henderson, who is trying to lead his Rangers to their seventh state title.
"We love the playoffs, it is a special time of year for football programs that advance to the postseason," Henderson said. "It's easy to get our kids to work hard to prepare for hopefully a long run in the playoffs. They are eager to continue their successful season."
If the Rangers plan to continue their successful campaign, they must stop a Tiger offense that is ranked 29th in the state at 36.3 points a game.
Last week, the Tigers (5-2 overall) scored their season-high in points in a do-or-die game against Mitchell-Spray for a 62-14 rout, using 220 yards rushing from Hand and a combined 240 yards and six touchdowns (four passing) from Winters.
"They spread you out and try to attack the edges," Henderson said. "They are pretty athletic, led by their quarterback Colten Winters. He can run as well as throw the ball and has the speed to score from anywhere on the field."
Monument's offensive philosophy presents a bit of a concern for Henderson.
"They like to run spread fly sweep, as well as some pistol formation plays," Henderson said. "We don't see this during our regular season, so we have a bit of a learning curve to prepare for the game this week."
No matter what offense is in front of them, the Ranger defense has proven to be a well-oiled machine.
In the past 12 quarters, Dufur's defense has allowed just three scores, one in each game.
With those numbers, the Rangers have vaulted to the state's No. 4 scoring defense at 18.4 points given up a game.
In stopping Winters, Hand, Hayden Schafer and Jamen Schafer, the Ranger coach said that recognizing what formation the Tigers are in and aligning correctly against it are top priorities.
On one end of the field, Dufur's defense is stout and playing its best ball of the year.
Offensively, the Rangers (10-0) rank second in the state at 59.8 points a game, including 60 or more points on five occasions.
Last week in their 54-8 drubbing of No. 12 Crane, Jake Little had 84 yards receiving, Trever Tibbets had 102 yards of combined offense and Cole Parke had 53 yards rushing and completed 9 of 16 passes for 169 yards.
A healthy Nick Little went over the century mark on the ground with 101 yards on seven totes.
It is the healthiest the Rangers have been all season, so the Little brothers and the rest of the crew should be firing hot.
"We need to continue to be as diverse as we can be offensively moving forward in the playoffs," Henderson said.
Monument, however, is no slouch on the defensive end, as it is ranked ninth in scoring defense at 30.8 points a clip.
In their win over Mitchell, the Tigers posted five interceptions, two by Winters, so they appear particularly stout against the pass.
Henderson notices that by looking at the film.
"M/D put a lot of people at the line of scrimmage, so we have to get things going quickly and efficiently to have success," the coach said. "M/D is a very athletic team. They aren't particularly big, but they fly around and play hard on both sides of the ball."
As long as the defense can continue its upward trend, the onus of the offense is to move the chains, limit penalties and finish drives.
A win Saturday and the Rangers take one step closer and a date versus the winner of Sherman and Triangle Lake's matchup next Friday.
"We need to continue to execute as we have this season and take advantage of our strengths in all three phases of the game," Henderson concluded.
Radio station 102.3 FM will broadcast the game at 1 p.m. Saturday.
Wet field plays role for Huskies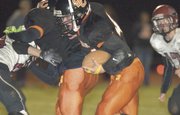 Finishing three wins short of championship glory in 2012 did not sit right for the Sherman Huskies.
This group, filled with playoff veterans and fresh-faced playoff newcomers, is more than ready to take on this next phase of the season with all hands on deck.
A wet field will be one of the bigger obstacles this Husky team will face, but as far as an opponent, Colton Wilcut, Hayden Wilkinson and the Mountain West League's Triangle Lake Lakers will bring a top-10 offense and defense to the table for a Friday night playoff tussle at 7 p.m. in Blachly.
"When you get to this point in the year, both teams are very good at executing what they do," said Sherman coach Todd Swan. "Everyone is talented on both sides of the ball. With that said, most games are won by the teams that can eliminate penalties and protect the ball."
In taking on the No. 7-ranked Triangle Lake (8-1 overall) squad, the Huskies face a group that has three of its eight wins against teams with winning records, one that is currently in the playoffs (Yoncalla).
The other five victories came against groups with a combined 11-35 record.
Against that schedule, the Lakers racked 543 points for 60.3 points a game.
Wilcut operates the quarterback slot, while Wilkinson and Dakota Myers provide threats at running back.
All-league standout, Tayler Davis (5-foot-11 inches, 170 pounds), is an anchor at both line positions.
"Triangle Lake is a very good team," Swan said. "Their team is full of solid athletes and they will utilize their strengths at the skill positions. They have had success running the ball, but I believe their strength may be through the air."
In dealing with so much athleticism, Mother Nature will have an effect on containment and coverage for a Sherman defense that is currently ranked 31st in the state with 39.4 points allowed per contest.
The sloppy weather this week in Sherman County has been a valuable teaching tool for Swan's team in their approach to cutbacks and other aspects.
"This week we have worked on having shorter breakdown steps when getting into position on defense," Swan said. "We are looking to prevent or cut back on missing tackles or being out of position due to poor traction on the slippery field."
Last week, in a 48-point win over Arlington, the Husky defense held the Honkers to just 22 points in a 70-22 home win.
Swan said much of that had to with the work of the defensive line play.
"The rotation of Kevin Hart, Daniel Aguilar, Cody Jauken, and Austin Kaseberg dominated the line of scrimmage," Swan said. "They had several tackles for losses and allowed our defense to give one of the better efforts of the year."
It seems as though Davis is terror to opposing offenses, so he will need to be taken care of by the Sherman linemen in order to keep quarterback Nick Coleman as a dangerous weapon.
In that Arlington game, Coleman had a rushing touchdown, a passing score and hauled in a 56-yard pass from Austin Kaseberg.
Blake and Brett Evans rushed six times for 184 yards and three trips to paydirt, and Maverick Winslow added 71 yards rushing to with two touchdowns, adding a kickoff return to his credit as well.
When the Huskies score more than 28 points, they are a perfect 6-0.
On the heels of that 70-point scoring effort, the Huskies are ranked 13th in the state with 396 points for an average of 39.6 points a matchup.
The power running attack will be put to the test against a Triangle Lake unit that is ranked 10th in the state at 28.2 points given up a game. Five times this season, the Lakers have allowed 24 points or less, including last week's 69-24 win over Mohawk.
"Triangle Lake mainly uses a four front on defense," Swan said. "We definitely have things built into our offensive schemes that have success against this kind of defense. However, the problem we will have is when they stand everyone up and put six or seven guys in the box. We have worked a lot this week on identifying blocking assignments to maintain the first level. With our speed in the backfield, we look to have several foot races down the field if we can secure the first level."
Action starts at 7 p.m. Friday.