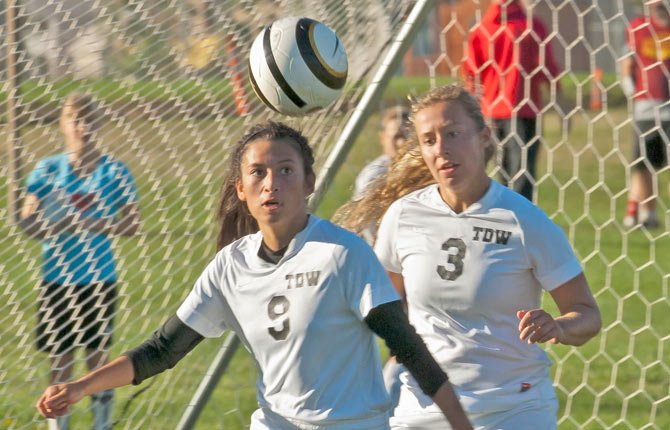 The Dalles Wahtonka head girl's soccer coach Colby Tonn feels like his program is on an upward swing.
After this year's solid finish and the naming of five players to the Columbia River Conference all-league list, that rise could come sooner rather than later.
TDW had Hannah Walasavage, Marta Gamez and Nayeli Lopez put on the first team roster, while the underclassmen duo of Monique Mendiola and Sierra Watson had their names called as representatives on the second team for their stellar play during the 2013 campaign.
"I found that the more adversity the team faced and the deeper we got in the season, the more the players focused and worked hard for each other," Tonn said. "If we come in to next season with the same attitude and drive that we ended the season on, it should be the foundation for an exciting season next year."
In 13 contests, the Eagle Indians won four and tied two for 14 points. The Tribe defeated Mac-Hi, Madison, Benson and Hermiston by a combined margin of 6-1. Against Hermiston, Mendiola netted the eventual game winner to give the Tribe their third road win.
Walasavage, a second team recipient in 2012, did one better this year in a new position of midfielder, leading TDW in points with three goals and two assists.
Winning all-league in her first two seasons on varsity is definitely a good legacy for the sophomore standout.
"Hannah was the focal point of our attack and did a great job of playmaking and creating openings and opportunities for the team," Tonn said. "She took many of the set pieces and also converted on both penalty kicks that we had this year."
On a team that dealt with so many injuries this season, Gamez proved her worth by making a switch from forward to defense, in seamless transition that garnered first team honors.
With one more year of eligibility remaining, Gamez, who notched two assists, will be looked upon to provide a leadership element to the roster.
"Marta came into her own and really read the game well," Tonn said. "She was a converted winger moving to controlling the back line and supporting teammates well. She moved to the central defense for the last three games of the year and played it like a natural, coming up with many big plays and defensive stops."
In those final three games, TDW surrendered just five goals including one shutout by another first team winner, Lopez.
The senior posted a pair of shutout wins and showed poise and composure as the last line of defense.
Tonn said the CRC coaches unanimously agreed that Lopez was deserving of a first team slot.
"Nayeli did a magnificent job in goal this year," Tonn said. "She made good decisions and did well organizing the defense. Her booming drop kicks helped start counterattacks and made it so the opponent had to work hard on defense even after a shot."
Blessed with speed and expert ball handling skills, Mendiola, a sophomore forward, was a serious threat to turn a loose ball into an odd-man rush for scoring opportunities.
She ended up tied for the team lead with three of the squad's 13 goals.
"Monique did an outstanding job of attacking the goal and putting pressure on the opponent's backline," Tonn said. "A converted defender, she took hold of her new role and came up big with an exciting goal in our 1-0 victory over Hermiston."
On a roster of eight sophomores and three freshmen, Watson tackled her role of center midfield with exuberance and execution in her first year on the varsity roster.
She had a knack for making deft passes to the wings and anticipating the flow of the game to make aggressive moves.
"Sierra did a great job of controlling the midfield and really came into her own during league by connecting both the defensive and offensive aspects of the game by shutting down the opponents' center midfielder and also picking out through balls to our forwards to start the counterattack," Tonn said.
Although TDW is losing two of its three defenders and starting goalkeeper, Tonn knows the competition level in camp next fall will be fierce.
Nonetheless, he will have his fair share from 17 returning letter winners and exciting players from the junior varsity ranks to fill those roles.
"We will be returning many starters and many dynamic players. You can never have too many playmakers," Tonn said. "I'm excited about another huge step the team should make in understanding the game and setting themselves and each other up for scoring opportunities."
For additional information on some offseason scrimmages, workout sessions and indoor play, call 541-965-0994.