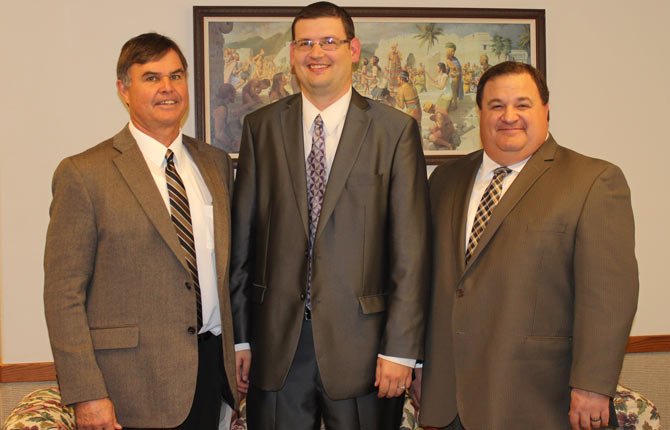 The Dalles — A new bishop has been named for The Dalles First Ward of the Church of Jesus Christ of Latter-day Saints.
Jeff Hodges, a native of The Dalles, is taking over for Shane Johnson, whose seven-year term has ended.
"I am very excited, but a little overwhelmed. I have the support of counselors who are hardworking, dedicated men," Hodges said. "I am grateful for this opportunity to serve my congregation, my community and the Lord."
Hodges graduated from The Dalles High School and Western Oregon University. He and his wife and children live in town and he works for the Oregon State Department of Human Services as a case specialist.

Hodges lived in Argentina for two years on his mission, speaks fluent Spanish, plays the trumpet and basketball, and supports his wife as she coaches the high school girls JV soccer and basketball teams.
Congregations of the LDS Church are organized geographically and members attend worship services near their home. A bishop is the leader of a congregation and his administrative "parish" is called a ward.
He is a member of the congregation who has been asked to serve as a volunteer in this position and his duties are similar to those of a pastor, priest or rabbi.
A bishop's main focus is to help each member of his congregation in their efforts to follow Jesus Christ. In addition to spiritual matters, a bishop helps members who are struggling financially or in other ways to become self-reliant through welfare assistance. He organizes the people in his ward to serve in various positions. He also oversees practical matters such as records, reports, finances and the meetinghouse where members meet.
A bishop typically serves for about five years, but terms can vary. Each bishop is assisted by two counselors. The LDS church does not have a paid clergy, and the position of bishop is much like being a pastor while continuing to have a full time job.
As a result, counselors play an important supportive role in assisting in the administration and care of the congregation. Mike North, a lineman for Wasco Electric Co-Op, and Steve Byers, the waste water collections manager for the City of The Dalles, will be serving with Hodges as his counselors.