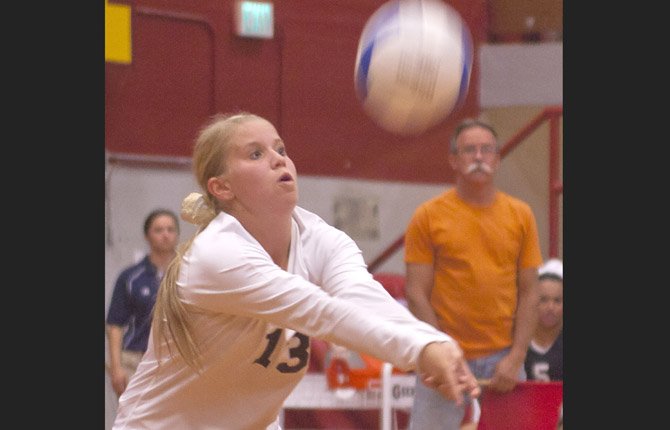 The Dalles — Even though, The Dalles Wahtonka won two matches in the 2013 season, one in league, the varsity volleyball team had Olivia Starks, Lori Cimmiyotti and Morgan Triperinas chalk up Columbia River Conference all-league status to lead head coach Amy Schwartz's team.
After back-to-back seasons as a second-team honoree, the junior middle blocker added some gold to her trophy case this year with a spot on the first team.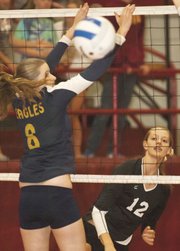 In T-Dub's two non-tournament wins, Starks played a major part in pacing the offense and defense.
On senior night Oct. 22 versus Hood River at Kurtz Gym in The Dalles, the perennial all-leaguer laced home the match-winning kill to give her team a five-game win.
Starks ended the night against HRV with a team-high 23 kills. The junior added a 22 for 28 split on digs, went 18 of 22 on serve-receive and had a high of nine blocks.
"Olivia has been the go-to girl for the last two years, and has been a dominating force on the court since her freshman year," said Schwartz.
Overall, Starks contributed an all-around game from hits, serve-receive and serving.
On her swings, she connected on 4671 of 620 for 76 percent and added a split of 218 for 471 for a 46 percent kill average.
The 6-foot-2 inch standout had 66 of 95 on blocks, went 201 for 250 on serve-receive and connected on 127 of 151 serves for 84 percent.
"She has stepped up this year in taking charge, and has had a great attitude all year in practices and games," Schwartz said. "Her swing is strong, and she had some good, hard hits that left impressions on the opposing teams and their coaches."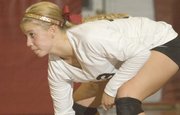 With the departure of all-league libero Katherine Kramer, Triperinas stepped into a tough role on the hardwood and put on a more than capable defensive display with top numbers for the Eagle Indians to earn her second-team status.
The senior went 233 for 312 in digs for 75 percent, and on serve-receive, she had a team-high 474 for 543 for 87 percent.
When it came to setting up the offense, Triperinas spun home 189 of 212 for 89 percent.
Schwartz characterized Triperinas as the rock in the back row.
"Other teams would hit hard at us, and out of nowhere, Morgan would be digging the balls up," the coach said. "She was not afraid to throw herself on the floor. She was the team leader, motivator, and encourager. We will miss her greatly for her play and leadership roles. She leaves a tough role for someone to step into."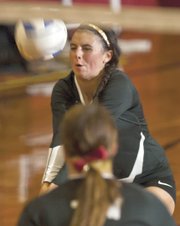 As Starks steps into a larger role in 2014 as a senior and with the impending graduation of Triperinas, the sophomore Cimmiyotti embodies what could be a healthy future for the Tribe volleyball program.
On several occasions this season, Cimmiyotti logged double digits in kills.
In that senior night win over Hood River, she was good for 12 kills, a 20 for 23 effort on serves with two aces, and she ended up 14 for 21 on digs.
During the season, Cimmiyotti connected on 321 of 424 swings for a 76 percent hitting number.
She went 36 of 69 on blocks, 123 for 203 in digs and hit on 80 percent, 190 of 238 on serve-receive.
An area Cimmiyotti really excelled was the service line, where she struck at 217 for 228 attempts for a team-high 95 percent.
According to Schwartz, the main reasons why Cimmiyotti vaulted up the all-league list was due in part to a rigorous off-season workout plan where she improved in her strength throughout the season.

"She really stepped up in her leadership role, and was one of the encouraging voices on the team," Schwartz said. "She has the dedication and desire to get better, and to do better, and coaches noticed her improvements this year. She was a consistent player, and developed a jump serve that opponents couldn't pass."
With basketball on the horizon, prospective volleyball players can still get in some swings and dig attempts playing travel ball with the Cherry Crush.
For news, go to ww.facebook.com/Cherry City Juniors or call 541-980-0728.