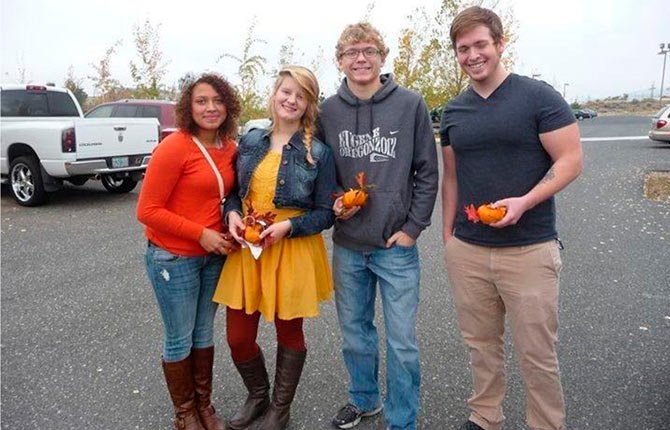 Wearing smiles, The Dalles Youth of Heart of Hospice (YoHOH's) began visiting hospice patients this season, delivering festive little pumpkins, visiting with patients and reading autumn poems by Emily Dickenson and Robert Frost.
They also sang a little scarecrow song to the tune of "I'm a little Teapot," which was well received. On this outing the group welcomed some new YoHOH's and they were amazed how appreciative the patients, staff and families were with the visit with them. From the Springs at Mill Creek, Cascade Senior Care, Columbia Basin, Evergreen, Flagstone and Oregon Veterans Home the YoHOH's were welcomed as if they were long lost relatives.
One memorable YoHOH visit of the day was with a patient, a retired railroad worker, who lead the group in the "I've Been Working on the Railroad" song.
The group visited him in his bedroom and heard about some of the many changes he had seen in his lifetime. As the youths were leaving, they were once again reminded how the greatest gift they can give to hospice patients is the gift of time. For many hospice patients, these monthly visits are more like long-overdue visits from their grandkids. Anyone interested in volunteering may call 541-296-2289 or email Jayne@HeartofHospice.org.

More like this story