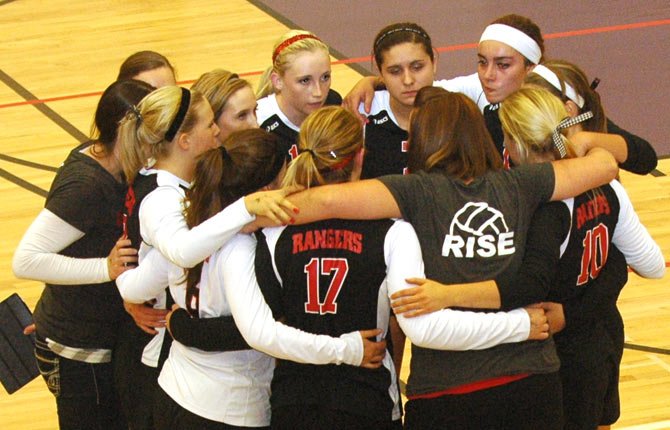 REDMOND — Dufur head coach Kelly Darden tried to mix and match personnel to try to curb the offensive onslaught of Malia Mills and the Imbler Panthers.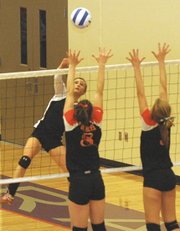 Unfortunately, nothing was going to stop the Panther barrage.
Mills slammed home 25 kills, added seven blocks and fired home five aces to lead Imbler to a three-game sweep Friday night in 1A state volleyball semifinal play in Redmond.
"They were pretty relentless on us," coach Darden said. "All the timeouts and the subs, I was trying to find that little magic piece that would put us up a little bit. We just couldn't find it. That is the thing. That is how they played us when we played them earlier this season — they keep hammering the ball and it comes from all angles."
While the Panther offense appeared to be hitting on all cylinders, the Rangers did not help their cause with some uncharacteristic miscues and communication errors.
While there were moments throughout the match where it seemed Dufur had some things trending in the right direction, the Panthers were able to make the plays necessary to restore order.
"We knew Dufur was going to give us everything they had, so we needed to keep playing the type of volleyball we had tonight," said Mills, a senior. "They are always a tough team. We had to play our best to beat them. I thought we accomplished that."
In what turned out to be the closest set of the night, Dufur and Imbler slugged it out in the opener with neither team holding more than a five-point lead through the majority of action.
With the Panthers up 20-15, Dufur's Taylor Darden drilled home a kill, Alexa Macias followed with a block and Darden added an ace serve to make the score 20-18.
Teneille McDonald capped the 4-0 spurt with a kill shot of her own to pull the Rangers to within a 20-19 tally.
That was all the bullets Dufur had in chamber, however, as Imbler finished the first game on a 5-0 run, using three Ranger errors in that span to take a 1-0 lead in the match with a 25-19 outcome.
In the final two games, Dufur had two leads, both in the third — 1-0 and 2-1 — and the rest was all Mills and Imbler.
The Panthers enjoyed cushions of 8-3, 12-4, 17-6 and 20-12 before Mills laced home three consecutive kills to run the margin up to 23-12.
Stephanie McGilvray followed that surge with a block and the final Imbler point came off another Dufur error for a 25-12 win and a 2-0 advantage in this matchup.
"I think that, as a team, we played hard, but we got stuck in a couple of serve-receive rotations where we just had a few unforced errors that took away some of our momentum," said Dufur senior Kyla Johnson.
Imbler held the lead for the duration of the third game with a margin of five points the largest early in play.
With the score 11-6 after Imbler's Jacey Teeter dropped a kill, the Rangers went on a 6-2 run on a kill apiece from McDonald and Taylor Darden, sandwiched between three Panther errors to make it 13-12 Imbler.
With the Dufur fans chanting and cheering, it seemed like things were turning around for the black and white clad Rangers.
Mills and Taylor Darden then each traded kills to make the score 15-13, but then Imbler went on an 8-0 rally with three more kills by Mills, one by Whitney Wilber and one by McGilvray to boost the lead to 23-13.
Dufur scored the next two points, but Mills finished things off with consecutive kills to give Imbler a 25-15 winner and the sweep.
"I thought our main hitters played aggressively and I felt like we served aggressively, but defensively, we just did not make the digs that we needed to make," coach Darden said. "We just didn't go. We were stuck and out of position a lot of times. We made some adjustments and even then we could not get it going. It wasn't our day."
The long-time Ranger coach commended her team for playing looser and more aggressively than they did in their earlier match versus Trinity Lutheran.
By no means was she disappointed.
"I think I am frustrated mostly," McDonald said. "There is always something. I am always thinking that there is something I could have done better or maybe did some things to help my team play better so we could win."
Kyla Johnson had the same feelings.
"Just because it is our senior year, it is a disappointment that we couldn't win state," she said. "We always felt that we had a chance, but now that we don't, we have to go out and play as hard as we can for each other in our last match together (Saturday)."
All was not lost on this crisp November night in Redmond, as the Rangers still had something to play for – third place.
Although not the trophy they aspired to earlier in the season, it was a rallying cry in the locker-room and for the four seniors, Alexa Macias, Kyla Johnson, McDonald and Kathryn Johnson.
"It is very important for us to come out fighting," said McDonald of Saturday's third and fifth place match against Country Christian. "One of our biggest things and one of my biggest things is to leave a legacy as I leave Dufur. Whether we win or lose, people know how much heart we have and how much passion and desire we have for the game. I think it really shows and that is very important for us to show that to everyone, especially the younger girls that are watching."