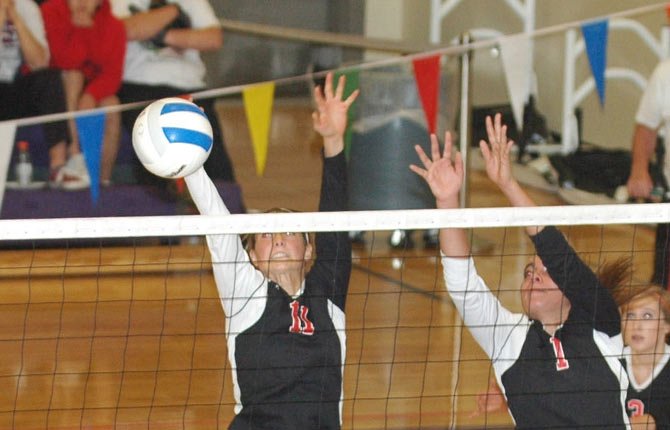 REDMOND – Maybe it was jitters or a slight case of the nerves.
Whatever the case, after dropping the opening set, the No. 2-seeded Dufur Rangers jumped off the deck and scored three consecutive set wins to drop Trinity Lutheran 3-1 in Friday's opening round of OSAA 1A State Volleyball playoffs at Ridgeview High School in Redmond.
"I think we just found a groove," said Dufur sophomore Tianna Ellis. "We weren't hitting the ball or being as aggressive. But we started getting into our rhythm of playing and we had some momentum. Once we had that, it kind of all clicked for us."
Knowing that there was no magic elixir in shedding the cobwebs, the Rangers began executing offensively and defensively with the great precision that had earned them the state's No. 2 ranking entering play.
In the second game, Dufur sped out to a 7-0 lead on the heels of expert serving by junior Taylor Darden.
Trinity Lutheran could not establish any flow off that hot Dufur start, and fell deeper and deeper into a hole as the set wore on.
The Rangers increased their lead to scores of 16-5 and 20-8 before consecutive errors inched the Saints to within a 20-11 deficit.
"We did so well in that first set, but we could not keep it up," said Trinity sophomore Emily Eidler. "I don't think we played at the same level as we did and Dufur took advantage."
Any thoughts of a Saint comeback were short-lived however, as Dufur got a kill from Montana Ferres, an ace by Alexa Macias and a kill by Teneille McDonald off an assist by Ellis to run the count up to 23-11.
Dufur notched the final two points off Trinity errors to take Game 2 by a 25-11 score to even this match at 1-apiece.
Game 3 pretty much followed the same routine as the previous one with Dufur jumping out early with the service game.
With the score 11-6, Dufur in front, Darden reeled off a streak of four straight kills and Macias tacked on successive drop shots to the floor to swell the lead to 18-9.
Trinity got as close as 22-12, but then the Rangers had Darden throw down a kill and Ellis fired home back-to-back aces to seal a 25-12 decision and a 2-1 match lead.
Ranger coach Kelly Darden was especially pleased with the effort of Ellis, who was playing in her first state tournament.
"We did some good things today," the coach said. "Tianna Ellis, I cannot say enough about her. She was great. She inspired the whole team. She has done that a couple of times now. Thank goodness for that."
Things were dicey at times in the fourth game, and each team traded points back-and-forth with a kill by Kathryn Johnson running the score to an 11-8 Dufur advantage.
With the Rangers nursing a 15-10 lead, McDonald rattled off two straight kills and Darden added an ace to swell the tally to 18-10.
In the final stretch of the finale, Dufur held strong with a 22-15 lead, but then sealed matters after a kill by Ferres, a kill by McDonald and an ace from Ferres for the 25-15 winner.
"We just seemed out of sync a lot today," coach Darden said. "Like our passes weren't on, our sets weren't on and it seemed like we were out of rhythm a little bit."
Coach Darden admitted that it was not a picturesque display of volleyball, but said her team still found a way to win and advance in the playoff bracket.
"It wasn't pretty, but we told each other there is no point in dwelling on it," Macias said. "It is important for us to get on with our game and play the way we know how to play.
We realized we lost the first game because we did not play up to our potential, so we changed our mindset."