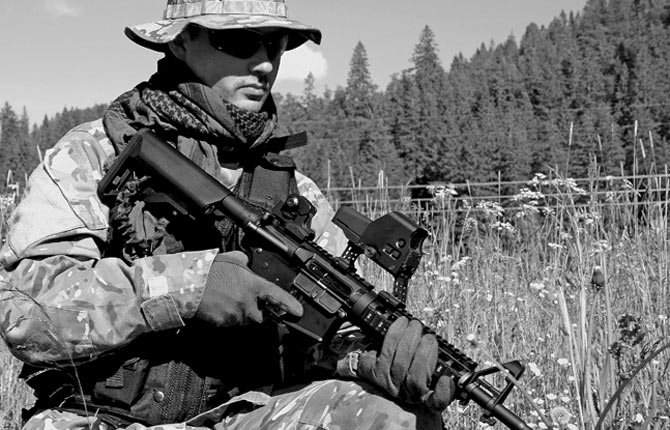 Suck it up. Be tough. Stand on your own two feet. Ignore your fear or bury it.
Members of the military are spoon fed these messages from the day they enter boot camp.
Then, when they go to war, they are thrown into an environment that demands these very things. Placed in the path of danger, they must rely on their own brains and brawn, and that of their brothers in arms.
Many come home having stared horror in the face in a way no one who hasn't been through it can possibly understand.
They come home injured, and in some cases broken.
Monday, Nov. 11, America honors the veterans, living and dead, who gave in service to their country and its citizens.
Imagination can only fill in some of the blanks about what cost this service exacts on veterans, but it's an imperfect picture for those who haven't huddled in a foxhole waiting for a bomb to fall or faced down an insurgent at the barrel of a gun.
In this case, the statistics may tell us more.
Take this one: 22 veterans commit suicide every day. That's one every 65 minutes.
And that may be only part of the story. According to a CNN article on the subject, many veterans aren't counted in that figure.
Some states, including three of the largest, don't release data on cause of death. Some deaths aren't recognized as suicides because the deaths have come in a police exchange, in a car crash or by drug overdose. A homeless veteran's death may go unnoted because no one is there to speak on his behalf.
The causes may be as much physiological as emotional.
Traumatic brain injury is one common contributor. Many recent veterans suffered concussion or more severe brain injury in blasts from improvised explosives devices. Doctors have learned more about brain injuries as a result of the wars in Iraq and Afghanistan, including the fact that they can leave their sufferers with lingering feelings of depression and suicidal thoughts.
But the entire military ethos also plays a role. The self-reliance, perseverance and toughness taught to help soldiers master their fears and endure the hardships of war run counter to the acknowledgement of need. As a result, veterans may not get the help they need until it is too late, or at all.
Some veterans live with a sense of shame for the acts they have done or witnessed in their country's name. or may be haunted by what they have seen on the field of combat. Take Levi Derby, for example, spotlighted in the CNN story. Derby was haunted by the death of a young Afghan girl, who stepped on a land mine when she reached out to take a bottle of water from Derby. He hanged himself in his grandfather's Illinois garage.
Some live in constant pain.
The problem isn't just with Iraq and Afghanistan veterans. In fact, more than 69 percent of all veteran suicides are among those 50 or older.
"Mental health professionals said one reason could be that these men give up on life after their children are out of the house or a longtime marriage falls apart," the CNN report said. "They are also likely to be Vietnam veterans, who returned from war to a hostile public and an unresponsive VA."
But a survey of Iraq and Afghanistan veterans showed 30 percent had considered taking their own life.
Most veterans would bridle at the idea that they come home in a fragile state. They would say they can handle their own problems — or bury them deep enough to ignore.
Those who do seek help from the VA may meet a wall of bureaucracy and be told help for their urgent problem is weeks or months away.
Pleas from friends and family members may yield no result from veterans, who think they must take care of themselves or reveal weakness.
As family, friends and citizenry, our efforts to help may not yield the outcomes we want, but we need to keep trying and demand our government deliver the help our veterans deserve in exchange for their service.
And tomorrow, as well as every day, we need make sure veterans know our gratitude for their service on our behalf.