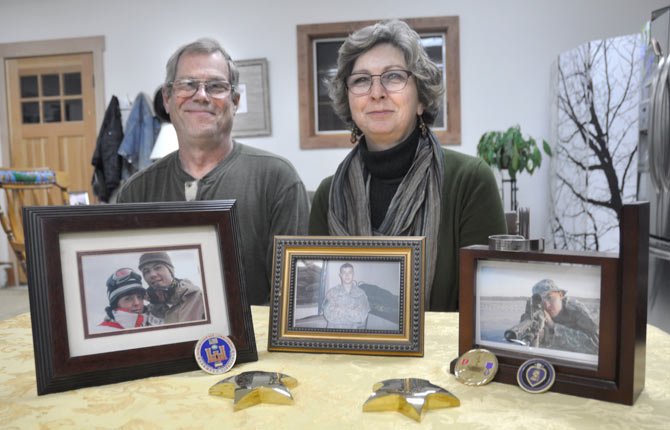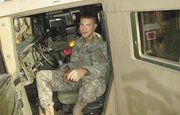 It has been more than six years since Richard "Rick" and Nicole Lundin rode in a processional — and that grim journey on June 6, 2007, was to bury their son, Army Cpl. James Lundin, 20, who had been killed in Iraq.
"We were in such pain and it was surreal to see thousands of people lining the streets of Bellport (N.Y.) to honor our son — it just went on for miles," said Rick.
"I remember saying, 'James would love this,'" said Nicole. "They made me feel like he was so honored."
On Nov. 11, the Lundins, who now reside near Goldendale, will again be seated in a vehicle passing through a crowd. This time they will be paying respects not only to their son, but all who have worn the uniform of the U.S. Armed Forces.
The Gold Star parents will be grand marshals for the Veterans Day Parade in The Dalles that begins 11 a.m. at the intersection of Sixth and Weber streets and travels east through the downtown blocks.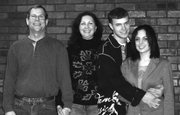 The annual parade is being organized by the Mid-Columbia Veterans Memorial Committee that serves Wasco, Hood River, Skamania, Sherman and Klickitat counties.
Military families are considered "Gold Star" if their loved one has died in service and "Blue Star" if they have someone currently on active duty. The terms refer to official service flags, which use star emblems to represent the status of the soldier, sailor, airman or Marine and are frequently hung in the windows of their homes.
"A Gold Star family is a terrible club to belong to," said Nicole. "When James was killed, our entire world came crashing down."
"He was our only child, so the future of our family is gone," said Rick.
Cpl. Lundin is one of 6,749 troops who have died in Operation Iraqi Freedom and Operation Enduring Freedom. He was killed May 30, 2007, after an IED (improvised explosive device) went off under the Humvee that his team was traveling in through Risalah, a neighborhood in southern Baghdad.
"We were told that a 50-gallon drum had been filled with enough explosives to create a crater after it detonated," said Rick.
Sgt. Bacilio Cuellar, 24, was also in the vehicle and killed instantly in the huge explosion. Lundin and Spc. Joshua Moore, 20, were both rendered unconscious and died a short time later from severe injuries. Staff Sgt. Michael Bechert, 24, the team leader, was badly burned and flown to Fort Hood for medical treatment, but could not overcome the extent of his wounds and died two weeks later.
All four men were assigned to Charlie Company, 1st Battalion, 18th Infantry Regiment (Vanguards), 2nd Brigade Combat Team of the 1st Infantry Division that was based in Schweinfurt, Germany. The duties of their unit, known as "Cold Steel," were to take the lead in seeking out the enemy and securing ground in advance of the main force.
Lundin was posthumously raised in rank from a specialist to corporal and awarded a Purple Heart and Bronze Star. His company was given the Valorous Unit Award for extraordinary heroism in action against the enemy.
James' battle group deployed Oct. 19, 2006, as part of a troop surge of 20,000 soldiers and Marines sent to Iraq to quell rising violence in Baghdad and Al-Anbar Province.
His duty on patrol was to man the 240 machine guns in the turret of the Humvee and stay vigilant for threats as his convoy rolled through the streets of Baghdad. The largest city in Iraq boasted a population of more than seven million and teemed with insurgents who hid among civilians.
"James had begged to be a gunner, and he begged to go house-to-house," said Rick.
Lundin had turned 20 less than two weeks before May 30 and his team was traveling behind a M2 Bradley Fighting Vehicle on their third patrol of the day. The soldiers who were present when the explosion occurred told the Lundins they did not know why the heavily armored Bradley had not set off the bomb because that was the reason it took the lead.
Although being a gunner made him a high profile target, James loved his job and, during his off-time, planned Halo tournaments, where he routed the enemy of the virtual world as "Captain Jack Sparrow."
"He found his calling in the military," said Nicole.
James was born in Seattle, Wash., and raised on Orcas Island in the northwestern sector of the state. He had not been happy when the family moved to Long Island, N.Y. during his childhood to pursue a new business venture.
He was shaken at the age of 13 when the Sept. 11, 2001, terrorist attacks on the East Coast took out the Twin Towers, located about one hour from the Lundin home.
"He didn't think it should be the National Guard going to war overseas and he didn't think it should be mothers or fathers," said Rick. "He said, 'It should be young guys like me who go,' and that was what he was determined to do."
Although their son was a gifted artist and Nicole had hoped for him to pursue a career in that field, she said James was determined to become a soldier.
"I was scared, I didn't want him to join the military," she said.
After growing up in a household with a father who had post-traumatic stress disorder issues related to his role as a combat medic in Korea, Nicole was opposed to war as the answer for failed politics.
She knew that Rick had been in the Navy for six years during the Vietnam era without a bad experience, so there were positive elements to military service. However, James was insistent about being an infantryman and gaining a position in the Army Rangers, an elite fighting force, which she knew would put him in great danger.
At the end of the day, Nicole said she had to respect her son's right to decide the direction of his own life. He was not performing up to his potential in school because he did not want to be there and had no interest in a higher education, at least for the time being.
So, when James was halfway through his 17th year, his parents signed on the dotted line and after he finished high school by completing classes at Suffolk Community college, he headed off to boot camp at Fort Benning, Ga., on May 29, 2005.
"He was nothing but muscle and bone when he graduated — fit doesn't even begin to touch it," said Rick.
James finished boot camp third in his class, and went on to Advanced Infantry Training, graduated from Airborne school, and was accepted into the Ranger Indoctrination Program, all before the age of 19.
The biggest challenge he had in military life was shouldering 90-pounds of battle gear because at 5-feet 10-inches tall, he weighed only about 130 pounds — despite his great love of food. He was a dead-eye shot and excelled at weaponry, despite his tendency to challenge authority when he felt a bad command had been given.
"He was very gregarious and would go up and talk to anyone, no matter what their rank was," said Rick. "He had a sardonic sense of humor and liked to use words that could be taken two ways to see what people would do."
At the memorial service in Baghdad, held on the same day as the funeral in New York, the officers in charge of Lundin spoke of his humor — drawing a chuckle from the entire assemblage — and the fact that he was very supportive and quick to lend a hand to anyone who needed help.
"He became very worldly because he got to see and experience so many things," said Nicole.
The Lundins attended a memorial service in Germany for their son after the combat team returned from Iraq a few months after James' death. They found themselves adopted by these men and several of their new sons came to stay for several days at the home they are building this summer.
"These guys, I love them and they know it," said Nicole. "I think they still feel responsible for us."
They also maintain a close connection with Kristy (Kalinyak) Lundin, who married their son by proxy several months before his death.
James came home on mid-deployment leave in January 2007 and re-connected with Kristy, whom he had met while obtaining his high school credits at Suffolk County Community College. The couple had dated for a brief time before he enlisted but had gone their separate ways because of his military duties and her pursuit of a degree.
Kristy and James discovered during his leave that there was still a romantic spark between them and he asked her to be his wife at the airport, just before he boarded a plane for Germany. When he got back to Baghdad to finish out a 15 month deployment, James decided the marriage should take place as soon as possible in case something happened to him.
By that time, Kristy had moved in with Nicole and Rick, who helped arrange a proxy wedding for the young couple. The newlyweds planned to have a formal ceremony as soon as he returned home, but had to move the date back to June when the unit's stay in Iraq was extended.
"They never got to see each other after their engagement," said Nicole.
"Running away" from New York and places that reminded them of James is one way the Lundins have coped with a loss so painful they can't remember much about the first year. They found their current property with the help of Rick's sister, who lives in Hood River.
"The only thing that I want more than anything I can't have, I can never see him again and that's just unacceptable," said Nicole.
They said sometimes conversations become awkward because people are uncomfortable mentioning their son's name or asking questions, as if that will stir up a grief they have forgotten.
"You should never be embarrassed about saying 'Thank You,' to Gold Star families," said Rick. "You don't have to worry about bringing up the subject because we never stop thinking about the loved one we have lost and the pain never goes away — we have just learned to live with it."