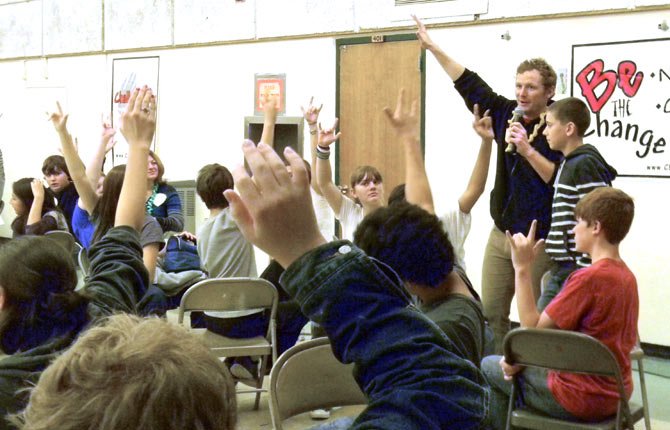 "Treat others the way you want to be treated." It's the golden rule, the one we've seen plastered across nearly every school room wall and heard over and over again throughout childhood as the most important aspect of being a good person.
Upholding the golden rule while in school might not seem like much of a challenge to those outside the system, but almost all of the 100 plus Columbia Gorge area students who partipated in this year's Challenge Day on Nov. 4 and 5 are likely to claim otherwise.
Challenge Day is a program lead and organized by volunteer community members and encourages students to "be the hero they've been waiting for"  and treat their peers with kindness, understanding and mutual respect. It is designed to combat the negative patterns of behavior that affect the everyday lives of many of today's young people.
During the open mic portion of the session held on Nov. 5, eighth grader Caelen Anderson articulated what it felt like to be on the receiving end of some of that negativity.
"I've felt really angry for a long, long time," he confessed. "I've been mad and felt hatred for a lot of you in this room today. But I'm going to try to forget those first impressions I had of all of you, and to really try hard to make it better and be friends."
"The cycle of depressions works," First year Challenge Day leader Chris Corby said. "I get hurt, and then I hurt someone else. But do I feel better afterwards? No, of course not. It just puts me right back where I started."
The rules of Challenge Day mandate that students "be inclusive" and "open-minded" while listening to their peers and prohibits any kind of put-downs or teasing. "Drop the water line," the posters say, "get real" and "be kind to each other."
Few seemed idle or unengaged when Challenge Day leaders asked participants to support students like Anderson who chose to speak out about how bullying and judgemental behavior had affected their lives both inside and outside of school. While other students addressed the audience and voiced their concerns, hands all around the room raised in signs of respect and clapped as students resolved to "make things better" and "look out for each other."
Eighth grader Alisha Shull-Seward counted herself among those willing to provide extra support for students who needed it.
"Before I came here, I felt like I was alone, so it's really reassuring to see other people are dealing with some of the same problems. I just wanted to say to everyone that if you ever need to talk to somebody, I'm always here. I'll always be here for you guys, because I know exactly what you're going through."
"When you validate someone else," Corby said, "it makes you feel better, feel happier. That's what comes of supporting other people. In the end, all that good energy comes right back to you."
"I think every person should go through challenge day at least once," eighth grader Alexander Jacobson said. "It breaks down the boundaries of hatred and I think can lead to some really positive changes."
"Today," Veteran Challenge Day leader Angela Aguilar told students towards the end of the program, "we asked you to step out of your comfort zone. We asked you because there are people in this room who don't feel connected-- who need your help to make their experience at school free of cruelty and judgement. We challenge you to make it your personal mission, your responsibility, to ensure that happens."