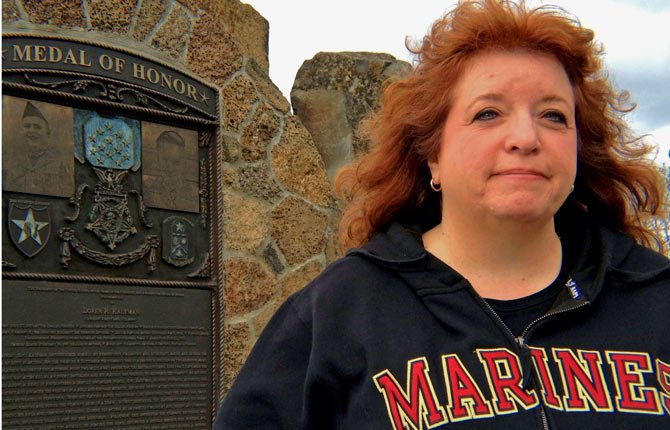 Veterans are being given free admission into the Columbia Gorge Discovery Center this week in honor of their service to country.
On Nov. 16, author and journalist RaeLynn Ricarte will give a presentation at 12:30 p.m. that is based on her newly-released book, "Living the Oath: Warriors Take It, Families Endure It."
Ricarte, the mother of a Marine and adopted mother of many other troops, will share the war story that prompted her to write the heart-stirring narratives of 29 men and women from all branches of the U.S. Armed Services. She has attempted to portray in 290 pages the challenges faced by combat troops on the front lines and their families back at home.
"I am looking forward to sharing the story about a modern-day 'Band of Brothers' who fought together during the most violent year of the Afghanistan war," she said.
"The horrendous sacrifices made by these Marines in 2010 changed us all forever and led me to write a book that I hope will help people better understand what service to country really means."
Dr Pat Stone, a decorated Vietnam veteran and psychologist, will also take the podium.
He is featured in two chapters of Living the Oath sharing insights about the challenges faced by warriors who take a human life and how they can become stronger human beings through the healing process.
He will answer questions that people have about military service and speak about how community members can help with the adjustment of returning combat troops.
"A community that is able to genuinely share and distribute the emotional/physical freight that returning warriors carry, over the years, is a community worth returning to and is priceless," said Stone.
The cost to attend the program is $3 and a contribution is requested of a packaged food or personal care item that will be sent by the Gorge Heroes Club to a Marine unit in Afghanistan.

Columbia Gorge Discovery Center is located off I-84 at exit 72, 5000 Discovery Drive, The Dalles, Oregon, 970058 and is open daily 9 a.m. to 5 p.m. For more information, phone 541-296-8600, ext. 201, or visit www.gorgediscovery.org.