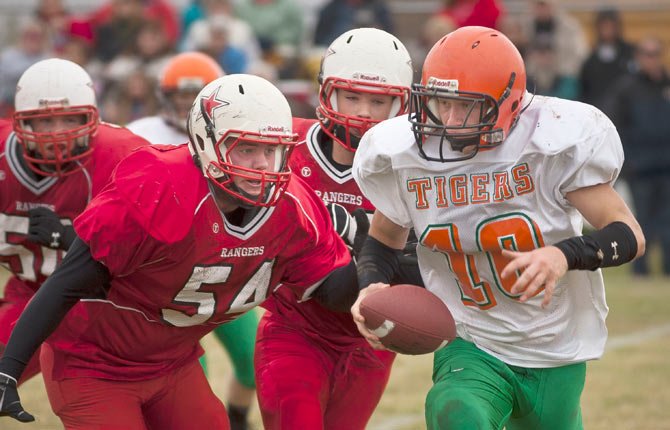 DUFUR – Just as they were expected to do while considered as overwhelming favorites, the Dufur High Rangers continued their impressive season long winning streak in the Class 1A eight-main football state playoffs.
The No. 2 ranked Rangers (11-0), guided by longtime head coach Jack Henderson (27 years), displayed their highly potent offensive attack throughout a one-sided contest in a 70-14 first round playoff win over the undermanned Dayville/ Monument Tigers (5-3) Saturday at Dufur High School.
"Obviously, we ran the ball well (234 total yards rushing) and whatever we tried to do on offense, everything worked pretty good for us," said Henderson.
It would've been a monumental upset for Dayville/ Monument to even have a chance of winning.
The Tigers, led by third-year coach Nathaniel Ashley, had several players sidelined with injuries and had just 12 available to play, compared to the 18-man Ranger roster.
"It was a tough loss to a good Dufur team," said Ashley, who has compiled an overall record of 17-10, while leading the Tigers to the playoffs two of the last three years. "We're a young team with only three seniors, but we had a great season."
Nevertheless, the Rangers simply had to take care of business as they move onto the state quarterfinals for a third straight year and will meet the Triangle Lake Lakers (9-1) in the OSAA/U.S. Bank/Les Schwab Tires playoffs at 7 p.m. Friday in Dufur.
"We just have to concentrate on getting better and playing harder, while maximizing our effort," said Henderson. "We're not even thinking about the finals, because that's a long ways away. As you move through the playoffs, obviously the teams you face get tougher each week. We'll have to show up and be ready to play in order to win."
It would be easy though for Ranger fans to anticipate a finals appearance for the first time since 2006, which was the last time Dufur won the state title and sixth championship overall. The way the Ranger offense (60.7 points a game average) has steamrolled 11 opponents by an average margin of victory of 42.7 points a game.
Saturday's playoff contest was no different, as Dufur lit up the scoreboard early and often while scoring on all seven of its first-half offensive possessions.
Dufur scored on its opening series when Nick Little scrambled into the end zone on an 11-yard touchdown run to give the Rangers an 8-0 lead with 10:51 on the clock.
Dufur's solid defense, led by the quartet of Austin Olson, Zach Christiansen, Tibbets and Brent Sumner, thwarted the Tigers on their first possession.
"It feels good to come out and play hard and now we have to stay focused in practice and prepare for our next opponent (Triangle Lake) and just take it one game at a time," said Olson, who had one sack.
Dufur's offense proved to be simply unstoppable for the Tigers as Tibbets (six carries, 40 yards rushing, 2 TDs) scored on a 25-yard TD run on the Rangers ensuing possession.
Nick Little's two-point conversion scamper gave Dufur a 16-0 lead with 8: 37 left in the opening quarter.
"We just need to keep elevating our game every single week and never be content with where we're at," said Little.
Dufur extended its lead with a three-play, 40-yard scoring drive, which included a 16-yard Nick Little (four carries, 54-yards rushing, TD) run to the Tigers 24-yard line.
Senior quarterback Cole Parke (4-for-6 passing, 81 yards, 2 TDs) then threw a 24-yard TD to Tibbets (two catches, 63 yards, TD) and Kurt Nuevo's two-pointer made it 24-0 with 5:16 left in the first quarter.
"Cole and Trever are both tough players and they both played very well," said Henderson. "Cole throws the ball well and he's a good runner too and Trever is a good jackhammer type of running back. Some of the young kids like Nuevo, also ran the ball well too and he's really improved tremendously this year."
The Tigers responded and proceeded on an 80-yard scoring drive on their ensuing possession, capped by an 11-yard TD pass from Winters to Camden Rinehart, making it 24-6 with 2:11 left in the first quarter.
"It was a tough game, but we had a good time and it was fun to be in the playoffs," said Winters, one of three Tiger seniors. "We had a good season and we made it farther than lots of other teams, so we can feel proud about that."
Dufur took over and gained possession after a failed fourth down conversion attempt by the Tigers at the Ranger 47-yard line.
Dufur converted a four-play, 53-yard drive, highlighted by 34 yards rushing by Parke, including his 14-yard TD scramble.
Dufur followed with four more first-half scoring drives to take control.
Nuevo had a seven-yard TD run, and Parke followed with a 31-yard TD toss to Tibbets to make it 48-6.
"I think we could've actually played better, so we just need to continue working on improving the fundamental aspects of our game," said Nuevo, Dufur's leading rusher with 10 carries for 63 yards. "It was fun having so much playing time with the starters and also the second team guys. I think we can continue winning if we just keep playing with lots of heart and with Ranger pride."
Tibbets tacked on a four-yard TD run and on the Tigers ensuing possession, Parke intercepted a Winters pass and returned it 13 yards to give the Rangers a 62-6 halftime lead. For all intents and purposes the game was over at that point, other than the final score, as a running clock was used throughout the second half.
Dufur's second team reserves Brandon Broeckel, Kolbe Bales, Ethan Wetherbee, Steven Bailey, Alec Smith, Ben Anderson, Keyser and Nuevo all played the entire second half as Ranger starters rested on the bench.
Nuevo's 10-yard TD run, followed by Keyser's two-point run, made it 70-6 with 6:33 remaining in the third.
"It was a good experience for the younger kids because reserves usually don't get a lot of playing time in state playoff games," said Henderson. "They all played well in the second half, which is good because it will help benefit the future of our team."