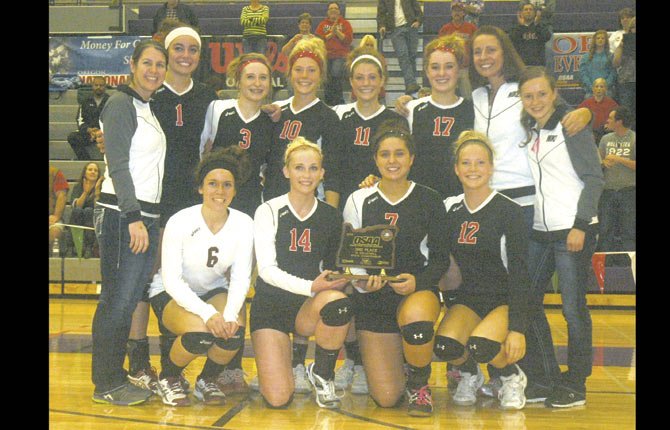 For the second time in the past three years, the Dufur volleyball squad ended its season with a win.
Although the long road of twists and turns did not end in a championship, there is much to be said about the accomplishment of earning third place honors after a four-game victory over Country Christian Saturday at the OSAA 1A State Volleyball Tournament in Redmond.
The last time Dufur hoisted a tournament trophy, senior hitter Kathryn Johnson was unable to see much time on the floor.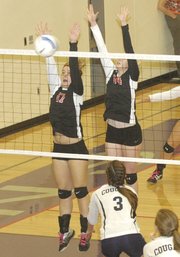 In a two-game stretch Friday and Saturday, she played a pivotal role in pacing the Rangers to a 2-1 tournament record.
Walking through the halls, Johnson sees so many trophies and banners hanging from the rafters, so to be an integral part of another trophy run is priceless.
"It was a really cool experience to finally hold one of these trophies," said Johnson, who also was named as a first-team all-league winner. "It is kind of surreal because you think about it a lot. To have it actually happen is kind of like déjà vu almost because you picture it so many times, so it is cool to see it materialize. I am so proud of the team for doing this."
Less than 24 hours after having their title bid derailed in a three-game loss to Imbler, the Rangers hit on 93.5 percent of their serves with 11 aces, and added a 125 for 140 effort with 40 kills on swings to beat Country Christian.
The Rangers got off to a good start to their match with a 25-21 win in the opening game.
Down 1-0, the Lady Cougars bounced back to even things up at 1-apiece with a 25-19 outcome.
Dufur jumped out ahead early in the third game with leads of 5-1 and 13-5, but the Cougars answered the call with a 10-5 run, capped by consecutive kills by Miranda Halverson and Brit Corless to pull to within 18-15.
With the score reading 22-18, Country Christian had back-to-back unforced errors and Dufur junior Montana Ferres rifled home a kill shot to give Dufur a 25-18 win and put them ahead, 2-1.
Both teams played close to the vest for the fourth game, as neither team enjoyed larger than a three-point cushion.
Taylor Darden slammed home two straight kills and Country Christina committed two more errors to move the Rangers ahead by an 18-12 margin, but the Cougars came back with five straight points to make it 18-17.
Dufur then swelled the lead to 22-17, and Country Christian followed that up with a 4-0 spurt, capped by a block from Halverson to make the score 22-21.
The ensuing serve went into the net, however, and then McDonald had a kill, but a Dufur serve also went into the net to run the count to 24-22.
On the next serve, after a good rally with some dig attempts, Macias had a pass given to her.
Instead of dishing off for a kill attempt by McDonald, she lofted a soft tap that eluded a group of Cougar players to the back line and in safely for the final score and the 25-22 win.
Darden had 20 kills, 15 digs and three aces, and Ferres kicked in 14 digs, four kills and three aces.
Macias, a senior, passed up 32 assists, with 19 digs, a kill and an ace, and Kyla Johnson, another senior, chipped in with seven digs.
Also for the seniors, McDonald had 13 kills, 12 digs and three aces, and Kathryn Johnson notched 12 digs, two kills and an ace.
"I am proud of them because they stuck with it," said coach Darden. "It wasn't very pretty, but we got the job done."
For this quartet of seniors, they have enjoyed immense success in the program that has won a Big Sky Conference West Division title in all four years.
This season, the Rangers finished with a ranking as high as No. 2, had a 16-match winning streak, and won 31 matches, 18 of those by sweep.
Through her four years, Macias has been part of a program that has won at a 78 percent rate.
"It shows that hard work pays off," Macias said. "These girls work harder than a lot of people. We pour everything we have into it. I am not saying other teams don't work as hard, but we try our best to be better than our last practice or our last match. It really shows now with our success."
This was the last road trip for the four seniors with this group.
Macias expressed nothing but love and admiration for everyone involved in making the sporting experience memorable.
"It has been an amazing journey with them," she said. "I am sad that it is over, but it is a start to something new. There is always basketball season, but we are still going to be friends hanging out. We will miss hanging out as a team, but the bonds we have created and the times we have shared have been amazing. I am so blessed to have been a part of it."
Winning third place twice, to go with several all-league medals and an all-state award represents a small part of her accomplishments.
McDonald has aspirations of continuing her career at the collegiate level.
Everything has prepared her for the next challenge.
"It has been a great experience being a part of this program for four years," she said. "Without Darden, I don't think I would be the person that I am today. She pushes everyone to be the best person they can be, not just in sports, but also in life. It is much more than just volleyball."
While Kathryn Johnson considers these teammates part of her family, she had actual blood on the roster with sisters Kyla and Kelsey with her.
She will hold this year close to her heart forever.
"We are really blessed to have all three of us on the same team," Kathryn said. "To be playing a lot with Kyla has been so much fun. I can't think of anyone else I would have rather played with. There are definitely those moments where it is like where we challenge each other to get better, but we really pulled together for the team. I loved it."
As with any good four-year run with athletes, there comes a time when incoming freshmen and returning junior varsity and varsity players will be leaned on heavily to help keep the legacy going.
Instead of feeling apprehensive, coach Darden is looking forward to building around Taylor Darden, Ferres, Kelsey Johnson, Abbey Stelzer and Tianna Ellis.
"That is really fun. I love seeing young kids come in the gym and they are hungry and excited to play," the coach said. "We have some young girls coming up to the program who have club experience, so that is really going to help. I think they have some tough shoes to fill, but they are excited about it. If they are excited and willing to put in the work, it is going to be fun to be around that."