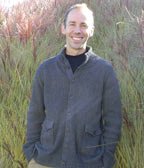 Seth Lambert, a native of Trout Lake, Wash., has joined Mid-Columbia Surgical Specialists as their newest general surgeon.
After spending the last three years working for the U.S. Air Force at the Langley base in Virginia, Lambert said The Dalles is a big change for him and his often-in-transit family.
"My wife and I are happy to be returning to the Pacific Northwest and we're excited to raise our boys here," Lambert said in an interview held in his new office last week. "I enjoy the small town atmosphere and appreciate the beauty of the Gorge, so I know it'll be a great place for us to make a home."
Lambert attended George Fox University as did his wife, Janelle, and earned his Bachelor of Science in chemistry there in 2000. While Janelle went on to earn a Masters in education at the university, Lambert went to medical school in Kansas City to continue on the path to becoming a doctor.
After receiving his second degree, Lambert began his five-year residency as a general surgeon in Detroit, Michigan, where he lived and received "extremely good training" in the incredibly demanding environment.
"When you notice that about 60 percent of the buildings appear to be burned out, you know you're in for a challenge," he said. "When my wife agreed to come out there with me, I told her she was taking on a lot more than just a marriage. We made it through, though, and I look back on it as a very valuable experience."
Over the course of his service in the U.S. Air Force which immediately followed, Lambert was deployed to Peru for five weeks for what he called a "military-sponsored humanitarian effort." Along with providing medical services to area residents, the project also served as an intense training session for all those involved as it required them to assemble a fully functioning hospital in less than 12 hours at a location with an elevation of 12,000 feet.
However, despite the challenges, Lambert said the 38-man team was able to pull it off and saw over 4,000 patients during the remaining four weeks, all of whom were of indigenous Peruvian descent.
After officially completing his term of Air Force service in August, Lambert and his family travelled to Panama to assist in a sustainable agriculture project conducted through their church.
Over the last seven years, Lambert said, they'd been consistently "criss-crossing" the country over and over again.
"As a family, we've all been in a constant state of transition since June, so we're really glad to finally have the chance to settle down."
A former white water rafting guide, Lambert said that he's really looking forward to introducing his three sons to the sport, as well as the prospect of turning over a new leaf and dedicating himself to providing rural medical services at Mid-Columbia Surgical.
"We're looking forward to getting to know people and becoming a part of the community," he said.
Dr. Lambert began seeing patients last week.
Other surgeons at the Mid-Columbia Surgical practice include Dr. Paul Moon, Dr. Jeffrey Mathisen and Dr. Ann Rust.