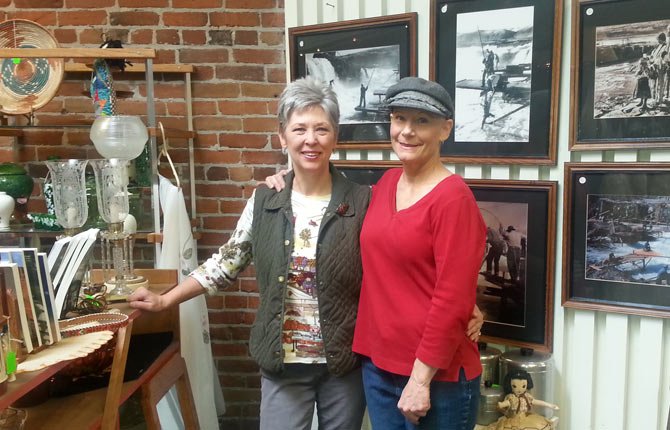 Look for a new face, new hours and new activities at Breezeway Antique Boutique.
Terry Lee has joined Marti Hunt as owners of the antiques and collectibles shop in downtown The Dalles at 313 E. Second St., next door to Klindt's Booksellers.
Lee recently retired from Nordstrom's in Seattle after working as director of the high-end retailer's integrated technology department.
"I'd been there 25 years," Lee said. "I decided it was time to retire and sell the house in Seattle and convince my husband to move down here. He's a consultant, so he can work anywhere."
Lee moved to The Dalles to be closer to her mother Beverly Krueger, who lives in The Dalles with her husband Tom. a director and vice president of Cousin's.
"I found this shop," Lee said. "I've always had an antiques business on the side."
She was looking for a cooperative venture, which she found at Breezeway. That way one of the owners could be tending the shop and the other searching the countryside for new merchandise — and each could get a day off from time to time.
"Marti knows what moves and what doesn't," Lee said.
The shop is more of an antiques mall than a store. Around 15 vendors display their wares in designated spaces within the mall, so the merchandise covers a diverse range of eras, styles and purposes.
"Everybody has kind of a different set of things they specialize in or seem to collect," Lee said. "It's not all about antiques."
Collectibles and new gift items that fit with the theme are also part of the mix.
"We have a new vendor who does his own barnwood frames," Lee said. "We also have a photographer here." Her own space in the shop is largely focused on linens, but also includes a bit of furniture to display the linens and other bits and pieces.
She particularly enjoys restoring old linens.
"It's time consuming, but that's the part I like the most."
She gives new life to the textiles by mending and freshening them, soaking them for some time in pure water only — "nothing else" — and laying them out to bleach in the sun.
"You'd be amazed what happens," she said. "The colors get brighter. The whites get whiter. Then I wash and iron everything. I don't believe in putting dirty linens in my store."
Lee and Hunt are focused on keeping the merchandise fresh from day to day.
"It helps the shop when somebody can walk in off the street and the next day come in and it's all different," Hunt said.
For the time being, business at Breezeway will continue on as usual, but look for some new activities in the future.
"We had a vendor's meeting a week ago and had some great ideas of how to improve the business," Lee said.
Some of the ideas floating around include an after-hours girls-only social with hors d'oeuvres, drinks and shopping, and perhaps a flea market in the parking lot space behind the store.
"I think it will be a lot of fun and get more people used to coming in and knowing the shop and what we have," Lee said.
One thing that has already changed is the hours at the Breezeway Boutique. The store is now open seven days a week, from 11 a.m. to 6 p.m. Monday through Saturday and from 11 a.m. to 5 p.m. Sunday.
In her spare time, Lee enjoys a sport that people might not attribute to such a trim, petite woman. She is an avid power lifter. She started the sport after she turned 40 as a way to maintain the bone density that is often lost as women age. Her coach suggested a small meet as a motivator.
"From there, I was hooked," she said.
She bench presses 200 pounds and dead lifts 350 pounds. She says the dead lift is one of the most powerful exercises people can do, engaging arms, shoulders, core, hamstrings, and quads.
"And it's not a technically demanding lift."