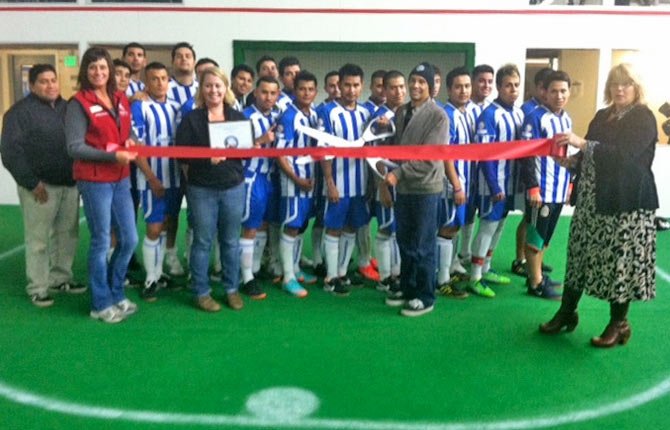 With a packed house at the indoor soccer facility at The Dalles Fitness and Court Club, a local semi-professional soccer team called the SO Samba Futbol Club had its manager Thiago Samba cutting a ribbon kicking off a partnership between the club and team while it prepares for its off-season workouts.
"I am thankful for the club opening their doors to us. We appreciate it. It is nice to see everyone from the community come together," coach Samba said of working out at TDFCC.
After enjoying a successful first year in which they went 8-1 playing other clubs from the Portland area, the Samba team will prepare for next season, as it tries to climb the ranks in the National Premier Soccer League for the 2014 season starting in April.
NPSL is a nationwide league of semi-pro adult men teams divided into Northeast, South, Midwest and West regions, with a regional season running from the spring through early summer before a national championship tournament.
"It is going to be a challenge for us to play against some great competition, but I think we are ready for it," said 2008 White Salmon High School graduate and midfielder, Cheno Barajas. "We played very well this year in our games. After we lost our first one, we just came together and played good soccer."
With cold weather, rain and snow in the winter months, consistent practice sessions are severely hampered.
In addition, with the daylight savings change, it gets darker earlier before the scheduled 5 p.m. twice-a-week practices and given the lack of properly lighted fields added on to that, action needed to be taken.
Israel 'Izzy' Quiroz, director of indoor soccer at TDFCC in conjunction with club manager, Gretchen Hansen, said it was a perfect marriage between both groups.
"They have always supported us. We felt since they showed us so much that we offered to let them use our facilities to work on their game," Quiroz said. "I think it is great for everybody."
This team, which has players from The Dalles, Hood River, White Salmon and throughout the gorge, has grown considerably in its first year starting from 16 in August to as many as 38 now.
The players range in age from 18 to 28, as most are in college or work daily jobs, balancing family and life at the same time.
"We are regular guys trying to play a game we love," said Chuy Ramos, also from White Salmon. "I am glad we have this chance to still play because a lot of guys think they are done playing after they graduate high school. This team gives us an outlet that we have never had before. It shows us and other good soccer players that it is not over yet."
With more than three decades of soccer experience, including as a professional mid-forward for the Sao Paulo club, Corinthians, coach Samba brings a high-energy style conducive to the talent levels he has seen since moving to the gorge a short time ago.
"We are excited to have coach Samba here," said Samba General Manager, Melissa Brandao. "It was his dream to start this team and he is following through with his passion. I think The Dalles is the perfect place for this. We have a good base of fans and players who can further the growth of this organization for years to come."
The focal points of his coaching philosophy are to showcase soccer in the United States, while teaching the Brazilian style.
He has plans to accelerate the game through the Samba school with camps and practices throughout the year.
With that in mind, he wants to further build the community through sports in an effort to inspire local, national and international fans.
As these players gain more popularity, the hope is that this success inspires younger players to play more and better.
"This is just the first step for us," Samba said. "We have done a lot in a year, so this has me excited. We had a very good season and we can only get better from here. As long as the players stay committed and motivated and do the right things, who knows how far we can go. From the level they started to where they are right now, it is so great to watch them have success."
The team is currently looking for a home field to play on and sponsorship opportunities.
Any local business interested being a sponsor is asked to contact Samba at 541-708-1112 or sosambafc@gmail.com.
Brandao announced that the organization is having 18U Men's OPL Soccer Tryouts on Saturday and Sunday from 2-4 p.m. at the St. Mary's Church Fields in Hood River.
Quiroz said there are still spots open for indoor signups at the club, so interested athletes can stop by to inquire.
Games are ongoing every day during the week.
For more information, call 541-298-8508.
Elements from a story by Adam Lapierre were used.