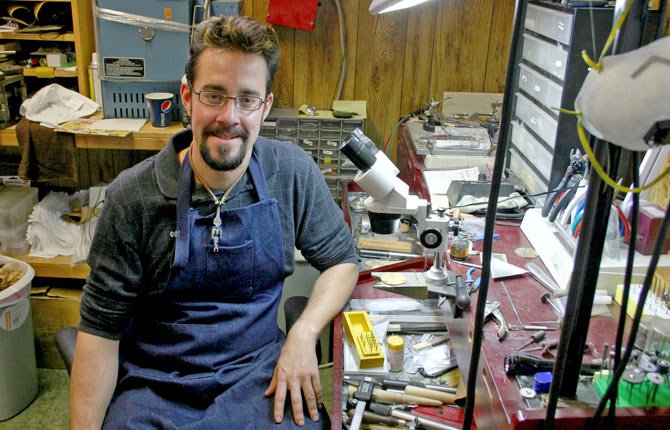 Jeweler Adam Ungar has joined the staff of J.D. Smith Jewelers in The Dalles.
Ungar had been working as a jeweler for five years in Portland at Kassab Jewelers.
"I learned with two veterans who have both been in the trade over 30 years," Ungar said.
His interest in the subject dates back to childhood.
"I've been a collector of rocks and minerals since I was little," Ungar said. "And I've always liked gold and silver."
This craft combines the two things he likes most.
"I was making art and jewelry even before I knew I wanted to be a jeweler," Ungar said.
He graduated from the American Jewelers Institute.
"Adam is impressive in his skills — that's why he's here," said Jason Smith, the store's owner.
"I push myself really hard," Ungar said. "I want to learn more and advance to the next level."
Pavé settings are one of the most complex, he said, which he hopes to learn.
"He wants to explore his skills and improve more on the old-world techniques, rather than taking shortcuts," Smith said.
"I do as much by hand as I can," Ungar added.
While most of the jewelry work he does at J.D. Smith is for women, Ungar enjoys making men's jewelry at home. "At home I want to make jewelry I want to wear," he said.
Ungar's presence has helped Smith speed repair times, too.
Ungar said he has wanted to live in the Columbia River Gorge since he got excited about Oregon in the fifth grade. In response, his parents secured a brochure about the gorge.
"Many years later, here I am," Ungar said.
With his interests in riding bicycles, skiing and hiking, he should find plenty to like here.
"I'd also like to try the local windsurfing," he said.