Fashions fade, style is eternal.
— Yves Saint-
Laurent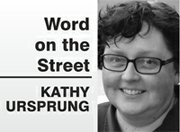 Style in The Dalles: Anyone who took in The Dalles Civic Auditorium's piano gala got a treat not only for the ears, but for the eyes. Many of those in attendance dressed up for the event in their evening best, men in suits and women in sparkly dresses.
Among the best-dressed at the event were the board members, looking quite stunning in tuxedos from Nancy Fork's The Dalles Wedding Place. (Nancy also looked stunning in her little black number, as did many of the audience members.)
Nancy is gearing up for the holidays now, ready to provide evening wear for holiday parties and group events.
Ready to decorate? The Home Depot is offering a chance to recycle old working or broken incandescent Christmas light strings through Nov. 17 for savings on new LED string lights.
LED lights look to be the wave of the future for a number of home and business applications, and with good reason: they're more energy-efficient and more durable.
Financial literacy for veterans: Wells Fargo is addressing the financial literacy challenges facing military members, veterans and their families through a new Hands on Banking for Military online program at www.handsonbanking.org.
Launched this year, the program is designed to address military members' unique needs at every stage of their career. The free program presents 10 individual lesson topics, including the basics of banking, preparing financially for deployment and planning for retirement.
"Many military members and their families face unique challenges that put them at a financial disadvantage, including deployments and moving around every few years," said Cobi Jackson of Portland, Wells Fargo's Community Development officer for Oregon and southwest Washington.
"These men and women sacrifice their lives for us," she said. "The very least we can do is give them the right financial tools to help them through these transitions. They have been there for us. We want to be there for them, and not just on Veteran's day, but every day of the year."