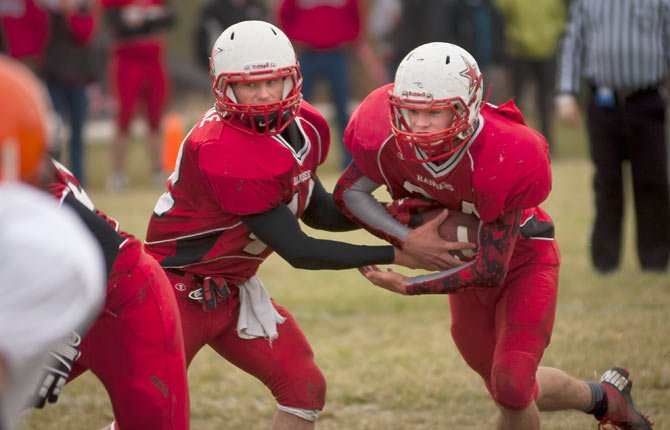 In recent history, the quarterfinals have been sort of a roadblock of sorts for the Dufur Rangers.
This group has fought too hard for far too long to let it get in their way again, however.
Starting at 7 p.m. Friday at home against Triangle Lake, the No. 2-ranked and unbeaten Rangers will look to get over the hump and chalk up another victory in the win column to put itself within reach of a possible state championship finals berth.
"We're not even thinking about the finals, because that's a long ways away," said Dufur coach Jack Henderson. "Triangle Lake is a tough team and they're in a conference with the No. 1 ranked team in the state (Lowell). As you move through the playoffs, obviously the teams you face get tougher each week. We'll have to show up and be ready to play in order to win."
In taking on the No. 7-ranked Triangle Lake (9-1 overall) squad, the Rangers face a group that has four of its nine wins against teams with winning records, including a 46-36 home triumph last week against Sherman.
The other five victories came against groups with a combined 11-35 record.
In a game of real consequence versus a top-level opponent in Lowell, the Lakers lost by a lopsided 86-22 margin against the Mountain West League champions.
Against the state's 20th-ranked schedule, the Lakers racked 543 points for 60.3 points a game, before last week's 46-point outburst.
Those points against the Huskies were the fewest scored in a win.
As far as standouts, Colton Wilcut operates the quarterback slot, while Hayden Wilkinson and Dakota Myers provide threats at running back. All-league standout, Tayler Davis (5-foot-11 inches, 170 pounds), is an anchor at both line positions.
The offensive group will take on a Dufur defense that has allowed 16 points or fewer in seven of its 11 games.
Four times this season, the Ranger defense, led by the quartet of Austin Olson, Zach Christiansen, Trever Tibbets and Brent Sumner has allowed less than 10 points in wins over Sherman, Perrydale, Crane and Condon-Wheeler – all playoff teams.
Olson, the all-state senior lineman, said his team has been focused in practice in preparation for a Laker offense that has eclipsed 60 points or more five times.
"We have the potential to be really good, but we just have to keep working hard to improve each week," Olson said.
The Ranger offense (60.7 points a game average) has steamrolled 11 opponents by an average margin of victory of 42.7 points a game, and there appears to be no sign of a letdown in sight.
Of course, quarterback Cole Parke, running backs Nick Little and Tibbets and all-around athlete, Jake Little, have been a major component to such offensive success.
When Kurt Nuevo is racking up the yardage and scoring touchdowns, it makes this train that much more difficult to contain.
The sophomore was Dufur's leading rusher last week in its 70-14 winner with 63 yards on 10 carries to go with a touchdown.
With the infusion of Nuevo, Kolby Bales and rumbling fullback Jon Keyser, the underclassmen have shown they are not ones to shy away from added playing time under the playoff pressures.
The Monument-Dayville game showed just that.
"It was a good experience for the younger kids because reserves usually don't get a lot of playing time in state playoff games," said Henderson. "They all played well in the second half, which is good because it will help benefit the future of our team. Nick, Cole, Trever and Kurt are all capable of running the ball well, so we really have a lot of offensive weapons."
In addition to the more than 160 yards rushing Dufur put up, Parke played a big part in maintaining balance through the air with an efficient 4 for 6 effort for 81 yards and two touchdowns.
The state's No. 2 scoring offense will be put to the test against a Triangle Lake unit that is ranked 11th in the state at 29 points given up a game.
Five times this season, the Lakers have allowed 24 points or less, but have allowed 30 points or more on three occasions.
"Defensively, Triangle Lake will crowd the line of scrimmage, literally putting everyone in the box, and then will back people off on the next play or two," Henderson said. "They give you many looks to try and attack. They are athletic and fly to the ball well and do a good job of taking things away from their opponents with their aggressiveness."
The winner of Friday's playoff game takes on the winner of Triad and Imbler next Saturday for a shot at the finals.
"We're excited to still be playing and working to improve on a daily basis," Henderson added. "Anytime you are in a loss-and-the-season-ends situation, it's pretty easy to keep the kids attention. Our kids continue to work hard and pay close attention to detail each week, so I'm confident we will play well on Friday."


Radio station 102.3 FM broadcasts the game live.
Elements from a story written by Mike Weber were used in this story.