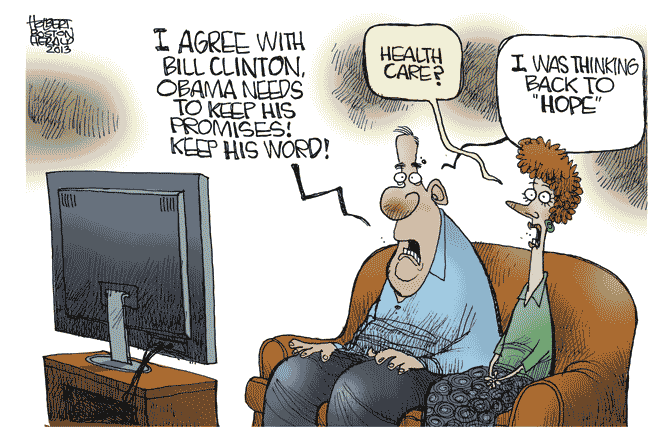 The following editorial was published in the Medford Mail-Tribune on Nov. 11:
Mention the words "health care reform" and you're apt to find yourself in a heated argument, or at least an intense conversation. But the heat is turned down to low when it comes to Oregon's efforts at improving health care for low-income people and its costs for taxpayers.
At a luncheon for the Medford-based Community Health Center last week, Dr. Bruce Goldberg, director of the Oregon Health Authority, detailed Oregon's developing success story and urged people to have patience as new systems are put in place.
While the line could hardly be drawn more distinctly between the pro and con sides of the Affordable Care Act, also known as Obamacare, Oregon pioneering efforts have drawn support from both sides of the aisle and have perhaps laid a foundation that the nation can build on.
There's no question health care in this country has to change. The United States has the most expensive health care system in the world and one of the least effective when it comes to creating a healthy populace. Sure, we can treat the symptoms, and probably better than anyone else. But the health care system is more like an auto repair shop — we keep fixing the car after it crashes into the ditch over and over, rather than trying to address what's causing those crashes.
We can keep our car on the road, but the cost is enormous and with every crash, the vehicle's long-term prospects are diminished.
Oregon has taken a different approach and done so with bipartisan support, which is a bit amazing considering the animosity generated by national health care reform. It has created coordinated care organizations to manage the Oregon Health Plan, this state's version of Medicaid, treating the whole patient and getting to the root of medical issues rather than just fixing the human vehicle over and over again.
Want an eye-opener on health care costs in this country? Goldberg has one: If, over the past 80 years, the cost of food had risen at the same rate as the cost of health care, a dozen eggs would cost $80 and a dozen oranges would cost $100. We are not heading toward an unsustainable future: We have arrived at an unsustainable present.
Oregon's plan takes positive steps to end that financial crisis, creating teams of physicians, mental health counselors and others to treat OHP patients, focusing especially on the 20 percent of those patients who are running up 80 percent of the bills.
Goldberg told the story of a mentally ill man who was admitted 40 times in one year for breathing problems related to anxiety. After being assigned to coordinated care, the man's hospital visits dropped the next year — to zero.
There are other positive indicators: emergency room visits have dropped by 9 percent among OHP patients, while primary care visits have climbed by 18 percent. Those patients are getting help in dealing with the cause of their problems rather than just the symptoms.
The goal of Oregon's plan is to cut annual health care cost increases to 3.4 percent. If the program stays on track, it will save Oregon and the feds $4.8 billion over the next 10 years.
Organizations like the Community Health Center are on the front lines of the effort to provide care for all who need it, while keeping costs under control. They are part of a network of health care providers who truly have created a network that can move us away from our unsustainable present.
In the midst of all the hue and cry over health care reform, it's a success story that deserves to be told.
---
Eugene Register-Guard, Nov. 10, on ranking the University of Oregon
A new set of comparisons ranks the University of Oregon against the other 33 public members of the Association of American Universities according to 22 benchmarks. Most of the benchmarks show that the state of Oregon has tried to maintain a first-rate university on the cheap. The rest of them show that the state has succeeded in important respects — given what the state puts into the UO, what comes out is pretty good.
That type of success can become a trap: A university that successfully adapts to privation is rewarded with more of it. If the state can withdraw nearly all public funding from higher education, and the UO responds with increased enrollment and high faculty productivity, legislators conclude that they can safely pinch the budget still further.
The most telling of the benchmarks, which were prepared by the UO's provost, compares total expenditures per full-time student. The UO ranks last in this category, spending $29,532 per student in 2010-11. No. 1 is the University of California-Los Angeles, with expenditures of $120,636. The average for all public AAU universities is $60,575. The gap is widening: The UO's per-student spending rose by 7 percent from 2006-07 through 2010-11, while the average AAU increase was 10 percent.
Low per-student spending is reflected in many of the other benchmarks. In 2010-11, the UO had the highest ratio of students per tenured or tenure-track faculty member — 35 to 1. The average at other AAU public universities was 23 to 1.
Five years earlier, the UO's ratio of tenure-related faculty to students was 32 to 1. The university saw a 20 percent surge in student enrollment during that period, and almost managed to keep pace with a 19 percent increase in the total number of faculty. Nearly all of the increase, however, was among lower-ranked faculty with smaller paychecks and less job security. The UO kept professors in front of its students by watering the soup.
This conclusion is buttressed by an analysis presented in March by Howard Bunsis, a professor of accounting at Eastern Michigan University and chairman of the American Association of University Professors' Collective Bargaining Congress. Bunsis found that from 2005 through 2012, the number of part-time faculty at the UO rose 38 percent, while full-time faculty increased by 1 percent. Bunsis also found that among nine AAU public universities, faculty salaries at the UO ranked last — except for instructors, the lowest rank examined, whose salaries ranked fifth.
Low spending is also implicated in benchmarks of students' success in college. The UO's six-year graduation rate in 2010-11 was 66 percent, compared to an AAU average of 78 percent. The UO retained 86 percent of its freshmen into the second year, while the average AAU public university's rate was 91 percent. These statistics are evidence of relatively weak advising, a high student-faculty ratio and a lack of other services to help students get their college careers off to a good start and keep them on track toward graduation.
But other benchmarks tell a different story. By some measures, the UO is highly productive. The UO awards 41 percent more bachelor's degrees per tenure-related faculty member than the average AAU school. The UO's tenure-related faculty publish 30 percent more books per capita than their AAU peers. To some degree these benchmarks reflect the shift to non-tenured faculty. But efficiency-minded legislators might rationally conclude that the UO is managing to do more with less, and get into the habit of expecting the university to keep it up.
The same conclusion might be drawn from the UO's success in fundraising. The UO's endowment of $437 million ranks 25th among the public AAU universities, and annual income from donations ranks 29th. But compared to its total expenditures, the UO's fundraising is 55 percent above average and its endowment has been above average in most recent years. In these figures legislators will see evidence that the UO has found donors to fill the gap left by reductions in state funding.
In a recent interview, UO President Michael Gottfredson focused on the benchmarks that highlight the university's successes, noted that the 2013 Legislature had approved a budget increase for higher education for the first time in years and predicted that an independent board would give the UO more flexibility in self-management. But at the root of a half-dozen challenges facing the UO, ranging from student access and high tuition to student-faculty ratios and faculty retention, Gottfredson identified a common denominator: finances.
The benchmarks show a university that has fallen behind its AAU peers by many important measures, but has still managed to keep up or excel in other respects. The lagging indicators are no surprise in a state where higher education spending per student has declined by half since 1987, and is now 50 percent below the national average. The UO has done well in its efforts to mask the effects of that decline, but the state's political leaders should not imagine that access and quality can be maintained indefinitely without a public investment comparable to other states'. In the end, Oregon will get what it pays for.
---
The Oregonian, Nov. 7, on modernizing liquor sales
Oregon's liquor-sale system is clunky and outdated, but it has a couple of things going for it. First, it raises a lot of money. The state general fund alone received more than $115 million during the 2012-2013 fiscal year. Second, many of the system's peculiarities exist outside of the view of the consumer.
To most Oregonians, the most meaningful manifestation of the system's strangeness is the retail segregation of hard liquor. A lot of people may roll their eyes at the absurdity of a legal structure devoted to the proposition that the alcohol contained in one kind of beverage should be treated differently than the alcohol contained in another. But the thing that affects consumers directly is the extra stop required to buy vodka or whiskey. So why not eliminate that extra stop — say, by allowing grocery stores to stock state liquor?
This idea, reported by The Oregonian's Harry Esteve, is one of several a state task force will consider in the coming weeks. The Oregon Liquor Control Commission is under intense pressure to reform, thanks to the threat of a privatization measure contemplated by grocers. Getting the state out of the liquor-selling business entirely, as Washington did last year, may be the cleanest and most sensible way to reform the system, depending of course upon the details. But Oregonians would be almost as well served by more subtle changes that allow the current system to behave — at least at the consumer end — more like a modern system.
OLCC Chair Rob Patridge describes what he calls a hybrid system. The state would continue to control the supply of hard liquor through its warehouse, but grocery stores would be allowed to put it on shelves and sell it, just as they do wine and beer. Such an arrangement would improve consumer convenience without blowing up the existing system entirely. It also would provide some protection to the state's craft distillers. "Distributors don't want to mess with little distillers in states like Washington," says Patridge. But under a hybrid system, he says, their products would continue to be stocked in the state warehouse for easy distribution.
But will grocers go for it? Maybe, maybe not. "We're open to anything that makes sense," says Joe Gilliam, president of the Northwest Grocery Association. But don't get your hopes up, booze buyers. "It's pretty hard to modernize the system and keep all the old parts in place," says Gilliam, noting that "we're not interested in window dressing."
For supermarkets, which already have their own supply chains, involving the state's warehouse could be a problem. "Their operation doesn't give us any efficiencies or opportunities to cut costs," says Gilliam, and if the new system doesn't work efficiently, grocers won't support it. "You'd have to increase prices, and then the consumer would lose," he says.
And if the system served consumers well, we'd add, they'd be less likely to support the grocers' privatization initiative, which Gilliam's organization is "very close" to unveiling. The grocers intend to keep plugging away regardless of what the liquor task force produces, Gilliam says, as significant changes would embark upon an uncertain journey in the Legislature.
All of this bickering and posturing should be encouraging to consumers, who are badly served by the status quo. The grocers' promised pursuit of an initiative is forcing the state to consider reforms that serve liquor buyers better. It's impossible to know how interested grocers are in the hybrid model Patridge describes. Then again, it's impossible to know how interested voters might be in their initiative. Such a measure would have to impose a tax high enough to keep the state whole without producing a Washington-style price shock. Washington's experience alone might scare off many voters no matter how well constructed the grocers' proposal might be.
Given such uncertainty, perhaps it's not unreasonable to hope grocers will seriously consider a hybrid system that places booze on their shelves. Time will tell. As backup plans go, meanwhile, a privatization initiative has a lot to recommend it.
---
The (Pendleton) East Oregonian, Nov. 6, on the next generation of farm families
More and more, woman are returning to the farm — and taking charge. This is part of the generational shift agricultural economists talk about.
Molly Pearmine McCarger returned to the family farm after a stint teaching.
Marie Bowers returned to her family's farm after working in agricultural finance.
So did Macey Wessels, who managed a blueberry farm and processing plant.
More and more, women are returning to the family farm and taking charge.
This is part of the generational shift that agricultural economists talk about. As America's farmers grow older — the average age is 57 — the younger generation must pick up the mantle. As the older generation considers passing along the family farm, all options must be considered.
These days, daughters can be as likely to take over the farm as the sons.
That's as it should be. Farms are businesses that require knowledge of agriculture, finance, mechanics and many other fields. Whether that person is male or female is beside the point. Farming is an equal-opportunity profession.
One of the most difficult problems facing any farm family can be summed up in a single word: succession. That's when a farmer approaching retirement age faces the question of what to do with the farm. Sometimes the farm has been built from scratch. Other times, it is a multi-generational operation. Either way, the farmer, along with the family, need to come up with a plan for the next generation.
In some families, the custom called for the oldest son to take over the farm. In others, the son — or daughter — with the most interest was designated. In some others, each child received an equal share of the farm.
These and many other alternatives emerge during a discussion of succession plans. Almost all of them can have pitfalls if all the aspects are not considered.
For example, a farmer may give an equal share to each child with the provision that one of them will buy out the others. But if the plan is not properly drawn up, the child still on the farm may have to take out a loan or sell part of the farm to do that. In some cases that can put the farm in a precarious financial position.
In still other cases, there's no plan at all, and family members, under the worst of circumstances, must figure out what to do.
But just as no two families are the same, no two succession plans are the same.
Whether a daughter or a son ends up on the farm, all family members must be on board and treated fairly.
---
The Albany Democrat-Herald, Nov.12 , on mental illness and prisons
Here's news that won't surprise anyone who's worked in a jail or a prison: According to numbers from the Oregon Department of Corrections, one of every three inmates in state prisons has a mental health issue.
In fact, the number of inmates with some kind of mental health problem is on the rise.
According to the state's monthly inmate profile, as of Nov. 1, 4,672 Oregon inmates need some sort of mental health treatment. That's up 17 percent from five years ago, when the count was 3,991. (The Oregonian recently published a story about the Nov. 1 inmate profile.)
The fact of the matter is that our jails and prisons have become, almost by default, the place where we treat thousands of people suffering from some sort of mental illness.
And the primary method of dealing with mental illness inside our prisons — and, again, this almost is by default — is through medication. That's according to a dissertation by Joseph Galanek, who found that "psychiatric medications are a primary form of treatment" at the State Penitentiary in Salem, for both serious and minor mental illnesses.
Although this news isn't particularly surprising —the link between mental illness and criminal behavior is depressingly common — it does lead to a couple of more general observations.
First, it suggests that one of the priorities as the state tries to emphasize community-based corrections as an alternative to building more prisons will be to bolster the mental health services those inmates will require.
You saw an example of that last week, when Linn County accepted a $606,000 grant from the state to help pay for community corrections programs. It's no coincidence that many of the services the grant is intended to pay for are connected, either directly or indirectly, to mental health issues. There's no point in shortchanging those essential services — not if we're serious, as we should be, about pursuing community corrections as a more effective and less expensive alternative to building new prisons.
But a bigger issue lurks just underneath the surface: Is this part of the price we pay as a society for paying insufficient attention to mental health issues in the first place? If so, wouldn't it be a better investment to develop — and properly fund — early-intervention programs to treat those issues before they blossom into something bigger?
That might not be just the most humane thing to do. It might also be the most cost-effective thing.
Copyright 2013 The Associated Press. All rights reserved. This material may not be published, broadcast, rewritten or redistributed.