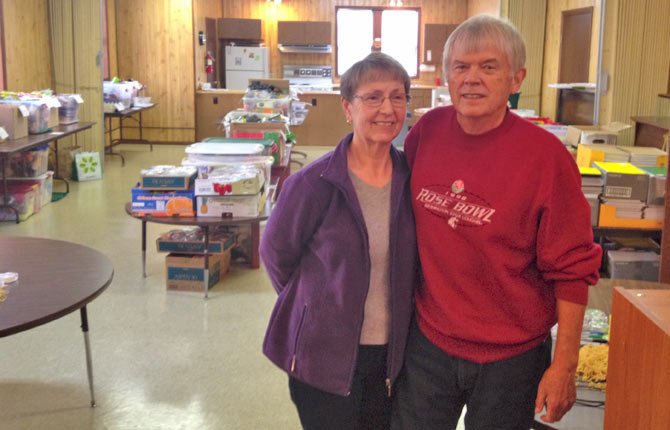 Bingen First Baptist is a tiny church with a big heart, especially when it comes to donating care boxes to needy kids worldwide as part of Operation Christmas Child.
This year the 25-strong congregation packaged an impressive 813 boxes during a marathon four and a half hour session a few weeks ago, with some 25 people pitching in.
Leading the effort are Jean and Don Hendrickson, both retired special education teachers, who live in Underwood.
Their church got involved with the Samaritan's Purse project in 2001 – it's a national campaign started in 1993 by Billy Graham's son Franklin — and Jean just took it to heart.
"I really like it, it's something that I'm able to do," she said. "I can't sing. I can't preach, I can't play the piano, but I can do this."
She and another gal at church who helps her, Patty Gray, are both good organizers. But Don is also a full partner in Jean's work, from shopping for inexpensive items for the boxes to counting the massive inventory they accumulate throughout the year to put in the boxes.
"I count all the stuff. I have the roster, I can tell you how much we've collected of every item we've got," she said.
Churches throughout the gorge participate in Operation Christmas Child, and area volunteer Karen Goebel hopes to have over 3,000 boxes contributed.
The filled boxes can be dropped off at Emmanuel Lutheran Church in Hood River and New Beginnings Church in White Salmon from Nov. 18-24.
Each box also contains a brochure with Bible stories introducing the child to Jesus.
The box packing events have become a fun tradition at the church. Kids are welcome to help, but they have to be at least three years old, because reading is involved. People from five churches help at the box packing session.
Jean said the project "just keeps growing." The 813 boxes done this year was a record, and she doubts they'll beat it next year, but says, "we'll see what happens."
She has friends in the Willamette Valley who help scrounge for small inexpensive items. One found caches of Hot Wheels cars at garage sales three different times. One seller just gave her the toys, while at two other sales she got new in the box cars for just 50 cents apiece.
Each box has 11 items, which Jean can rattle off from memory. Most are personal hygiene items, including a toothbrush and toothpaste, plus soap and a wash cloth. They also get pencils, crayons and a notebook, plus a little bag of hard candy and an age-appropriate toy.
They are packed for three age categories: two- to four-year-olds, five- to nine-year-olds, and 10- to 14-year-olds.
New this year, Lyle retiree Mildred Lykens sewed 150 dresses for girls and 50 tank tops for boys for the boxes, Jean said.
Jean's specialty for toys is to buy a jump rope. "I think I bought 240 jump ropes. I buy them at the Dollar Tree. The Dollar Tree is our best store."
Others buy in bulk too. "One gal bought 300 tubes of toothpaste." Another loves to do the soap, and she donated 700 bars of soap, "and they all have to be double wrapped, so that's a big job."
At Christmastime, she and her husband buy candy on sale. "I hate to give away all my secrets," she said. "We already have competition for the coloring books, they figured out how we do that."
"We try to buy the school supplies in the summer," she said.
Her friends in the Valley buy crayons by the hundreds.
"To do this many boxes you have to have people who are willing to and can afford to buy large lots of items, and the people who can't afford so much they donate as they can."
There are certain items that can't be sent, including knives, army toys, police toys, or candy that will melt.
The church uses two kids of boxes, the cardboard ones provided by Samaritan's Purse, and they also buy their own plastic boxes. "They use them to collect water," she said of the plastic boxes.
The boxes that are collected here will be trucked to Vancouver, and from there will be taken to Los Angeles to be shipped worldwide.
Last year, she decided to track some boxes, and they went to Nepal and the Philippines.
She also puts her name and address in the box in case the recipient wants to contact her.
Many people do the same thing, but it's rare to hear from someone.
In fact, when a volunteer asked a roomful of donors earlier this year if anyone had gotten a response letter, just one person raised their hand.
But Jean has had an unusual response. "We got six letters this year. We got four from Nepal and two from the Philippines."
She has already started gathering items for next year. She found a good deal on washcloths. She keeps a tally of her spending, but doesn't want to disclose it. "It's a lot, it's one of our main missions."