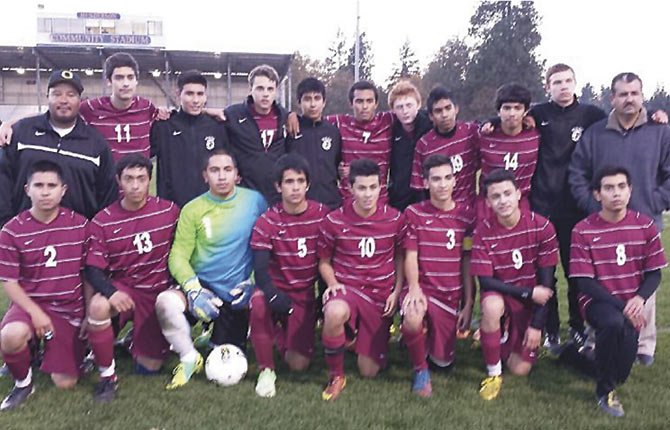 In visualizing his list of all-league recipients, The Dalles Wahtonka boy's soccer coach Luis Gamez was proud of the eight players who earned the distinction of being selected as representatives from his varsity squad.
Of course, there were some snubs left off and a few players he felt deserved to be higher on the lists.
Nonetheless, he agreed the number was great for his three-win team that finished one slot shy of a playoff spot.
"I am happy these guys were recognized," said Gamez, who chalked up his second career Coach of the Year award. "A lot of times, their hard work is unappreciated, but their teammates, the coaches and the rest of the league noticed what they have accomplished on a day-to-day basis."
Of the eight players recognized, the Tribe had senior defender Sergio Rios and junior midfielder Aldo Rivas pick up first team awards.
Rios, who logged one assist, was a team captain and an anchor on a defensive unit that allowed 31 goals, including two or less in six games.
"Sergio was a great player for us," Gamez said. "He did an outstanding job on defense and made it a lot easier for the players to do their job. He is the type of player that coaches like to have on their team. We will miss him."
Another player, who was a major linchpin to success, was Rivas, a tremendously skilled midfielder who can dominate on both sides of the field.
The junior led TDW in points with seven, as he hit the back of the net four times and added three assists.
"I think Aldo is one of the players here who gets better and better every year. It is an honor coaching him," Gamez said. "He is a player who is very gifted with speed, passing and vision on the field. I like that he will be back next year. He is a player who will work harder in the offseason to get himself to a higher level and that is exciting."
A pair of senior midfielders, Alexis Elias and Ernesto Rodriguez earned their stripes this season and had their names called on the second team for top play in the 2013 campaign.
The way Elias attacked the game is what Gamez liked most about his veteran player. Rodriguez finished with two goals and an assist and caught the eye of his coach.
Christian Garcia, another senior, made a switch from defense to forward this season and exploded at the start of the season with a goal streak of five games.
With his speed and nose for the ball, he led the Tribe with six goals overall and one assist, so for those numbers he was named to the second team.
In the 2012, TDW scored 19 goals in 14 matches, and allowed 32 over that same period. Those numbers were flip-flopped from 2011, when the Tribe scored 41 goals and allowed 24.
This year, the Eagle Indians finished second in the league with 24 goals. They scored three or more goals five times and went 3-0-2 when that happened
Aside from the goal numbers, the defense lowered its number from 32 down to 31 with the help of Bryan Sanchez at goalkeeper.
The senior made 36 saves in all, 21 in league action to go with two shutouts.
"Bryan saved us so many times with a lot of great saves," Gamez said. "He read plays well and was aggressive in goal when he needed to be. Our defense was great and when they had a player get behind them, it was nice to have Bryan back there to make a stop."
With Sanchez due to graduate, Gamez needs to re-shuffle the deck and find an adequate replacement for his prized goalkeeper.
"He was solid for us for a long time and now we will have to bring in someone knew who can fill Bryan's shoes," Gamez said. "He is going to be hard to replace, not only as a player on the field, but off the field. He is someone you love to have on the team, leading everyone."
The list of all-league players did not end with the first two teams, but two players earned spots as honorable mention selections.
Back on defense, senior Julian Gutierrez had a major impact on wins and losses, and his contributions were impactful enough to garner recognition.
The future is bright for the Tribe.
Rivas is one reason why and sophomore Andres Manzo is another.
Overall, the midfielder scored five goals and had an assist, but led his squad with three goals in league action.
With those attributes, Manzo tallied a spot on the honorable mention list.
"With so many kids picking up all league, I think it shows the level of talent we still have here in The Dalles," coach Gamez said. "From looking at the list, there were six seniors, a sophomore and a junior here. It is a good mix, and I think we have a good future here with maybe more coming back next year."
There are seven juniors coming back led by Julio Manzo, Sant Strassheim, Rivas, Angel Esiquio, Javier Marines, Antonio Morales and Christian Munoz. Andres Manzo and Leo Hernandez, along with freshman Brandon Bustamante, represent a mattering of underclassmen, which bring hope for the program.
"We have some good players coming back. I am feeling good about next year," Gamez said. "We look forward to a good preseason, but we will take some time off and think about next year. The material is there, so we hope that we can put it together. We need to get the young guys some game time and good experience, so we will see."
From summer ball to the opening of camp, the goal of this team had been to take home some hardware.
Next year, Gamez expects Hood River Valley to re-tool its roster, and knows Hermiston and Pendleton will back fighting for respectability.
"Before I retire, I know the goal of this program and for me is to win a state championship. We are going to keep working and keep building this program for some great things," Gamez said. "I am pleased with this season, but I wanted more and so did the whole team. We will remember how this season ended and use it as motivation during the offseason."
For more information on indoor play during the winter or for workout schedules and other questions, call 541-288-7251.