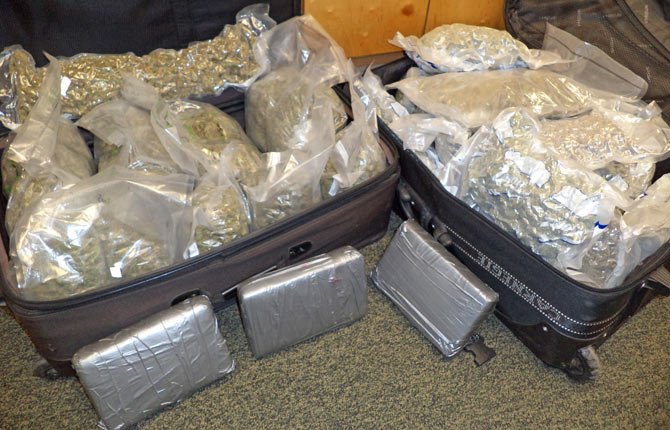 The Sherman County Sheriff's Office has had a busy month of traffic stops resulting in drug hauls, including one that yielded 31 pounds of marijuana and eight pounds of cocaine seized off a commercial passenger bus.
In a 10-day span, over 40 pounds of marijuana and the cocaine were seized. The value of the drugs is estimated at $130,000, Sherman County Sheriff Brad Lohrey said.
The bus was pulled over Nov. 8 for a traffic violation and deputies deployed drug dog Luke, who alerted on some bags on the bus. "No one would claim the bags," a press release from the sheriff's office dryly stated.
Two firearms were also discovered in the bag.
The incident is still under investigation and no arrests have been made. Lohrey said, "This is the largest seizure of cocaine in the history of the Sherman County Sheriff's Office."
"Highway 97 travels from California to northern British Columbia and is well known as a major pipeline for drug trafficking," Lohrey said. "Highway 97 runs through the middle of Sherman County and the sheriff's office is very committed to keeping the drugs out of Sherman County."
This is the second time the sheriff's office has found a large quantity of drugs on a commercial passenger bus. The first time, even more drugs were found: 79 pounds of marijuana.
The bus stop was just the latest in a series of traffic stops in Sherman County in November that yielded sizeable amounts of drugs.
On Nov. 2, a deputy stopped a speeding car on Highway 97 near milepost 16. The driver, from Spokane, consented to a search, and with the help of the drug dog, Luke, about 4.5 pounds of marijuana was discovered. The driver was arrested.
On Nov. 5, another car was stopped for speeding. The deputy could smell marijuana and again deployed Luke, who alerted on the vehicle. A search of the vehicle yielded approximately six pounds of marijuana. The driver was cited and released.
The day after the bus was pulled over, a deputy stopped a vehicle for a traffic violation in Biggs Junction. Inside the vehicle, which turned out to be stolen out of Washington state, were user amounts of methamphetamine and heroin. The driver, a woman out of Spokane, was arrested and charged with unauthorized use of a motor vehicle and unlawful possession of methamphetamine. The passenger, a woman from Colville, Wash., was arrested and charged with unlawful possession of methamphetamine and unlawful possession of heroin. On Nov. 11, a deputy stopped a vehicle for illegal window tinting. After getting consent to search the vehicle, he found one and a half pounds of marijuana, a .38 caliber pistol and $20,590 in cash. Four men were arrested and charged with unlawful possession of marijuana, unlawful delivery of marijuana, unlawful possession of a firearm and criminal trespass.
Also on the 11th, a deputy responded to a trespass complaint at the Klondike elevator. During the investigation a container of user amount of methamphetamine and several marijuana pipes were found. A Portland are man was cited and released for possession of a methamphetamine.
Lohrey said, 'We are the only law enforcement agency located in Sherman County. As the sheriff, I feel very fortunate to have such dedicated and highly skilled deputies. I personally would like to thank them for keeping Sherman County safe."