Lauren Kraemer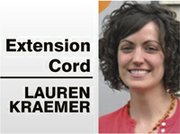 I've been asked by several community groups to come give presentations on healthy eating tips folks can practice this time of year.

In between these talks to various groups around town, I thought I'd write some of the ideas down in order to share with a broader audience.

While making healthy choices during the holidays is not a new challenge or a new topic to write about, most research shows we adults need to hear a message about 23 ½ times before it really sticks.
So here goes—10 tips to help you eat healthy (or healthier) through the holidays:
Be realistic. This is not the time to start a new diet or try to lose weight. A good goal for November and December is to try to maintain your current weight and begin preparing for new goals after the start of the year. Besides, New Year's Resolutions are a great time to set weight-loss goals.

Maintain your regular eating habits—think three square meals (or six) per day. Don't skip meals. If you are headed out to a holiday party or potluck, eat a light snack of whole fruit or raw veggies to help curb your appetite. An apple is a great gauge of hunger—if you finish and you're still hungry—head to the buffet table…

…When you get to the buffet table, look around first, choose your favorite items and skip anything that doesn't look good. Try to make half your plate fruits and veggies. Start with small portions so you can taste lots of things but not feel obligated to eat everything.

Slow down as you eat so you can be aware of when you feel satisfied, not stuffed.
This is a hard habit at parties because the distractions of conversation, lots of people, mingling and music can make it a challenge to be in tune with your body. Savor your favorite holiday treats and if possible sit down at a table, get comfortable, and enjoy.
Be aware about type and quantity of beverages you consume. Everyone knows that Egg Nog should be enjoyed sparingly—and it's not just because of the fat and cholesterol. Alcohol can lessen inhibitions and induce overeating because it most immediately affects the judgment centers of the brain. On the other hand, many non-alcoholic beverages can be full of calories and sugar. Alternate a glass of water with whatever else you are drinking to help stay more sober and avoid excess sugar.

Build in time during the day to exercise. The release of endorphins you'll feel as you get your arms and legs moving and your heart beating will help to relieve holiday stress as well as to prevent weight gain.
An extra 10- or 15-minute walk (about 2,000 steps if you wear a pedometer) is enough to help keep the pounds at bay and allow you to indulge in some goodies. It will also help with your alertness, so go for a walk after Thanksgiving dinner instead of crashing on the couch.
If you do overeat at one meal, don't beat yourself up, instead go light on the next meal.
After all, most of us need between 1,500-2,500 calories per day and it takes 500 extra calories per day (or 3,500 calories per week) above your normal intake to gain one pound…so if you stuffed yourself at supper, have a light and nutritious breakfast with whole grains. Remember, you won't gain weight from a single piece of pie!
If you are worried about attending a party that is unlikely to have healthy options available, bring your own healthy dish to a holiday gathering. The host or hostess will likely be very appreciative and you'll be grateful to have something nutritious to add to the table.

Practice healthy holiday cooking. Preparing favorite dishes lower in fat and calories will help promote healthy holiday eating.

Substitute whole wheat bread in stuffing and add extra vegetables (celery, onions, carrots) and fruit (apples, pears, cranberries); mix other white vegetables into mashed potatoes (cauliflower, sunchokes, parsnips, or mushrooms) for added nutrition and flavor—top with gravy that you have refrigerated prior to mixing so you can skim off the fat first; for baked goods—substitute whole wheat or whole grain flour for refined white flour, use applesauce or yogurt in place of all or part of the oil or butter, and cut down on the sugar…most recipes can accommodate cutting half the sugar without compromising too much on flavor.
Shift the focus off of food and back to friends and family. Instead of candy exchanges, cookie parties, and potlucks—invite friends over for a non-edible art project like wreath making, card making, or making gifts for those less fortunate.
You can also go on a walking tour of decorated homes, plan a board game night, or an "ugly sweater party" that is focused on fashion not food.
Above all, enjoy yourself and don't allow the tasty temptations of the season to leave you riddled with guilt. The seasonal flavors and classic dishes of the holidays are a part of life-long traditions for many of us so don't worry if the next two months aren't perfect. You'll have 10 months to improve your habits for next year.
For more tips on healthy holiday cooking and classic holiday recipe makeovers, check out some of these links:
• http://www.eatingwell
.com/healthy_cooking/recipe_makeovers
• http://www.tasteof home.com/recipes/holidaycelebration recipes/thanksgiving-recipes/thanksgiving-makeover-recipes
• http://www.webmd
.com/foodrecipes/features/merry-makeovers-healthy-holiday-foods
• http://www.fitness
magzine.com/recipes/desserts/low-calorie/recipe-makeovers-low-cal-holiday-cookies/
• http://www.cooking
light.com/eatingsmart/recipe-makeovers/lighten-up-holiday-classics-00400000033944/
• http://www.cpmc.org/
about/e-health/11-05%20healthy-holidays.html (Many of the tips above were adapted from this article, written by Greta Macaire, R.D. Macaire includes a few recipe adaptations at the end of her tips)