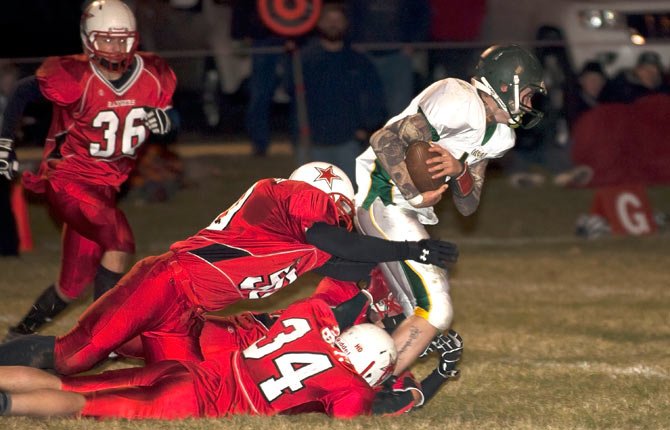 Talk to any football coach and they will tell you that winning playoff games, at any level, involves skill, a little luck and making the pivotal plays in critical situations.
Triangle Lake used its vertical passing game to make several big plays down the stretch in earning a 40-30 road playoff victory over the No. 2-ranked Dufur Rangers Friday night in OSAA/U.S. Bank/Les Schwab Tires quarterfinal action in Dufur.
"All the pressure was on them. They were on their home field, they were No. 2 in the state," said Laker end Chad Steinhauer. "Nobody expected us to come here and do anything. I think we kind of caught them off-guard a little bit. Once we got them on their heels, we kept pushing and we did a great job to get the win."
The tide-turning play of the night occurred with nine minutes and 26 seconds left in the fourth quarter and the Lakers nursing a 40-30 lead.
Faced with a fourth down and 28 from its own six-yard line, Triangle Lake quarterback Colten Wilcut debated whether to punt the ball or go for it.
With the urging of his teammates, Wilcut made the call and sent his team in formation.
On the snap, the senior scanned the field and checked down to running back Cole Drago, who caught the ball at his own 12.
Drago made a cut up the field, breaking two tackles and motored through the teeth of the Dufur secondary for a 40-yard gain and a fresh set of downs.
Triangle Lake ran eight more plays, before giving up possession on a missed fourth down pass from the Dufur 40 with 4:49 left in regulation.
Triangle Lake end Chase Parker said his team has not punted the ball all season – they were going for it.
"It was a big play. You could tell it changed the momentum right there," Parker said. "For us, it was motivation to keep going. We knew we were getting closer and closer to winning, pumped up after that play. For them, I am sure it was the exact opposite, you could see they got down and deflated, probably stunned that we did that."
The Laker defense held strong and stopped Dufur on its ensuing possession and then ran down the final 3:14 to win the game and advance to the state semifinals for the first time since 1981.
"It is an amazing feeling to move on to the next round. We have never been this far," Wilcut said. "We have all been together since we were young. We are all brothers and have been through so much together. The wins and losses, but to come through with a clutch performance like we had tonight is an amazing accomplishment for this team. I still can't believe it."
The Lakers had 10 plays go for 15 yards or more and they converted on 6 of 14 on third downs and 5 of 9 on fourth downs.
Three of those third down conversions ended in scoring passes of 57, 63 and 57 from the arm of Wilcut.
In the first quarter, he scampered from 63 yards out to give his team a 14-0 lead with 2:41 left.
Four times Triangle Lake also had drives of three plays or less that wound up in touchdowns.
"We came out flat and they came out ready to play," said Dufur senior Austin Olson. "They came out wanting to win. More than we did anyway, and that's what happened tonight."
The Lakers got off to a fast start with a pair of touchdowns in the first quarter on a seven-yard scoring pass from Wilcut to James Stutzman, and a 63-yard jaunt by Wilcut to pad the lead to 14-0 with 2:42 left.
From that point on, however, the Rangers were able to answer with scores.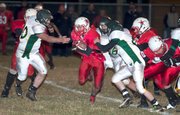 Down 14-0, Dufur running back Trever Tibbets hit paydirt from 59-yards out to draw his club tow within 14-6.
After an interception by Jake Little, the Rangers capped a five-play, 57-yard drive on a 12-yard scoring rush from Cole Parke to make it 14-12 with 10:27 left in the second quarter.
Wilcut would add a 57-yard strike to Parker, Tibbets followed on Dufur's next drive with an eight-yard run to make it 20-18 with 7:28 left.
After a 68-yard kickoff return on T-Lake's next time with the ball, Wilcut found McKenzie Richardson for a 13-yard scoring pass to make it 26-18 with 7:09 remaining in the first half.
Dufur had three more chances to score, but punted and turned the ball over twice.
The last turnover came when they had a first down and 10 from the Laker 34 with 11 seconds left.
Parke unleashed a long pass for Jake Little, but Steinhauer picked the ball off and ran down the clock to end the half.
Twice in the third quarter, Dufur pulled to within two points with scores – Tibbets dove in from a yard out and Parke connected with Jake Little for an 8-yard touchdown – but those point-afters misfired.
With the score 32-30 and 3:05 remaining in the third, Dufur had the ball on T-Lake's 46, but Parke was picked off.
"It came down to heart. They had more heart than us," Parke said. "I played bad, we all played bad. They were quicker than us, faster than us and there was not much we could do about it. It sucks to play like we did tonight when we had a chance to finish out a good season."
The Lakers answered off that interception with what turned out to be the game-deciding drive in three plays, as Wilcut hit Parker for a 57-yard pitch and catch on a slant play to make it 38-30 with 1:21 on the watch.
Dakota Myers rumbled in for the conversion to make it a two-score game at 40-30.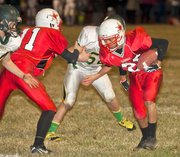 Both teams did not execute on conversions at a successful rate, going a combined 2 for 11.
Dufur went 0 for 5, so there were 10 points left on the field, the Lakers' margin of victory.
"I think what I am feeling right now come down to two words – frustrated and disappointed," said Dufur head coach Jack Henderson. "I am frustrated because we didn't play well at all obviously. And I am disappointed for these kids because they worked too hard and wanted to play better. We just didn't get the job done."
Wilcut completed 15 of 31 passes for 321 yards and four scores to go with an interception.
He also rushed 18 times for 119 yards and a touchdown.
Through the air, Parker hauled in five catches for 155 yards and two trips to the end zone.
For the Rangers, Tibbets carried the ball 30 times for 246 yards and three touchdowns, and he added five grabs for 112.
Parke went 9 for 23 for 174 yards and a touchdown to go with three picks.
He also rushed for 53 yards and a score, and Jake Little had four catches for 62 yards and a touchdown.
"I feel that we could have won," Olson said. "We had the chances, but just knowing that we were so close and had a chance to win it and that we didn't, doesn't feel good."