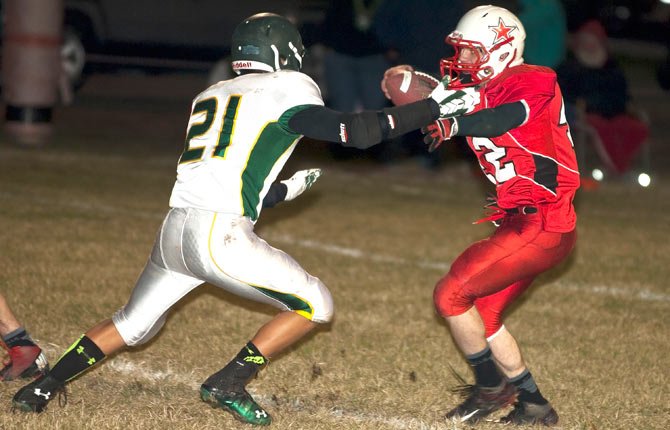 With preseason dreams of hoisting a championship trophy dashed in a home loss Friday night to Triangle Lake, Dufur head coach Jack Henderson and senior players Cole Parke and Austin Olson had a lot to be thankful for when asked about careers, accomplishments and season.
The Rangers had the state's second-best scoring offense, were ranked as high as No. 2 and finished 2013 with their second consecutive Big Sky Conference title.
"I am extremely proud of this team," said Olson. "We have come a long ways, battled through injuries and just came together as a team. We played very well and became a really good program."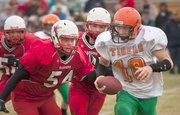 Olson and Parke are both first-team all-league and all-state players, and Parke is the Big Sky's two-time player of the Year.
They have won more than 90 percent of their games in the past two years, and had a fair share of success in many regards, even helping lead Henderson to his 200th career win earlier this season.
"I thank the seniors for their hard work," Henderson said. "Cole and Austin came into school at a time when there was not a lot of leadership student-athlete wise and they did a good job of getting Dufur back on the map."
The Rangers have been able to piece together depth through hard knocks and tough practices, long film studies and hard work.
Not all those hours in the weight room went unnoticed; not all the repetitions were for personal gain – more of a responsibility to teammates to work as hard as or harder than they have through the years to try to build a reputable and winning program.
"We never stop working. Being a Ranger is bigger than we are," Parke said in an earlier interview last season. "We all have a responsibility to each other to give our best every time."
Talent, skills and size have never denied this group of hustlers, fighters and gridiron warriors – heart and pride describe what they are dealing with on a daily basis.
If only the Rangers could have gotten some breaks to go their way this season.
Injuries to Nick Little and Bailey Keever beset the program, heading into Friday's game.
In action, Parke aggravated a groin injury, running back Trever Tibbets ended up being dinged up and several others were fighting through with nicks and bumps of their own.
For some reason, the Football Gods did not shine on the Dufur High Friday.
"It sucks because we did not have Nick here or Bailey here and we had kids banged up on sidelines, you kind of do feel helpless a little," Parke said. "We had a pretty group of kids this year. I was just hoping for a lot more. I don't know what to say. It just sucks to feel like this."
However, there is much more to this team than offense, touchdowns, and wins.
They are the definition of team, men on a mission, willing to do what it takes to represent Ranger football, postseason play, and a reputation for greatness.
Yet, in examining the big picture, Dufur came together as a family, with each player growing and learning a lot from each game. To a man, they say it is not all about winning. The lessons learned will carry them to adulthood as fathers, as role models and as strongholds in the community.
The father figures on the sidelines can take pride in knowing they instilled a responsibility in not only teaching the X's and O's, but an education of life off the field.
"That is one thing that stings a little bit is that they were never able to get past the quarterfinals in their high school careers," Henderson said. "That will always bother me. That's just the way it is. I am proud of them and really appreciate the effort that they put into the Ranger football program for the last four years. I wish them well in the future."
Now the Dufur duo is passing the torch to a younger generation.
They have strong feelings that this core group returning group has what it takes to get over the hump into championship territory.
"They got to just keep working hard and get more people involved," Olson said. "They will need to execute, work hard and come out strong. I will be cheering for them no matter what. I will always be a Ranger."