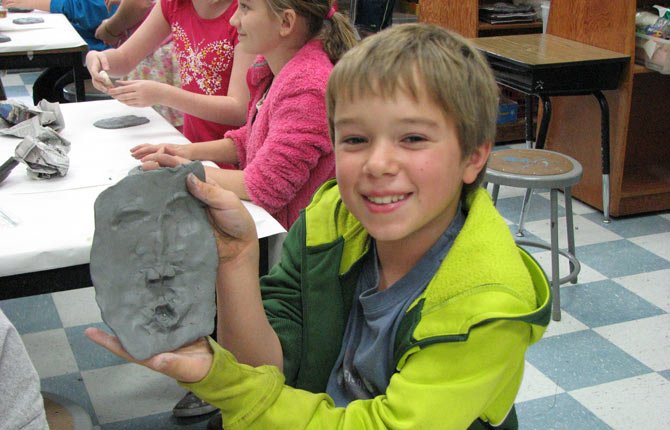 Students gathered in Mr. Rutledge's classroom on the second floor of Mosier Community School on Tuesday, Nov. 12 to see a presentation by Lillian Pitt, Native American artist and "culture bearer" as part of the "Gifts from our Ancestors" grant awarded to the school earlier this fall.
Gifts from Our Ancestors, according to the Confluence Project website, is "an arts-education program led by the Confluence Project, local artists, and educators to engage over 1,500 tribal and non-tribal students through multiple forms of artistic, musical and oral expression practiced by Native Americans along the Columbia River for generations."
During Pitt's presentation, students learned about the cultural history behind several of the symbolic images she uses in her artwork.
The face of "She Who Watches," preserved in petroglyph form at Horsethief Lake State Park, is a recurring image in Pitt's work. As is the "Stick Indian," a spirit which she says mothers used to tell their children would "steal them away" if they misbehaved and who "whistle like birds to guide a good hunter to safety or a bad one deeper into the forest."
"She Who Watches used to watch over the village my great great grandmother lived in before it was buried under the waters created by The Dalles dam in the 1950s," she said. "When I was young, I asked the Elders for their permission to reproduce her in my artwork and was very honored when they said yes."
After the presentation, Pitt gave students permission to reproduce the Stick Indian spirit in their own artwork and demonstrated various techniques for shaping the clay.
"You become one with nature when you're working with materials belonging to mother earth," she told them, "and this way you're doing it with great respect to nature."
The 2012-2013 $3000 grants were awarded to 15 different schools throughout the Columbia Gorge, and Mosier Community School has been taking an active and artistic approach to fulfilling the grant's educational requirements.
Pamela Larsen, local artist and Mosier community parent responsible for writing and applying for this year's grant, said students have already paid visits to several "sacred sites" around the Columbia Gorge as they continue to learn more about the cultural history of the area.
"The point is to have students learn about the place they live and give them the opportunity to see how cultural bearers are so connected to their culture and so willing to share it," she said. "And we're engaging them in these hands-on projects to preserve that knowledge in their memories for a long time."