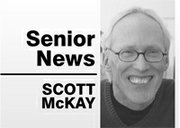 I don't want to run as fast as I once did, or even look as ruggedly handsome — when all the girls I asked were too intimidated by my good looks to go out with me. (Wasn't it Mark Twain who said when you're young, you remember anything, whether it happened or not, but when you're older, you only remember the latter. But I do vividly remember the lack of dates.
No, I just wish I had a little of the youthful self-confidence — the "I know everything and can do anything" attitude that I once possessed. Because if there was a problem or mistake, I knew it was "them." It was "them" that didn't understand, or hear the question. I wasn't me!
But not anymore.
Now too often I wonder — Is it me? Did I hear that right? Did I miss something? Did I really buy that $249 printer listed on the credit card statement? Because I haven't seen it and I really didn't need one? But did I? Could I be mistaken? It must be me!
But it isn't. Well, not most of the time. I find it easy to magnify the hurried oversights, the inadvertent mistakes to start questioning my own abilities. And then I start playing it safe. But I know there is so much more to experience. And whether at 65, 75 or 85 I can still have dreams, discover new interests and still believe that the best is yet to come. I just have to take the time to get off my rear end and look for it.

At the urging of several folks who went to see the Singing Christmas Tree last year and wanted to go again, I have arranged another trip to see the Singing Christmas Tree in Portland on Sunday Dec. 1 for the 2 p.m. matinee performance. But I am a little late on the draw, so you have less than two weeks to hop on board. The cost is $55 including transportation provided by the friendly folks at Sherman County Community Transit. The bus will leave the Mid-Columbia Senior Center in The Dalles at 11:30 a.m. You don't have to be a center member or even live in Wasco County — there are five folks from Hood River who are going to be picked up on the way. But you do need to call the center now at 541-296-4788 to reserve your seat.
And two more quick announcements. November's Passport to Happiness event, on Wednesday tNov. 20 from 3 to 4:30 p.m. at the center will focus on mental health. (And save a place on your wall for the 2014 Passport to Happiness Calendar. It will be out next month.) Next Tuesday's 11 a.m. lecture at the center features a speaker lined up by Joyce Powell-Morin from MCMC. That individual will discuss the benefits associated with the "Healing Power of Gratitude and Optimism."
Because you can't have words without syllables, and syllables without vowels, vowels are known to be rather arrogant — believing they belong at the top of the alphabetic food chain. But just to show they are not indispensable, this week's music announcement for the center has the vowels stripped away and placed in exile until next week.
On Tuesday, Nov. 26, "For the Good Times"will be playing. The suggested donation is $2 per person. Doors open at 6 p.m., with music at 7. Everybody is welcome, including turkeys looking for a place to hide.
Thanks for the several ideas for the "Reminder When" question including one from Bill Van Nice (the winner of a free Saturday Breakfast on December 21st) who suggested I include questions about local events such as this one: In 1870 Inwer Nicholson opened a bookstore in The Dalles across the street from where it is currently located — now known as Klindt's Booksellers. What was the name of the family who bought the bookstore from Inwer in 1927 and sold it to Phillip and Linda Klindt in 1981?" And for bonus points, what was the first name of the sister in the family who continued working at the store until she was 91? E-mail your question to mcseniorcenter@gmail.com, call 541-296-4788 or mail it with a copy of the book Win-Quatt; A Brief History of The Dalles, Oregon.
Well, it has been another week trying to follow my mother's advice "Stop shuffling and PICK UP YOUR FEET!" Until we meet again, keep the porch lights on and the fire burning warm.
"Life is not about how fast you run, or how high you climb, but how well you bounce." Anonymous
menu
Wednesday (20) Hamburgers
Thursday (21) Turkey and Dressing
Friday (22) Philly Beef with Onions and Mushrooms
Monday (25) Beef Stroganoff
Tuesday (26) Pork Roast